Sony Announces GTA 5 Bundle and Headset
Posted by TreeFitty June 11, 2013 : 14 Comments : 16,124 Views
You wanted Grand Theft Auto 5 at the Electronic Entertainment Expo (E3) and you got it... (Spoiler Alert: It's not coming to the PS4 and XboxOne).
Rockstar Games was absent from the event but Sony gave GTA V some time to shine with an announcement that an
exclusive bundle will be offered
. You can get Grand Theft Auto V along with a PlayStation 3
Slim
plus more: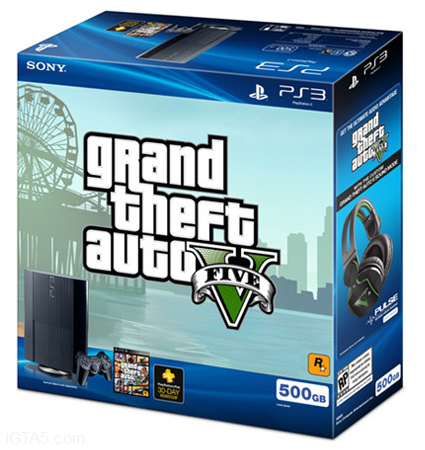 The $299 bundle includes:
But wait, there's more! Also being offered is a $179
Grand Theft Auto V Pulse Elite Headset
(details on that page).
Sony's E3 event also showed
quite a few new shots of Grand Theft Auto V
.
We'll get some high quality views soon
along with some of the
screenshots newer previews have been showing
.
Update
:
Check out the E3 screens here
.
Look for more info about GTA V soon and
join the chat in the forums
!
---
Comments (14)
---
Make A Comment
Sorry, comments have been disabled for this article.