Aftermath of GTA V Announcement: Logo meaning and rumors
Posted by TreeFitty October 26, 2011 : 31 Comments : 173,878 Views
The dust is settling after the explosion of excitement following Rockstar's nonchalant announcement of Grand Theft Auto V. So now that you've gotten past the shock and sucked an IV bag dry, what's there to talk about? Plenty.
V Dissection
First let's look at the logo itself. Quite a change from the standard Roman numerals we are used to for
GTA III and IV
. The V has curves where the main parts of the V meet the serifs. There are 2 layers of strokes around the V (white and black, grey is entire GTA V logo) and a solid black inner shadow. The fill of the V goes from grey at the top left to green at the bottom right with a fishnet pattern. Very fancy and reminiscent of something older and business-like.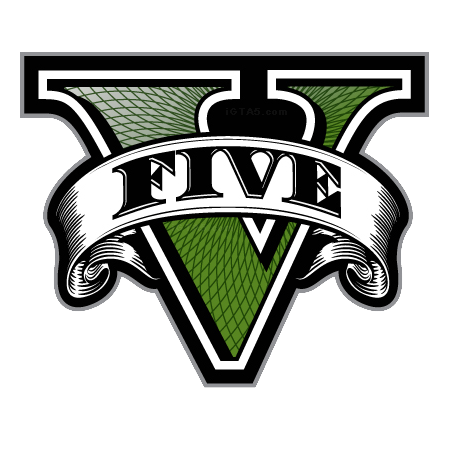 The banner across the V features the word FIVE in Federal typeface, essentially what is seen on
United States currency
. A very similar style of V and banner is seen on a 1907 $5 Bill:

There are a few other historical bills with similar Vs too. So it's definitely about American money, putting us
in the US for a GTA V location
but where exactly?
The two major locations associated with money in the US are the capital in Washington, DC and another more familiar place with a gambling problem: Las Vegas aka
Las Venturas
! Another point some fans are bringing up is the upside-down "spade" inside the V, and even that the V in FIVE could make an A when turned making an
Ace of Spades
. This points us at Las Venturas again.
An interesting thing revolves around the V+FIVE banner combination. Is it really a repeat of the number 5 or does V mean something? Vice City, Vinewood, or even Venturas again could fit for a V-named location. Vice crimes and vices in general can involve money, Los Santos has been rumored many times as the location of the next GTA which includes the area of Vinewood (aka Hollywood, full of rich and famous people), and we just mentioned Venturas with gambling.
Of course this is purely speculation. Grand Theft Auto V could be elsewhere and the V not pertain to any specific location since money is just a big part of GTA and everything else in the world. There is still a possibility that we'll go outside the US either partially for a few missions or maybe during a decent chunk of the game. You never know.
What others are saying
IGN is busy getting our hopes up
with an article about how Grand Theft Auto V will capture the feel of an era and location like Vice City did while combining a very interactive gameplay environment that isn't as much an RPG as San Andreas but still offers plenty to do. They also go on to say that as far as modern times go, Rockstar hasn't dabbled in the 1960s or 70s yet so perhaps those will be the eras we rampage in for GTA V.
Kotaku is spreading more rumors
that their sources are still saying Los Angeles due to Rockstar's experience with the location and additionally that many of these sources are saying GTA V will have more than one
playable character
. We've played multiple characters in the same city quite a few times with Liberty City Stories, Vice City Stories, and the Liberty City Episodes but those were separate games or add-ons. It is very possible we could play more than one person in the initial Grand Theft Auto V game.
Young Maylay
(aka Carl CJ Johnson of San Andreas fame) has been tweeting and retweeting since the announcement of GTA V. Many fans wanting him back in one way or another. It has been made known previously that Maylay works pretty close with Rockstar on scripts. Exactly what he helps out with is unknown and there's the possibility he can lend his voice again for
CJ or other people in the Grand Theft Auto V realm
.
Got anything else to add? Let us know in the comment below and be sure to sign up and chat with other fans in the
Grand Theft Auto V forums
!
---
Comments (31)
---
Make A Comment
Sorry, comments have been disabled for this article.