Latest GTA 5 News, Release Date & Screenshots
Grand Theft Auto V
(also known as
Grand Theft Auto 5
,
GTA V
or
GTA 5
) is the name of the newest Grand Theft Auto game by Rockstar Games. GTA 5 launched on September 17th, 2013 for the PS3 and Xbox 360, November 18th, 2014 for the PS4 and Xbox One, and finally
January 27th
March 24th
April 14th, 2015
for PC. iGTA5.com is a dedicated GTA 5 fan site keeping you up to date with all the latest news and
facts
!
[
Read More
]
---
GTA V Information
On iGTA5.com you'll find rumors and speculation about the game,
fan artwork
and
fake screenshots
along with official
news
and facts including the
Release Date
,
Images
,
Characters
and other official content. We also have a dedicated
GTA 5 Forum
specifically for GTA V discussion, so make sure you get signed up!
---
Share Your GTA 5 Content!
If you have any GTA V news, content, or fan art to share with us, please email
submit[at]igta5.com
!
---
SATURDAY, APRIL 18, 2015 :: Posted by TreeFitty :: 1 Comments :: 360 Views
To commemorate this week's launch of Grand Theft Auto V on the PC, Rockstar Games worked with Digital Storm to create a one-of-a-kind, handcrafted Velox Custom Performance GTAV PC with the express purpose of giving it away to one
very
lucky fan.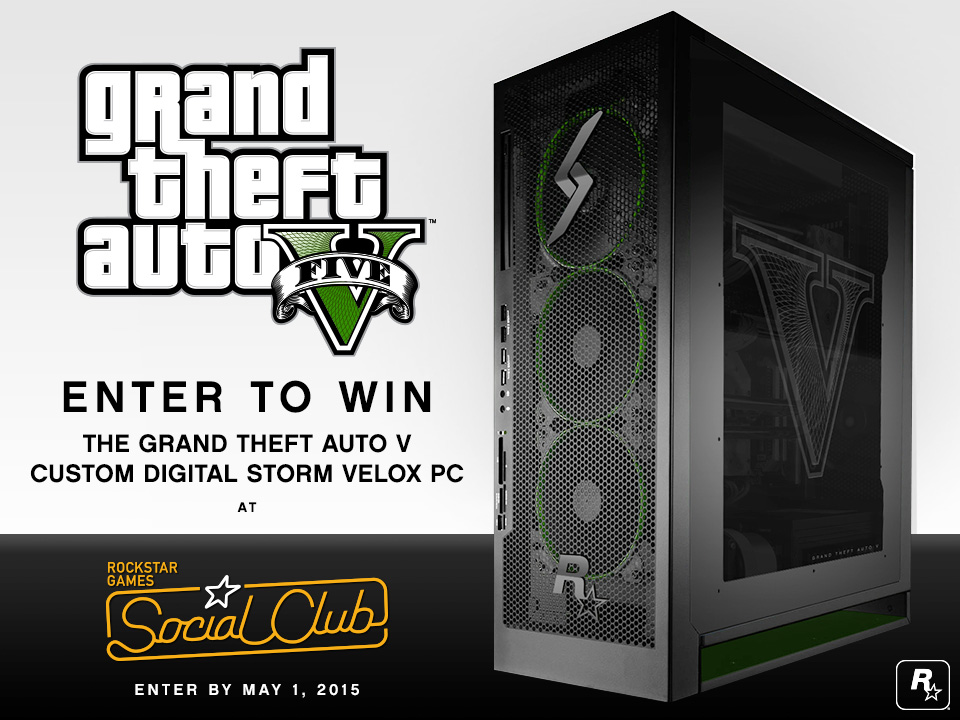 The design features a satin metallic black automotive paint finish, a laser engraved tinted window showcasing the Grand Theft Auto V logo prominently, plus software controlled LED lighting. And it's not just a looker, this custom machine is armed with a six core Intel® Core i7 processor, an ultra-fast Intel® SSD 750 Series, dual Nvidia® Titan X graphics cards and custom rigid tube liquid cooling, so you'll have what you need under the hood to run GTAV at a blistering
60 frames-per-second and at 4K resolution
.
Enter before May 1st at the Rockstar Games Social Club here
for the chance to win this awe-inspiring rig.
NO PURCHASE NECESSARY. Void in certain countries and where prohibited. Must be 18 years or older. See Official Rules and Privacy Policy for eligibility details. Ends Friday, May 1st, 2015.
Good luck and join the fun in the
forums
!
---
TUESDAY, APRIL 14, 2015 :: Posted by TreeFitty :: 0 Comments :: 292 Views
It has been a long road for PC players but now they can rejoice as Grand Theft Auto V has finally come. Grand Theft Auto V for PC offers players the option to explore the massive world of Los Santos and Blaine County in resolutions of up to 4k and beyond as well as the chance to experience the game running at 60 frames per second.
GTA V for PC offers players a huge range of PC-specific customization options, including over 25 separate configurable settings for texture quality, shaders, tessellation, anti-aliasing and more, as well as extensive support and customization for mouse and keyboard controls. Additional options include a population density slider to control car and pedestrian traffic, as well as dual and triple monitor support, 3D compatibility, and plug-and-play controller support.
Grand Theft Auto V for PC also includes Grand Theft Auto Online, with support for 30 players and two spectators. Grand Theft Auto Online for PC includes all existing gameplay upgrades and Rockstar-created content released since the launch of Grand Theft Auto Online, including the recently released Heists and Adversary Modes available on day one.
GTA V for PC brings the debut of the
Rockstar Editor
, a powerful suite of creative tools to quickly and easily capture, edit and share game footage from within Grand Theft Auto V and Grand Theft Auto Online. The Rockstar Editor's Director Mode allows players the ability to stage their own scenes using prominent story characters, pedestrians, and even animals to bring their vision to life. Along with advanced camera manipulation and editing effects including fast and slow motion, and an array of camera filters, players can add their own music using songs from
GTA V radio stations
, or dynamically control the intensity of the game's score. Completed videos can be uploaded directly from the Rockstar Editor to YouTube or the Rockstar Games Social Club for easy sharing.
Soundtrack artists The Alchemist and Oh No return as hosts of the new radio station: The Lab FM. The station features new and exclusive music from the production duo based on and inspired by the game's original soundtrack. Collaborating guest artists include Earl Sweatshirt, Freddie Gibbs, Little Dragon, Killer Mike, Sam Herring from Future Islands, and more. Players can also discover Los Santos and Blaine County while enjoying their own music through
Self Radio
- a new radio station that will host player-created custom soundtracks.
Existing players can transfer their Grand Theft Auto Online characters and progression to the PC from any current platform. For more information about Grand Theft Auto V and Grand Theft Auto Online for the PC, including minimum and recommended system specifications, check out
www.rockstargames.com/V/pc
.
Rockstar also reminds you...
For any technical issues with GTAV whatsoever, please head to https://support.rockstargames.com. As with all major online game experience launches on new platforms, please bear with any temporary stability or other technical teething issues that may occur during the initial release period. For a list of known issues related to GTAV PC and GTA Online, please consult the Grand Theft Auto V Support website knowledgebase where you can subscribe to articles for automatic updates.
Have fun and join us in the
forums
!
---
MONDAY, APRIL 13, 2015 :: Posted by TreeFitty :: 0 Comments :: 314 Views
The PC version of GTA V will go live tonight and be available at retailers tomorrow. With the PC version comes an updated video editor that will be more than a simple capture option. Presenting the
Rockstar Editor
- a special feature in Grand Theft Auto V for PC that allows players to record, edit, and share videos created from footage in both Story Mode and GTA Online.
Watch today's video "An Introduction to the Rockstar Editor" for an overview of just some of the features of this powerful video creation tool including special camera modes, filters, depth of field and audio customization options - as well as the unique
Director Mode
feature that allows you to stage creative moviemaking sequences from a cast of characters ranging from familiar faces from Story Mode, to pedestrians and even animals. You'll be able to upload your finished masterpiece to YouTube and to the Rockstar Games Social Club to share with friends.
The Rockstar Editor will be available for use in GTAV PC when the game is released tomorrow. For much more information and to start brushing up on all of the Rockstar Editor's features, controls and settings, you can also check out the full
Rockstar Editor Online Guide at the Social Club website
.
Sounds awesome! Join the chat in the
forums
!
---
SATURDAY, APRIL 11, 2015 :: Posted by TreeFitty :: 2 Comments :: 805 Views
When some people think of "game mods" they think of people hacking files and causing virtual pain to other players. For the rest of us we think of fun re-imaginings of a current game. Grand Theft Auto offers a ton of content as a starting point for fans to modify. Physics, weather, vehicle/pedestrian traffic, etc. It's no surprise that GTA has quite a large modder fanbase.
While modding goes back to the older GTA titles, the newly used RAGE engine for
GTA IV gave players tons of creative space
and a few of the more popular mods actually became features of GTA V. This brings us to the question of the article:
What mods do you want to see for GTA V on PC?
Enhanced Snapmatics
From full HD snaps to more filters and borders. The Snapmatic feature has been highly successful - a sought after feature from
GTA IV's tease
- and probably an easier mod to kick off with. Rockstar still hasn't given us a Weazel News overlay...
Switch-ups
Who wouldn't want to see wildlife in place of pedestrians? Or completely swap character models to make Lester a psychopathic meth dealer across from a quiet and sensible hacker named Trevor. It could happen.
Clothing options
The
Valentine's Day Massacre DLC
brought GTA Online closer to L.S. Noire. Many would like to see additional clothing options for singleplayer characters and it seems entirely possible for that happen. Maybe Trevor will get a bikini to go with his sundress.
Zombies
The genre is kind of overdone by now (
and Rockstar has dabbled in it already
) but that doesn't stop fans from requesting a zombie or
post-apocalyptic Los Santos
DLC. Some talented modders even made a new game mode for GTA IV that causes undead pedestrians to seek the player:
Physics Out the Window
More easy and fun mods include changing variables that control the physics of the game. Heavy cars, less gravity, etc etc. How about punching pedestrians so hard they fly off across the city? Perhaps a tsunami will strike Los Santos... or the water will recede completely.
San Andreas Stuff
CJ lovers will rejoice. As will the jetpack fans. Surely purple dildo weapon fans. Some people will never let go of GTA SA but there will likely be mods to bring beloved features from the game back to the new Los Santos.
Real Vehicles
Highly expected. While the vehicles in GTA games are hybrids of real ones, that isn't good enough for some. Look for your favorite rides to become available to download. We'll probably see Franklin cruising in a Dodge Charger alongside Michael in his shiny Audi. Or everyone in the game will be driving Ferraris because you feel like it. Whatever you choose.
First Response
It's amazing that a game about crime has a rather large fanbase
dedicated to playing as cops
. From reskinning cop cars to look like the real Los Angeles Police Department (or other places for that matter) to actual missions beyond classic vigilantes. There are even firefighter and ambulance mods to go with it.
There's definitely plenty of mods to look forward to. What ones would you like to see? Let us know in the comments below or hit us up on
Twitter
. And if you want to find some friends to play with or share your own mods, check out the
forums
!
---
WEDNESDAY, APRIL 08, 2015 :: Posted by TreeFitty :: 1 Comments :: 937 Views
Grand Theft Auto V finally comes to PC next week and the gaming press have taken it for a spin. So far things are looking good but we'll let you read up and decided for yourself. There are some new screenshots released with the previews as well. GameSpot snagged an interview with some Rockstar devs. Check out some quotes below and be sure to read the full articles.
GameSpot
Specific to the PC edition of GTA V is the Rockstar Editor, but we still don't know a lot about it. Can you walk us through it?

John Macpherson: The Rockstar editor in GTA V is a massive expansion from the video editor we had in GTA IV. The GTA community is incredibly creative and we wanted to give them a much more advanced set of tools to work with. With the Rockstar editor in GTA V, players can capture and manipulate game footage at will.

We've increased the number of options available so that players can manipulate film speed, depth of field, different kinds of camera positioning and the various blends between them, filters, and more. We have also expanded the ways that players can manipulate sound on their movies. Within the editor, players can add and edit multiple radio tracks to a single video, choosing from the huge range of score composed for the game as well select songs from the GTA V soundtrack and even in-game advertisements.

On top of all these additions to the editor is director mode. This gives players the opportunity to play and record their own scenes using any actor from GTA V including story and Heist crew characters, people on the street and even animals. As you play through the GTA V story, more and more character options will open up for you to use. You can also get them to speak specific lines of dialog or perform contextual actions, opening the door for amazing possibilities. You will also have control over details like time of day and weather, "Wanted" status and pedestrian density. Some of the classic cheats will open up too, bringing a ton of cinematic possibilities.

Once you're finished, you can now share your videos directly to YouTube, and we will be working to support community creations through events and contests.
PC Gamer
There's no doubt some skepticism based on some past ports of Rockstar games, like GTA 4, and the ongoing, slightly heartbreaking absence of Red Dead Redemption on PC might make you wonder how much the publisher values the platform next to consoles. Max Payne 3 was a vast improvement, though, and I see no reason to be concerned with GTA 5 either—this port looks incredible and I swore a hell of a lot (in a good way) at the gorgeous skylines during my hands-on. This is a handsome game.

I was shown the game in 4K resolution running at 60fps. The PC Rockstar was demoing it on is outside the price range of most consumers, with an i7 5930k@3.50GHz, SLI GTX 980, 32GB of RAM and a 256GB SSD, but that's just to show off how pretty it can look. Rockstar says that even average rigs won't have a problem getting great 1080p performance out of the game, which is encouraging. Scalability is a priority for them.
Game Informer
Custom Soundtracks
It may not be the Spotify integration we were hoping for, but Rockstar is letting players make their own radio station using music files on their computer. After putting copies of song selections into a specific folder, you can listen to them on the Self Radio station. An auto scan will identify new songs as you add them upon starting the game.

Players have a few different options for listening to these custom soundtracks. You can play them sequentially, shuffle the collection, or have Rockstar integrate them into a radio experience complete with commercial breaks, station IDs, bumpers, and banter between DJs Cliff Lee and Andee, who you may remember from Lips 106 in Liberty City Stories. In the pause menu you can choose whether you want to have the songs play in the order you have them in the folder or to let the game analyze the collection and build a playlist order.

If you don't want to build your own station, you can enjoy some new tunes on the in-game stations courtesy of Rockstar. For the PC version, the developer added The Lab FM, hosted by Alchemst and Oh No, to the rotation. Artists featured on this eclectic new station include Earl Sweatshirt of OFWGKTA fame, Little Dragon, Tunde Adebimpe from TV on the Radio, Phantogram, Freddie Gibbs, Gangrene, Future Islands' Samuel Herring, and more.
IGN
Impressive too is the lighting, which was already remarkably nuanced even back in the PS3 and Xbox 360 versions but appears even more striking here. Interestingly, Rockstar North's director of technology Phil Hooker, director of engineering Klaas Schilstra, and technical director Adam Fowler (who are on-hand to jointly discuss GTA V for PC) explain that the lighting itself actually hasn't changed a great deal over the last 18 months; rather it's the increased quality of the effects that combine to compose it.

"It is the overall experience that adds to that feeling," explains the team. "With each iteration of the game we've been able to push the quality level of the effects that support the lighting, while the lighting itself hasn't actually changed much since the PS3/Xbox 360 version."

"All the effects that compose our lighting (reflection, ambient occlusion, skin and post effect) are higher quality and higher resolution (where settings permit), which gives the PC version a smoother and more nuanced picture."
And another small piece of news to wrap this up: Preloads for the game are now available from Rockstar Games and Steam. So if you want to get a head start on a loooooong download, hit up either website.
Update:
Check out more impressions and interviews from around the globe at
Gameswelt
(German),
Meristation
(Spanish),
3D Juegos
(Spanish), and
Jeuxactu
(French).
Join the chat in the
forums
!
---
FRIDAY, APRIL 03, 2015 :: Posted by TreeFitty :: 0 Comments :: 1,114 Views
GTA V on PC is only 11 days away and Rockstar has released a new TV spot for GTAO Heists. Coming to a TV near you starting this weekend...
Rockstar reminds everyone that GTA Online for PC will launch with the game and include all content updates including heists.
Enjoy and join the fun in the
forums
!
---
THURSDAY, APRIL 02, 2015 :: Posted by Massacre :: 1 Comments :: 1,361 Views
If you weren't hyped enough for GTA V's PC release in less than two weeks, this should do the trick.
On April 14th, Grand Theft Auto V arrives on PC with a range of major visual and technical upgrades to make Los Santos and Blaine County more immersive than ever. Today, catch a glimpse of it in action - running at 60FPS with the official Grand Theft Auto V 60 Frames-Per-Second Trailer.
Join the discussion in the
forums
!
---
TUESDAY, MARCH 31, 2015 :: Posted by TreeFitty :: 0 Comments :: 1,214 Views
Two quick news updates...
First, look for the
previously announced trailer
for the PC version of GTA V to debut this Thursday, April 2nd, at 10 AM Eastern Time US (or 3 PM BST). It will be a special Grand Theft Auto V PC
60 Frames-Per-Second
Trailer which will debut exclusively at
RockstarGames.com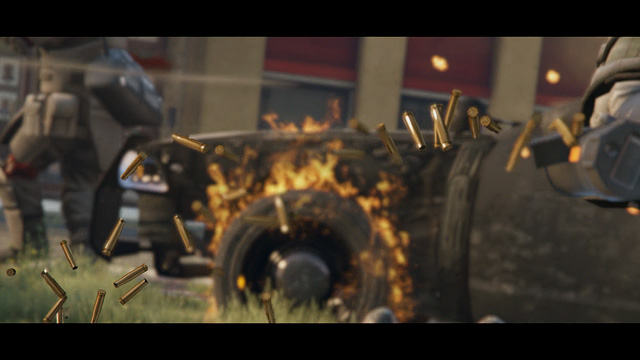 Next up, the soundtrack album "Welcome to Los Santos" is now available for pre-order. The track 'Play It Cool', by Gangrene featuring Earl Sweatshirt and Sam T. Herring of Future Islands available for download now with every pre-order.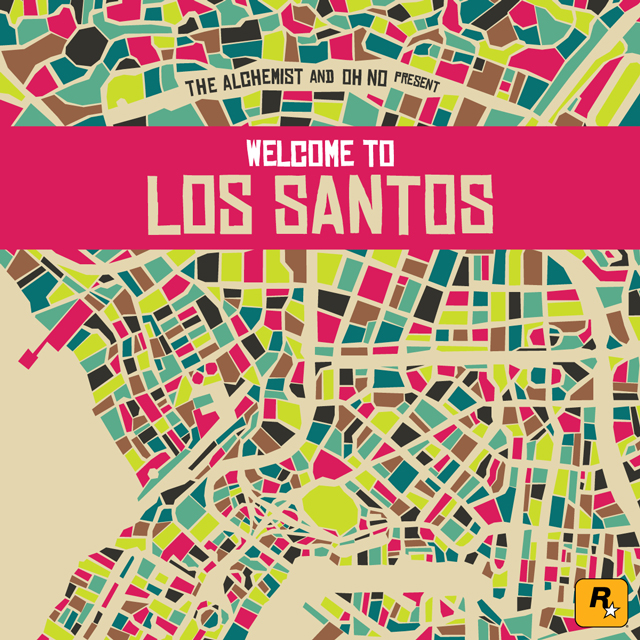 Created and compiled by Alchemist and Oh No and heavily influenced and inspired by their work on the score of Grand Theft Auto V with late legendary composer Edgar Froese of Tangerine Dream and Woody Jackson, Welcome To Los Santos consists of all original tracks featuring a diverse array of artists spanning hip-hop, electronica, dancehall, rock, r'n'b and more. Music contained on Welcome To Los Santos will also feature on The Lab, a brand new radio station making its debut within Grand Theft Auto V for PC. The full album will be available on CD, vinyl and digital download on April 21 via Mass Appeal Records.
Check the album's full tracklist below:
1. Gangrene – Play It Cool feat. Samuel T. Herring (of Future Islands) & Earl Sweatshirt
2. Ab-Soul – Trouble feat. Aloe Blacc
3. Tunde Adebimpe – Speedline Miracle Masterpiece feat. Sal P & Sinkane
4. MC Eiht & Freddie Gibbs – Welcome to Los Santos feat. Kokane
5. Phantogram – K.Y.S.A
6. Vybz Kartel – Fast Life
7. King Avriel – 20's 50's 100's feat. A$AP Ferg
8. MNDR – Lock & Load feat. Killer Mike
9. Popcaan – Born Bad feat. Freddie Gibbs
10. E-40 – California feat. Dam-Funk & Ariel Pink
11. Wavves – Leave
12. Curren$y & Freddie Gibbs – Fetti
13. Little Dragon – Wanderer
14. Action Bronson & Danny Brown – Bad News
Join the chat in the
forums
!
---
FRIDAY, MARCH 27, 2015 :: Posted by TreeFitty :: 1 Comments :: 2,386 Views
We're a little over 2 weeks away from the PC release of Grand Theft Auto V and Rockstar has posted 15 new high-res screenshots (quelling our fears of yet another delay)...
Arriving on April 14th, GTA V for PC is fully optimized to support all the
latest and greatest hardware with an abundance of PC-specific enhancements
.
Look for the official GTA V PC trailer next week and if you plan on getting the digital download version, make sure to pre-order by next week Tuesday March 31st to get $1.5 million in in-game bonus money to spend (GTA$500K for Story Mode and GTA$1M for GTA Online use).
Here's a few of the new screenshots:
Check out the rest in the
GTA V Screenshot Gallery here
and join the fun in the
forums
!
---
TUESDAY, MARCH 10, 2015 :: Posted by TreeFitty :: 2 Comments :: 3,934 Views
Heists - a brand new 4-player cooperative gameplay experience for Grand Theft Auto Online, giving players the chance to team up and pull off a string of intense, multi-part heists, raids and robberies across Los Santos and Blaine County - are now available for
free
in Grand Theft Auto Online.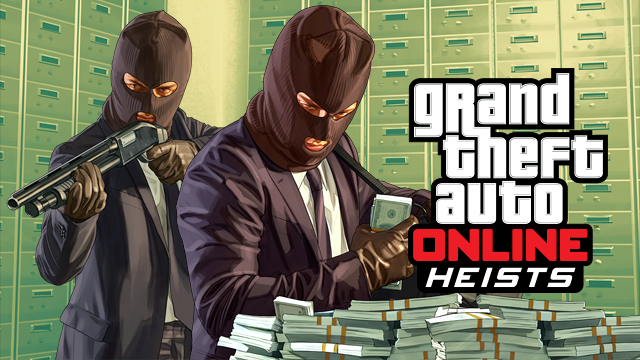 Plan, Prepare, Execute
- Online Heists span numerous missions featuring new gameplay, vehicles, weapons, and scenarios to test a team's full set of skills: from computer hacking to stealth infiltration, precision driving to aerial dogfighting, sniping, skydiving and much more.
4-Player Teams, 4 Ways to Play
- Choose your roles and strategize to complete each stage of a Heist, with tight communication and coordination the key to success. Some missions will require the team to work as a single unit, while others will break the team into separate roles to complete key objectives. Replay each Heist to experience a different perspective on the action, and complete Elite Challenges for extra cash.
Additional New Adversary Modes
- Brings new kinds of competition to GTA Online while new Daily Objectives and other Freemode activities bring chaos to the streets of Los Santos and Blaine County.
Assemble Your Team
- Create a Crew or join existing Crews at the Rockstar Games Social Club to earn additional RP rewards as you play.
Play Now
- Heists are now available for
free
in Grand Theft Auto Online for PS3, PS4, Xbox 360 and Xbox One (PC players will also get Heists as part of their GTA Online experience when GTAV launches for PC on April 14th). To get it, just start up GTAV from your online-connected console and follow the update prompts on screen. For a complete list of all of today's updates, check out the
official notes at the Rockstar Support site
.
Have fun and crew up in the
forums
!