Latest GTA 5 News, Release Date & Screenshots
Grand Theft Auto V
(also known as
Grand Theft Auto 5
,
GTA V
or
GTA 5
) is the name of the newest Grand Theft Auto game,
announced
by Rockstar Games on October 25, 2011.
GTA 5 launched on September 17th, 2013
for the PlayStation 3 and Xbox 360. iGTA5.com is a dedicated GTA 5 fan site keeping you up to date with all the latest news and facts.
[
Read More
]
---
GTA V Information
On iGTA5.com you'll find rumors and speculation about the game,
fan artwork
and
fake screenshots
along with official
news
and facts including the
Release Date
,
Images
,
Characters
and other official content when it's released. We also have a dedicated
GTA 5 Forum
specifically for GTA V discussion, so make sure you get signed up!
---
Share Your GTA 5 Content!
If you have any GTA V content or news to share with us, please email
submit[at]igta5.com
!
---
WEDNESDAY, MARCH 05, 2014 :: Posted by TreeFitty :: 1 Comments :: 792 Views
Once again Rockstar Games is turning up the RP and hosting a
Las Venturas
Los Santos
business party to celebrate the
latest DLC release
for GTA V and Grand Theft Auto Online. It's time for some capitalism punishment in the
Business Weekend Social Club Online Event
, this Friday, March 7th, through Sunday, March 9th.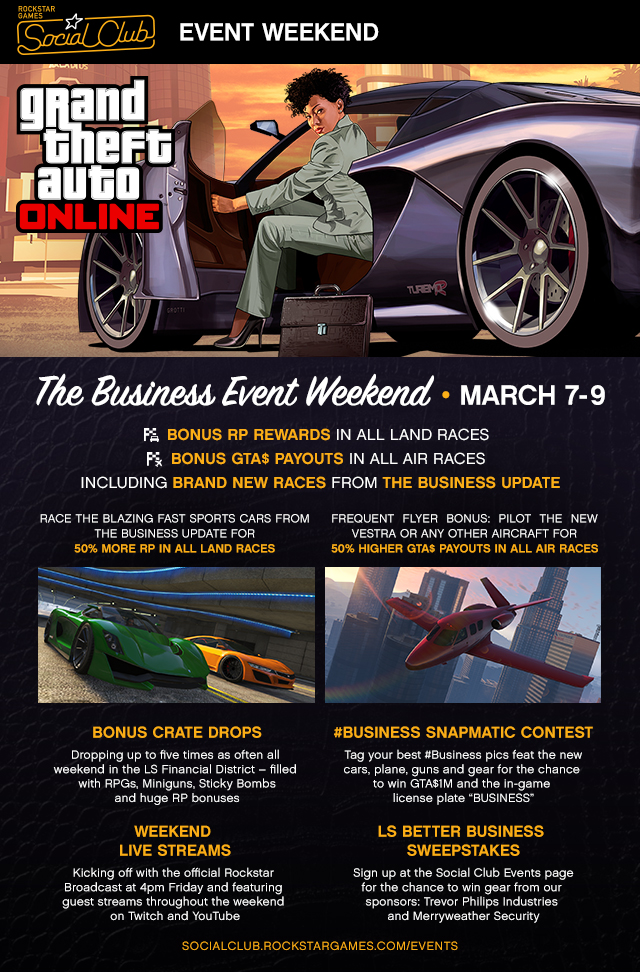 High-end cars and rarefied recreational activities are on the menu, featuring a diverse portfolio of in-game benefits like bonus RP and GTA$ payouts for Land Races and Air Races respectively - and high powered weapons literally falling from the sky in Event Crate Drops all weekend. Also, there'll be chances to score rare GTAV gear in the
Social Club Los Santos Better Business Sweepstakes
and in-game GTA$1M and the exclusive 'BUSINESS' vanity plate in the
#BUSINESS Snapmatic Contest
. There'll also be special Event Weekend live-stream broadcasts starting this Friday afternoon with the official Rockstar show, featuring special guests and fun with the new plane, cars, guns and Jobs included in The Business Update.
IN-GAME REWARDS AND BONUSES
Acquire the new blazing fast sports cars, Vestra aircraft, and powerful weaponry that are now available in The Business Update and also reap special in-game rewards and bonuses right through the weekend including:
50% more RP in all Land Races, providing the ideal opportunity to open up that brand new Albany Alpha, Dinka Jester and Grotti Turismo R.
50% higher GTA$ payouts in all Air Races - a frequent flyer bonus for those who thrive in the skies of Los Santos.
High Priority Vehicle - Simeon has spotted a rush in demand for company cars and has put the call out for Ocelot Jackals this weekend. Wait for his text, grab the car and fight your way back to the docks for a nice GTA$ boost.
Event Crate Drops - Bonus Event Crate Drops will be falling from the skies regularly in the Downtown Los Santos financial district as well as around the airfields of Los Santos and Blaine County. This weekend, the Crates will be stuffed with RPGs, Miniguns, Sticky Bombs and more RP than ever - with up to 8000RP in every Crate.
#BUSINESS SNAPMATIC CONTEST
Tag your best Snapmatic shots between now and end of day Sunday with #BUSINESS showing off your most creative, most awesome, and most beautifully composed moments featuring any of the new cars, guns, aircraft, gear or Jobs from The Business Update. Rockstar Games will pick five (5) favorites to award GTA$1M in in-game financial dividends as well as the exclusive 'BUSINESS' in-game vanity license plate so you can always roll around Los Santos like a boss.
See full rules and eligibility details
.
EVENT WEEKEND LIVE STREAMS
Rockstar will be kicking off the weekend with this Friday's official Rockstar live stream broadcast from 4-6pm Eastern Time US with two hours of mayhem, hijinks, and playthroughs of the new Business Update Jobs and gear hosted by Rockstar and featuring special invited on-stream guests. They'll be streaming across the
Social Club Multiplayer Events page
, the
Rockstar Games Twitch.tv channel
, and the
Rockstar Games YouTube channel
. Tune in and join the fun in the hosted chat at Twitch and Social Club as well.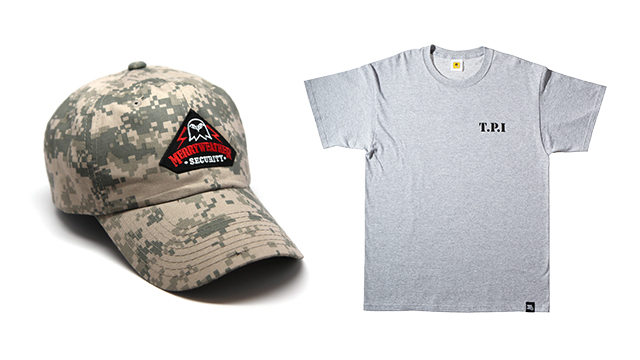 LOS SANTOS BETTER BUSINESS SWEEPSTAKES
Finally, enter The Los Santos Better Business Sweepstakes all weekend for the chance to become a walking billboard for some of Los Santos and Blaine County's most reputable local businesses. Five lucky winners will win the super rare
Trevor Phillips Industries tee
and
Merryweather Security camouflage cap
. 10 runners-up will score GTAV tees and stickers. To enter, just fill in the form at the
Social Club Events page
between Friday and the end of day Sunday March 9th.
Sounds good! Join the chat in the
forums
!
---
TUESDAY, MARCH 04, 2014 :: Posted by TreeFitty :: 8 Comments :: 1,159 Views
The Business Update
is now available to download from PSN and Xbox Live. This update adds three new blazing fast cars to the Legendary Motorsport roster: the Albany Alpha, Dinka Jester, and Grotti Turismo R. Plus there are also new vehicle horn and wheel-smoke options available at LS Customs to give these new rides some additional flair.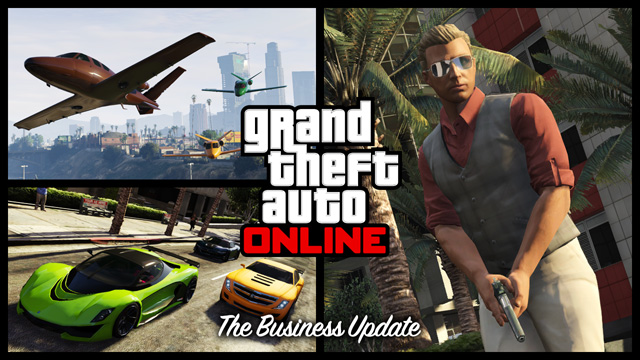 For those who prefer to navigate Southern San Andreas by air, hit up Elitas in-game to order the new Vestra luxury jet. There are also two new high-powered weapons available at Ammu-Nation: the Heavy Pistol and Special Carbine automatic rifle - plus a new ensemble of business shirts, suits, vests, skirts, hats and other high end attire.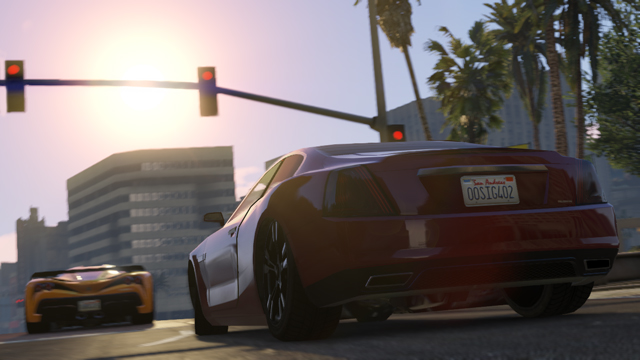 The update also added 14 new Jobs to GTA Online, many of which are inspired by the new additions from The Business Update. There are four new Land Races designed specifically for the Sports and Super class cars. You can take the new Vestra airplane on a tour of the Los Santos skies in any of four new Air Races. Additionally, a pair of new Vehicle Deathmatches feature the Buzzard and the Rhino Tank, plus a new Last Team Standing in Little Seoul, a 2 team Capture at Los Santos City Hall and a new Survival around the Maze Bank Tower.
And make sure to join Rockstar this weekend for the Business Weekend Social Club Online Event featuring exclusive RP and GTA$ bonuses, a new Snapmatic competition, and more! Stay tuned for more details later this week.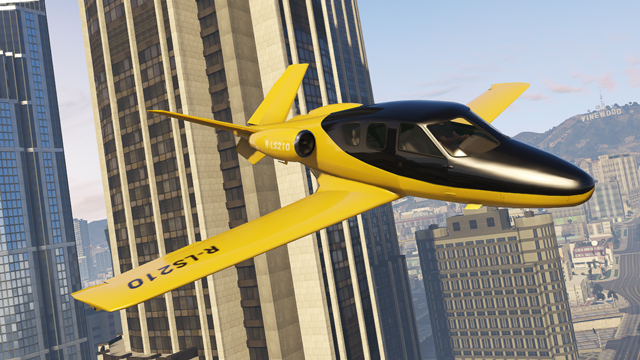 Finally, this week's update to GTA Online also includes a host of additional updates and fixes including the ability to disable Slipstreaming in Races, the addition of Barber Shop and Tattoo Parlour locations to the Quick GPS, and a number of other exploit and stability fixes. For the full list, check out the
corresponding article on the Rockstar Support page
.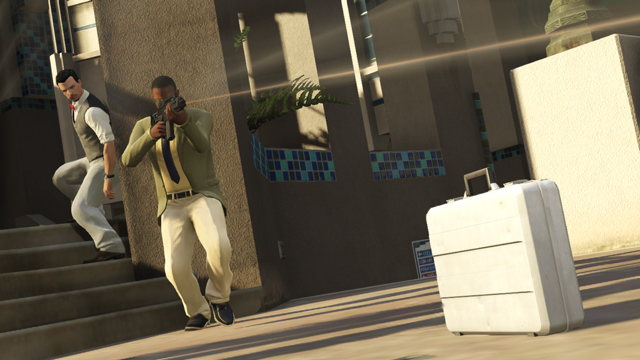 To acquire today's free update, fire up your online-connected PS3 or Xbox 360 and load up GTAV. You'll be prompted to download the automatic update (Xbox 360 players will also be required to download an additional compatibility pack). From there, head to the in-game store from the pause menu to access and download the Business Update.
Enjoy and join the fun in the
forums
!
---
THURSDAY, FEBRUARY 27, 2014 :: Posted by bOnEs :: 10 Comments :: 2,755 Views
Just as the
Valentine's Day Massacre DLC
leaves, a new one enters the picture! On Tuesday, March 4th the
Business Update DLC Pack
will be released. And with it comes new clothing options, new rides, and new weapons. Here's the details straight from the source: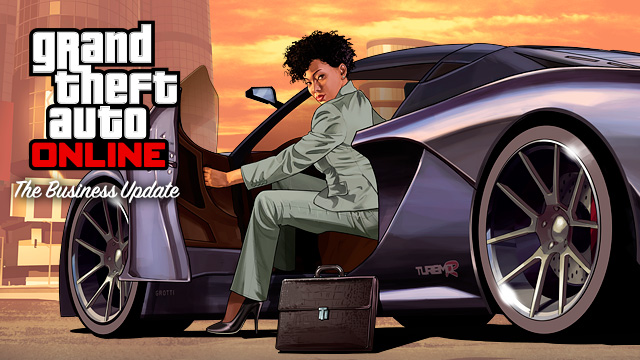 Enjoy the perks of rising through the ranks of your Los Santos and Blaine County business ventures with The Business Update, coming next week on Tuesday March 4th to PSN and Xbox Live. Thrill-seekers and weekend warriors can hop in any of three all-new, blazing fast sports cars: the
Albany Alpha
,
Dinka Jester
and
Grotti Turismo R
... or take to the skies in the new
Vestra
airplane.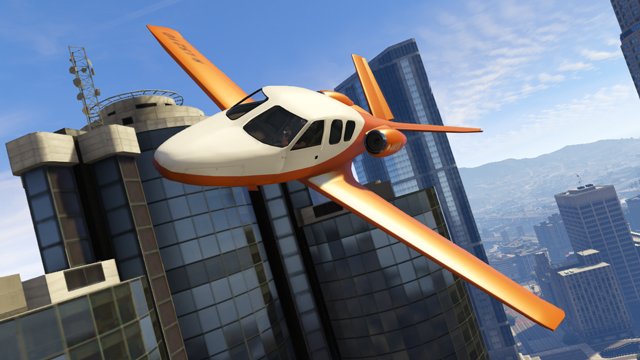 Swing by Ammu-Nation to pick up two new weapons, the
Heavy Pistol
and
Special Carbine
, which both offer some serious firepower.
Dress for success with formal and business casual attire options like new suit jackets, slacks, glasses, heels and blouses, or don new all-business hairstyles and currency themed tattoos. There's also a collection of new masks, perfect for disguising yourself during the next hostile takeover.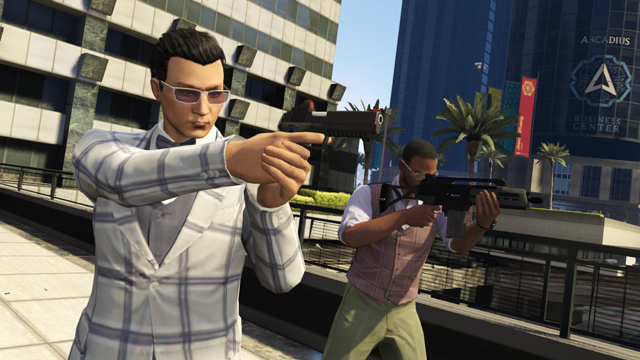 Just like the recent Valentine's Day Massacre Special, the new vehicles and weapons will be available in both Story Mode and Online. In Story Mode, weapons will be deposited into all three characters' inventory with two full ammo-clips and all three cars are accessible from their garage properties. In GTA Online, you'll be able to purchase the new weapons and their attachments at any Ammu-Nation location while the vehicles will be available for purchase from Legendary Motorsport and Elitas.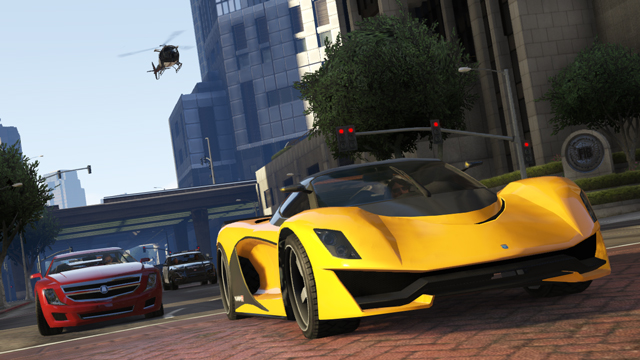 Don't forget that this weekend is your last chance to grab the Albany Roosevelt limousine, the Gusenberg Sweeper machine gun and all the rest of the exclusive items from the Valentine's Day Massacre Special before they're gone. Once you purchase them in-game, they're yours to keep - but they will no longer be available to purchase after midnight PST this Sunday, March 2nd.
As we still await word on the Heists, we continue to get updates on the new content heading our way, including the mention of a Capture Creator Tool in the works, and Story Mode updates including new Assassination and Flight School Missions. Join us in the
Forums
to discuss more!
---
THURSDAY, FEBRUARY 13, 2014 :: Posted by TreeFitty :: 5 Comments :: 2,723 Views
A little earlier
than stated
but that's nothing to complain about. The Valentine's Day Massacre Special is now available with the latest title update (1.10).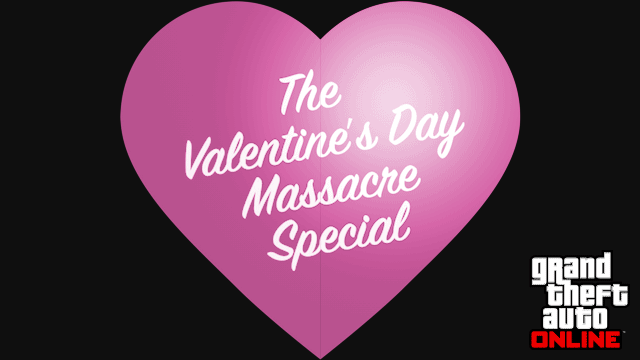 The update includes a variety of fun Valentine's themed extras for Story Mode and GTA Online like the Gusenberg Sweeper machine gun, the new Albany Roosevelt ride, and a host of new attire options like double breasted suits, flapper dresses, sexy undergarments, novelty t-shirts, hats, masks, and more! These items are all available to purchase in GTA Online right now until the end of February - and once acquired they're yours to keep in your inventory for good.
NEW JOBS
This update also has 10 new Jobs across a variety of modes. Here's a few details...
"Shotgun Wedding" (Team Deathmatch): The title says it all. Small-scale Deathmatch around the church in Paleto Bay that's locked to shotguns. It'll be a lot less bloody than divorce.
"Property Values" (Deathmatch): Forget about love, nothing's going to break your heart like the price of real estate. Free for all Deathmatch on an unaffordable cul-de-sac near Mirror Park. Look out for the sniper on the grassy knoll.
"Creek" (Parachuting): Nothing says 'I'm in love' like throwing yourself out of a chopper with up to seven other idiots. A steep dive, almost skirting the side of the Raton Canyon, gliding into Cassidy Creek.
"Vinewood Tours" (Race): Who needs love when you've got booze in your belly and stars in your eyes? Lap race for cars and bikes taking in all the tourist sights of Vinewood and Rockford Hills.
"Motorboating" (Sea Race): A good motorboating is all anyone wants for Valentine's Day. Take your love for a trip around buoys and over jumps to the North of Mount Gordo.
"Heart Breaker" (Bike Race): Make your feelings known by carving a love heart into the Grand Senora Desert. Hills and jumps in this mainly off-road lap race for bikes on a heart-shaped track.
VALENTINE'S MASSACRE SOCIAL CLUB EVENT WEEKEND
This Friday, February 14th through Monday, February 17th jump into GTA Online to make sure you redeem the limited-time-only Valentine's Day Massacre Special content and also reap four whole days of in-game rewards, discounts and happenings in the Valentine's Weekend Massacre Social Club Online Event. Tailor up in a new double breasted suit or flapper dress from the Valentine's Day Massacre content pack, grab a trusty Gusenberg SMG and pick up your loved ones in an Albany Roosevelt to paint the town red all weekend long.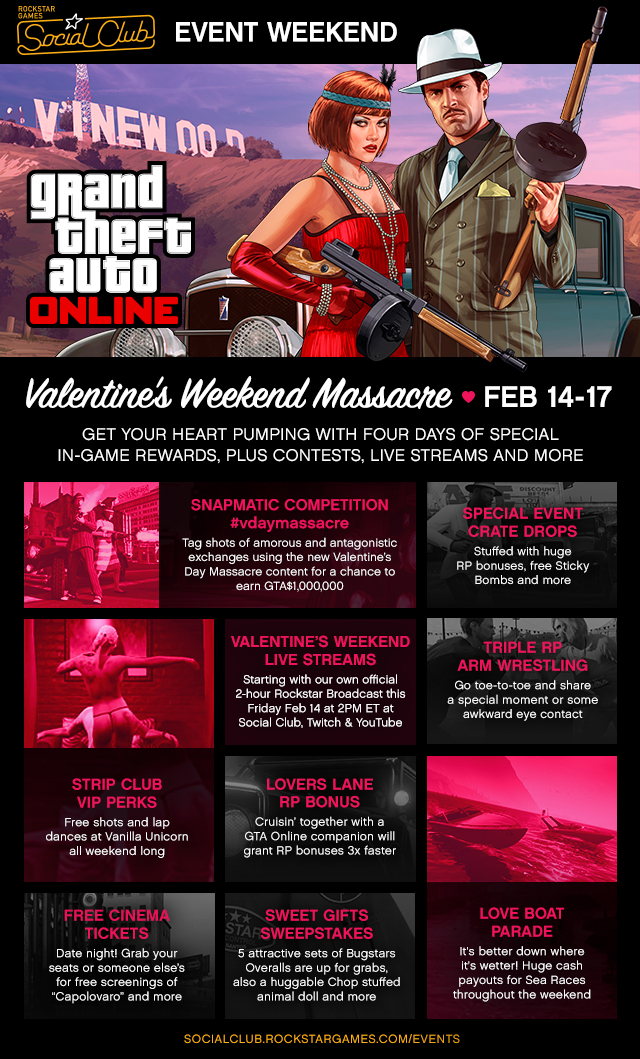 IN-GAME REWARDS
In addition to the limited-time-only Valentine's Day Massacre Special content that can only be redeemed between Friday, Valentine's Day through the end of February (but once redeemed, you can hold on to it for good), Rockstar has lined up lots of special in-game rewards exclusively for players this weekend to help you paint the town red.
Special Event Crate Drops. Make-out big by lurking around some of San Andreas' most secluded spots such as the secluded beach in North West Blaine County, the Stables, Del Perro Beach, the Observatory Car Park and, of course, the VINEWOOD sign. Special Event Crate Drops will be falling from the skies in those lovers' lane locations frequently, stuffed with huge RP bonuses, a range of SMGs, and Sticky Bombs to give that special someone some serious separation anxiety.
Triple GTA$ payouts for all Sea Races. Cruise the waterways of Los Santos and Blaine County and if you can best your rivals in a Sea Race, your happy ending will be extra sweet with triple the GTA$ payout.
Triple RP in Arm Wrestling all weekend. Lock hands, make some awkward eye contact and push for glory and triple the RP.
RP bonuses for riding in cars with others will be awarded up to three times as fast, whether you're in a traditional twosome or a full-on ménage.
Free cinema tickets all weekend to your choice of date night screenings.
Look for love in all the wrong places with free shots and free lap dances at the Vanilla Unicorn.
PLUS for old time's sake and by popular demand, Rockstar is also turning on Triple XP in both Max Payne 3 and Red Dead Redemption all weekend long (through end of day Monday).
SNAPMATIC COMPETITION - #vdaymassacre
Share your best Snapmatic shots from the Valentine's Event Weekend and tag them with #vdaymassacre for your chance to win a cool GTA$1M and one of five exclusive in-game license plates (MASACRE, VLNTINES, VMASSCRE, KISS IT, BE MINE). Rockstar Games wants to see the best shots of you and your beloved Crew members breaking hearts with the new Valentine's Day Massacre outfits, car and gun - and taking advantage of the other in-game Event rewards mentioned above. They'll pick their five photogenic favorites to feature at the Newswire and pay out a handsome GTA$1M each.
LIVE STREAMS
Rockstar is kicking off the weekend on Friday afternoon with an epic Rockstar-hosted live-stream which will be broadcast across three different channels: the
Social Club Online Events page
, the
Rockstar Games Twich.tv Channel
and the
official Rockstar YouTube channel
. Head over to Twitch.tv or YouTube now and subscribe for an automatic email notification when the stream begins. During the show, they'll be joined in the studio by esteemed Twitch broadcaster and GTA fan
Swiftor
who will be playing live along with the Rockstar Devs and members of the Social Club community joining them in lobbies Online. Rockstar will be playing through some of the brand new Jobs from the Valentine's Day Massacre Pack including brand new Last Team Standing, Races, Parachuting and Deathmatches as well as the latest round of Rockstar Verified player-created Jobs. Tune in from 2pm til 4pm ET Friday. Members of Rockstar Games will be online playing on both Xbox LIVE and PlayStation Network as PlayRockstar, PlayRockstar1 and PlayRockstar2, so feel free to look out for them in the lobbies.
There will also be more Valentine's Weekend Event live-streams happening hosted by some of Rockstar's broadcaster friends on YouTube and Twitch.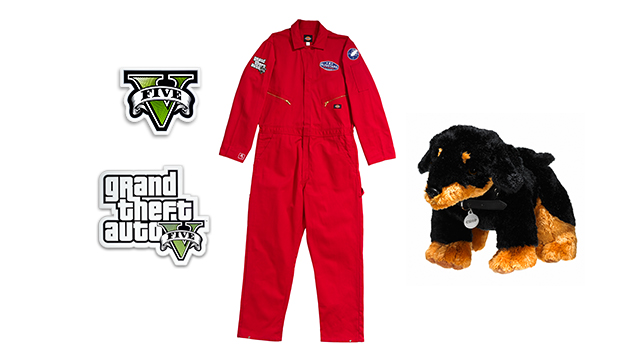 EVENT SWEEPSTAKES
Finally, enter to win sweet prizes in the Valentine's Weekend Event Sweepstakes. 5 lucky winners will score a deluxe Grand Prize Pack featuring the Valentine's-red Bugstars jumpsuit to role play in style along with a huggable Chop stash stuffed animal doll along with official GTAV t-shirts and stickers. 10 runners up will receive an official GTAV t-shirt stickers for themselves.
See Official Rules here
.
ADDITIONAL UPDATES TO GTA ONLINE
Today's automatic title update includes the triumphant return of the Rat Loader pickup truck to GTA Online. This vehicle and all its mods are available for free until the next title update, so anyone who might have lost one from their garage previously can now re-create it at no cost. Just grab it from the southernsanandreassuperautos.com in-game website and modify it at any Los Santos Customs location.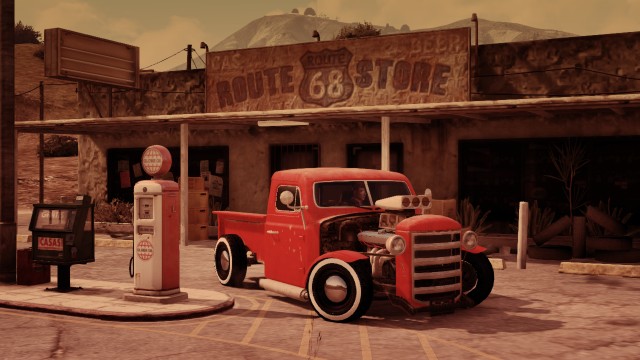 The Rat Loader returns to GTA Online. Snapmatic photo taken by jBhIpS.
This title update also enables solo players in Races to earn GTA$, plus provides fixes for numerous issues, including incorrect time displays for some players in the Bad Sport pool, issues with the Cornrows haircut and situations where characters would become bald after using a mask. For a complete list of fixes in this update, please check out the article at
Rockstar Support
.
Enjoy and join us in the
forums
!
---
THURSDAY, FEBRUARY 13, 2014 :: Posted by TreeFitty :: 0 Comments :: 1,298 Views
Grand Theft Auto V has 9 potential awards in the near future from the British Academy of Film and Television Arts (BAFTA) as part of
their Games in 2014 Awards
.
The categories Grand Theft Auto V, Rockstar Games, and others behind the game are competing for are:
Action And Adventure, Development Team
Game Innovation, Development Team
Audio Achievement, Ivan Pavlovich and Craig Conner
Multiplayer, Development Team
Best Game, Development Team
Performer, Steven Ogg (Trevor Phillips)
British Game, Development Team
Story, Dan Houser and Rupert Humphries
Game Design, Development Team
There are 17 categories in total which means GTA V could take half the awards! Congrats and good luck to Rockstar Games! The award ceremony will take place on March 12th, 2014. Be sure to join the discussions in the
forums
!
---
TUESDAY, FEBRUARY 11, 2014 :: Posted by bOnEs :: 9 Comments :: 2,986 Views
Rockstar Games will be releasing a 1920's Style Gangster DLC pack this Friday titled,
"The Valentine's Day Massacre Special"
featuring a bunch of new clothes, new jobs, a new vehicle, and a new weapon. All will be available for
FREE
for both your single player and online experience. Here's the details: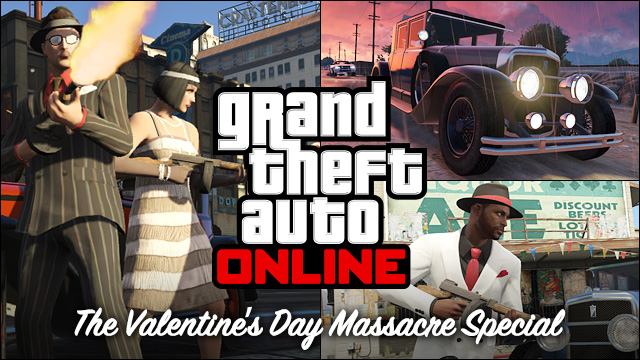 The Valentine's Day Massacre Special
, the latest free update to GTA Online that's coming this Friday features a variety of fun Valentine's themed extras for Story Mode and GTA Online.
NEW WEAPON: GUSENBERG SWEEPER
Nothing says "I love you" quite like the warm wooden grip and cold steel barrel of a Gusenberg Sweeper machine gun. Get it from any Ammu-Nation location in GTA Online (in Story Mode, the Sweeper is automatically deposited into each character's weapon inventory with two full clips and additional ammo can be purchased at Ammu-Nation).
NEW VEHICLE: ALBANY ROOSEVELT
Paint the town red in the classically-inspired Albany Roosevelt. This armored 1920s limousine is perfect for gangsters and their molls. To properly run amok with the new Roosevelt, get in the driver's seat and let your friends or Crewmates hang off the side, firing and taking out your rivals as you pass them by. The Roosevelt can be accessed from any garage property in Story Mode and is available in GTA Online from the legendarymotorsport.net in-game website.
NEW ATTIRE
Dress to the nines in a host of new double breasted suits and 1920s flapper dresses, or bare it all in sexy undergarments while going incognito with a selection of new masquerade masks. There are also new novelty t-shirts, hats and more available in stores throughout Los Santos, plus a new Flapper Bob hairstyle exclusively for the ladies.
10 NEW JOBS
The Valentine's Day Massacre also includes 10 new Jobs scattered like the remnants of a broken heart throughout the world of GTA Online, including Deathmatches, a new Parachute Jump and new land, sea and cycling Races.
Everything in the Valentine's Day Massacre Special will be available for a limited time starting this Friday, but once acquired you will be able to keep them in your inventory for good. We will also have more information soon for other forthcoming GTA Online content updates including the Dangerous Business Pack, Online Heists, an expansion to the Creator tool and lots more.
Dangerous Bussiness Pack and an expansion to the Creator Tool? Sounds like we've got more good stuff heading our way soon, incuding more information on the much anticipated Heists. Join the discussion in the
Forums
!
---
MONDAY, FEBRUARY 10, 2014 :: Posted by iGTA5 Staff :: 1 Comments :: 1,128 Views
It's about that time for a new Community Spotlight article where we bring attention to contributions from our forum members on Grand Theft Auto V and around the community in general. In this article we have some cool photos to show you, a few new iGTA Verified Jobs, and Highlights from Last Month's Crew Events.
---
---
Featured Snapmatic Pics
Our
Snapmatic Photos
thread on the forums continues to grow by the pages every day, full of some of the most amazing pictures seen out there. And our
Social Club Photo Gallery
holds links to over 1500 of them. We like to take pictures, and even had one
Retweeted by Rockstar Games on Twitter
, which makes it very difficult to choose just a few from our huge gallery on the Social Club. Check out the links above if you want to see the rest! In this particular edition, we're gonna feature some of the more recent gems found in our gallery.
TOP LEFT: This hilariously explosive situation was taken by Rob. That poor Dog seems to have a bit of a gassy problem. TOP RIGHT: CFO Charles (aka PS Fanboy) is channeling his inner Hunter S. Thompson in this awesome pic taken in Bat Country. BOTTOM LEFT: GunSmith has a knack for taking amazing shots, like this recent one. Check out the rest of his gallery here. BOTTOM RIGHT: Someone appears to have passed out drunk in this funny pic by ItsGoonie. Next time make sure he paces himself.
---
---
iGTA Verified Jobs
As you might of noticed from our last round of
Verified Jobs
, we're not into making the typical shit you see out there.
The Zancudo Challenge
and
Just Another Friday Night 2
were only the start of it. In this edition we have a few more PS3 goodies from the members of our forums, including one race that might have you screaming at your TV.
GTA Paintball
Deathmatch/TDM - 2 to 4 Players (1 to 2 Teams)
(created by
DiO
)
ADD TO GAME
A small paint ball like arena. Pistols Only!
This is a great small lobby deathmatch placed inside a warehouse by the docks. Add it to your game today and check it out with a few of your friends. The match is pretty intense and plays at a nice pace. The title comes from it's uncanny resemblance to a paintball or laser tag arena. It's also a Pistols only match.
Crawler's Clutch
Race - 1 to 16 Players
(created by
DuPz0r
)
ADD TO GAME
Rock crawling on San Andreas's wild terrain. The aim is slow and steady, not pedal to the metal.
Get ready to yell at your television and be amazed at the same time. This hardcore off-road challenge pits you and your challengers against Mother Nature. You will climb over cliffs and splash across ravines on your way to the very distant finish. And it's no walk in the park either, it requires patience, controlled acceleration, and vehicle balance. The Sandking is the suggested vehicle, but it has been completed with other off-road choices.
I FIB You Not
Deathmatch/TDM - 3 to 14 Players (1 to 2 Teams)
(created by
DuPz0r
)
ADD TO GAME
Fight amongst the destruction inside the FIB building.
Here's one of the more unique battles out there. A match that takes place inside the destroyed FIB building. The passages are tight and straightforward, but the battles make for good moments. The Forced+Pickup weapon option is the obvious choice here for maximum fun.
---
---
January iGTA Crew Event Highlights
We host a weekly PS3
Crew Event on the forums
, and have for over a dozen weeks now. We have a lot of fun getting into all sorts of shenanigans with a mostly full lobby of friends, and friends of friends who rep iGTA for a night. And since our community loves to create jobs, we always have a playlist full of them to try out during the event as well. It's an evening of fun every Monday night! Here's some of the highlights from the month of January.
January 6th
We spent a lot of time going off jumps in this
Crew Event
. Sometimes there's a theme to the evening and this is what this one turned into. There's lots of good jump pics taken
here in the forum topic
, including a tank!
January 13th
This
Crew Event
turned into pure shenanigans. The photo gallery from this particular event really does highlight what we do at our gatherings.
Here's where the gallery starts
, and below is a couple of the best pics from this evening.
January 20th
This particular
Crew Event
featured beach stunts, wheel tosses, and a funeral. All in a evenings work for the iGTA crew. The gallery
starts with this link
, but here is a couple of the highlights.
January 27th
So this
Crew Event
was a night in which we honored a fellow forum member by putting his face on our logo for the evening, because sometimes that's how we roll. We also did some more stunt jumps and 3 playlists! The
gallery starts here
, and check out a couple of the highlights below.
LEFT: DuPz0r, perfectly captured what we were doing for about 30 minutes before the playlists. Jumps! RIGHT: Ace of Spades captured that forum member we honored for the evening on the hood of a car at the group photo gathering outside the mod shop.
---
---
Join in on the Fun!
If you want to be a part of our community, join the
Forums!
. We host weekly Crew Events for the PS3, and would love to have more participation on the Xbox 360 side of things. We love to chat away on the forums so if you're looking for a place to hang out, check us out.
We are hosting our weekly
PS3 event this evening (6PM EST)
(event is now over) and there's a couple of openings if anyone wants to join in on the fun. Sign up and
post here in this thread
. We'll give you further instructions and get you outfitted with the Crew Logo, then we'll invite you once the event shenanigans start if you're online.
We'll see you next month with another edition of the iGTA Community Spotlight!
---
THURSDAY, FEBRUARY 06, 2014 :: Posted by TreeFitty :: 1 Comments :: 1,242 Views
Once again Rockstar Games has updated the
GTA V Collection at the Warehouse
with more items in the theme of money. Get a $100 bill yoga mat, safe lock dial timer, or a simple t-shirt. More details below...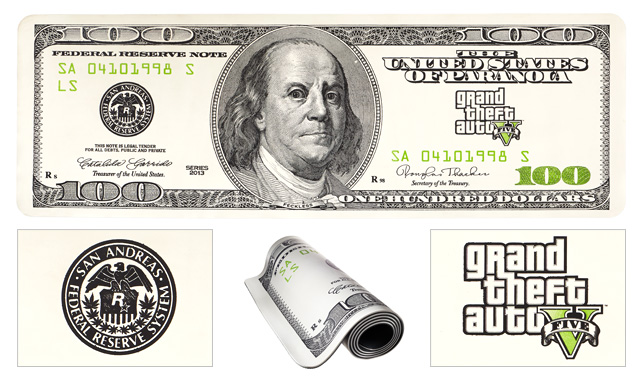 GTAV C-Note Yoga Mat
Celebrate the almighty dollar whilst pursuing total consciousness on the GTAV C-Note Yoga Mat - a comfortable workout mat that measures in at just over 6 inches long (1.83 m), 2 inches wide (0.6 m) and 0.25 inches thick (6 mm). This dense, non-slip mat is Fabien LaRouche approved and perfect for yoga practitioners of all skill levels, from novices just learning the Downward Dog to those mastering an advanced pose like the Lucky Triangle.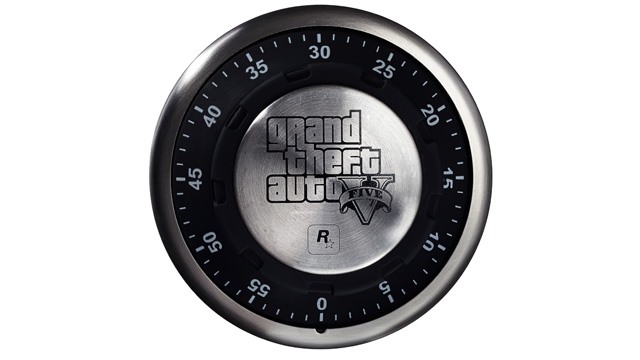 GTAV Safe Lock Timer
Whether you're coordinating an elaborate caper or sneaking into the kitchen at 2 AM for some questionable reheated Up-n-Atom, precise timing is everything. To that end, here's a heavy duty timer fashioned after a bank safe's combination dial. Features a powerful magnet on its back along with the Grand Theft Auto V and Rockstar logos on the front.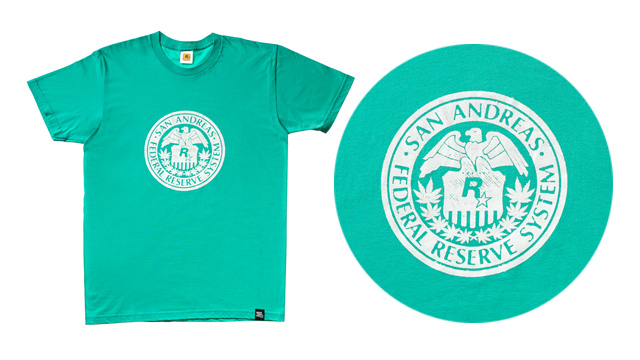 San Andreas Federal Reserve Tee
Turn other would-be criminals green with envy by rocking this mint San Andreas Federal Reserve t-shirt. This soft 100% cotton tee features the official "San Andreas Federal Reserve System" seal on its front, the GTAV logo label at the bottom hem, and a small Rockstar logo just below the neck line on the back.
Enjoy and join us in the
forums
!
---
TUESDAY, FEBRUARY 04, 2014 :: Posted by TreeFitty :: 0 Comments :: 1,166 Views
Rockstar Games has increased the number of Crew members you can have and will be hosting more live-streamed Crew battles this year. More details below...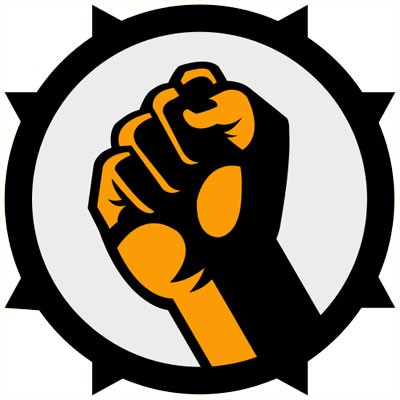 1000 Strong
If you lead or are a member of a Crew maxed out with 300 members, Rockstar has more than tripled the limit to 1000 members! Now there's plenty of room for your friends and their friends too.
Crew Battles
Rockstar Games will kick off the first
Grand Theft Auto Online Crew vs Crew battle live stream
this Friday, February 7th, at 2pm Eastern Time broadcasting from their official
Twitch
and
YouTube channels
. Tune in then to see them pit two Crews against each other over the course of a curated Playlist of Rockstar Verified and Rockstar Created Jobs. Note that one Rockstar dev player will join each side to play in order to facilitate streaming and to keep things fair. Rockstar has already reached out to a few of the toughest Crews around (the first matchup will be confirmed sometime this week) and they will be contacting others soon.
If you would like to be considered for the live stream battles, get in touch with Rockstar at
crewchallenges@rockstargames.com
and tell them your Crew name, a link to your Crew profile page, the specific platform you would like to stream on, and a reason why you should feature on the stream.
Have fun and join us in the
forums
!
---
FRIDAY, JANUARY 24, 2014 :: Posted by TreeFitty :: 2 Comments :: 1,819 Views
The next photo contest by Rockstar Games is under way! This time they want to see your best shots of your tricked out ride - either cars or motorcycles. From now through the end of day Friday, January 31st, take your most glorious shot of your favorite car or bike and tag it
#LSCarShow
on Snapmatic. Rockstar will be looking for artful photography that truly shows off the beauty of the vehicle as well as for inspiring car or bike shots with a great overall vibe, composition and atmosphere.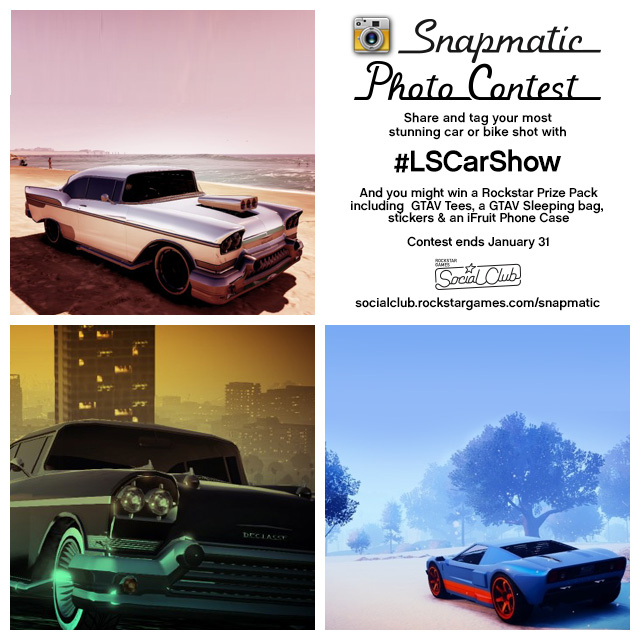 Their five favorite skillfully shot Snapmatics will be featured on the Newswire and the winning photographers will receive a
deluxe Grand Theft Auto V prize pack
including the cozy GTAV Body Bag sleeping bag, an official game tee, an iFruit phone case with decals, as well as GTAV collectible stickers: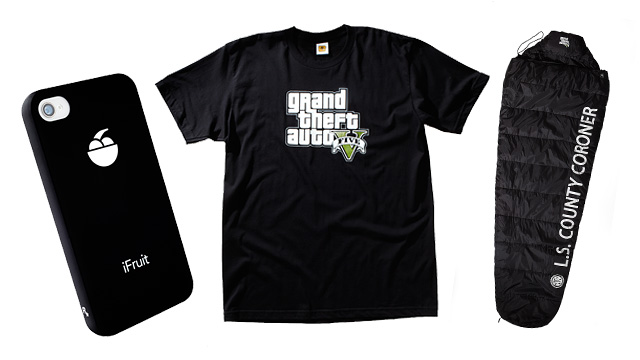 To enter,
Social Club
members can upload photos from the in-game iFruit phone to the
Snapmatic page
. When logged in there, you can go to "
My Photos
" to find your photo and add the hashtag
#LSCarShow
to automatically have it considered for entry. Rockstar would like to remind all hopefuls to make sure your contact email information is up to date in your Social Club account settings and also encourage you to link your Facebook and/or Twitter accounts to your Social Club profile so that they can easily contact you to send prizes should your picture be chosen.
Official rules here
. Have fun and join us in the
forums
!