Latest GTA 5 News, Release Date & Screenshots
Grand Theft Auto V
(also known as
Grand Theft Auto 5
,
GTA V
or
GTA 5
) is the name of the newest Grand Theft Auto game,
announced
by Rockstar Games on October 25, 2011.
GTA 5 launched on September 17th, 2013
for the PlayStation 3 and Xbox 360. iGTA5.com is a dedicated GTA 5 fan site keeping you up to date with all the latest news and facts.
[
Read More
]
---
GTA V Information
On iGTA5.com you'll find rumors and speculation about the game,
fan artwork
and
fake screenshots
along with official
news
and facts including the
Release Date
,
Images
,
Characters
and other official content when it's released. We also have a dedicated
GTA 5 Forum
specifically for GTA V discussion, so make sure you get signed up!
---
Share Your GTA 5 Content!
If you have any GTA V content or news to share with us, please email
submit[at]igta5.com
!
---
WEDNESDAY, APRIL 23, 2014 :: Posted by TreeFitty :: 0 Comments :: 137 Views
The next Snapmatic contest is now live! Rockstar wants you to take pics of Cargobobs - but more specifically their cargo - providing transportation services.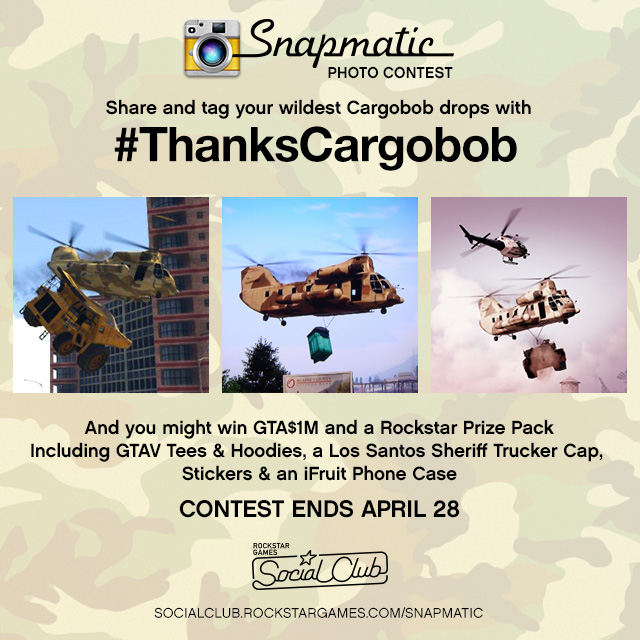 Now's your chance to put your hook-drag-and-drop skills (and photographic prowess) to the test. Your mission: pick something up with the Cargobob; drop it where it absolutely doesn't belong; snap the most creative, impressive, beauteous or amusing Snapmatic photo of it that you can.
From now through end of day Monday, April 28th, capture your wildest and most unique Cargobob drop offs and tag them with
#ThanksCargobob
on Snapmatic. Don't be afraid to think outside the box - strange drops are encouraged. Our five favorite Snapmatic shots will be featured at the Rockstar Newswire and the winning photographers will receive GTA$1M and a deluxe Rockstar Prize Pack including GTAV tees and hoodies, a Los Santos trucker cap, a GTAV Gold Bar USB Drive, official stickers, and an iFruit phone case.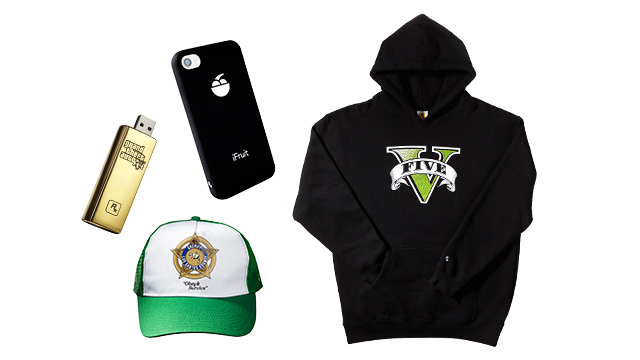 To enter, Social Club members can upload photos from the in-game iFruit phone to the Snapmatic page at
socialclub.rockstargames.com/gtav/snapmatic
. When logged in at the Snapmatic page, you can go to "
My Photos
" to find your photo and add the hashtag
#ThanksCargobob
to automatically have it considered for entry. Rockstar adivses that you check that your contact email information is up to date in your Social Club account settings and encourage you to link your Facebook and/or Twitter accounts to your Social Club profile so that they can easily contact you to send prizes should your picture be chosen.
Contest is void in certain countries and where prohibited. See
official rules and eligibility rules
.
Have fun and good luck! Join the fun in the
forums
!
---
FRIDAY, APRIL 11, 2014 :: Posted by TreeFitty :: 0 Comments :: 1,436 Views
Adding on to the over 4 million player-created Deathmatches and Races, the Creator community (you and other fans) can now make their own original customized Capture Jobs with the
Capture Creator Update
for GTA Online. Strategically place pick-ups, define weaponry, location and lots of other variables to make your own unique Capture Job for others to take on. As usual Rockstar will be reviewing your homemade Capture creations to stamp standout experiences as
Rockstar Verified
.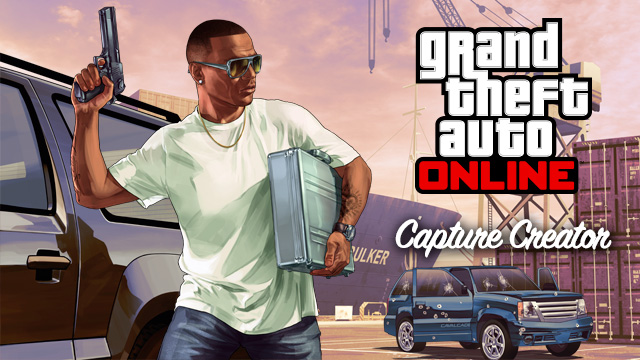 As a little bonus for early birds in the community who are planning to make the first Capture creation masterpieces this weekend, Rockstar is going to give 4 creators the opportunity to score a cool
$GTA1,000,000
and the exclusive in-game
CAPTURE license plate
in the
#CaptureWeekend Awards
. The four official selections will also join the hallowed ranks of Rockstar Verified Jobs and be invited to join Rockstar on a future live broadcast on Twitch to play through and talk about their creations.
To help you get started,
they've created a handy PDF guide
that will walk you through the process of creating your own Capture Jobs.
Rockstar is also
extending the 2X GTA$ and RP period
that was originally scheduled to end today through next week - so playing
any Capture Jobs
, including those made with the Creator tools will earn you twice as much GTA$ and RP until the end of the day on Sunday, April 20th!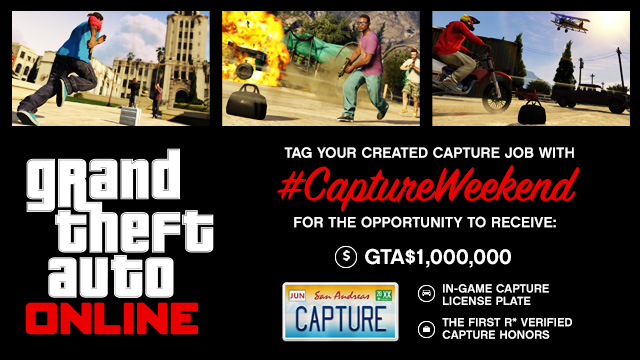 To submit your published Capture Job for consideration head to the GTA Online section of Social Club and find your created Jobs. In the details area of the Job you think is worthy, click the
Edit Tags
button at the bottom, add
#CaptureWeekend
to the edit box, and click Save. The deadline for submissions is 11:59 PM Eastern on Sunday.
See full terms and conditions here
.
Have fun and share your creations in our
new Creator forum here
!
---
TUESDAY, APRIL 08, 2014 :: Posted by TreeFitty :: 1 Comments :: 1,715 Views
As promised, this Friday, April 11th, you'll be able to construct your own Capture Jobs with the
GTA Online Creator
tool. This update will let you create Jobs across any of the four Capture Job variants - Contend, GTA, Hold, and Raid - and publish them for all to play, rate and share via the Rockstar Games Social Club.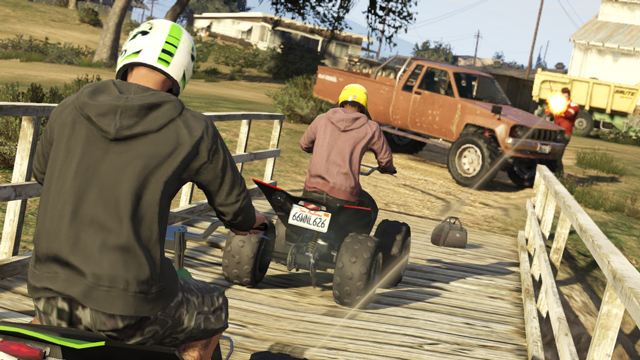 In honor of this forthcoming update and to help you hone your skills for the wave of new player-made Capture creations to come,
from now until Friday
playing any of the official Capture Jobs in GTA Online will earn you
twice as much GTA$ and RP
. If you haven't yet played Capture Mode in GTA Online, it's a GTA twist on classic capture the flag style confrontations that brings a whole new level of adversarial action to the world of Los Santos and Blaine County. Strategy plays a huge role as you run decoys, set traps and place obstacles to ensure your enemies don't get close to your goods.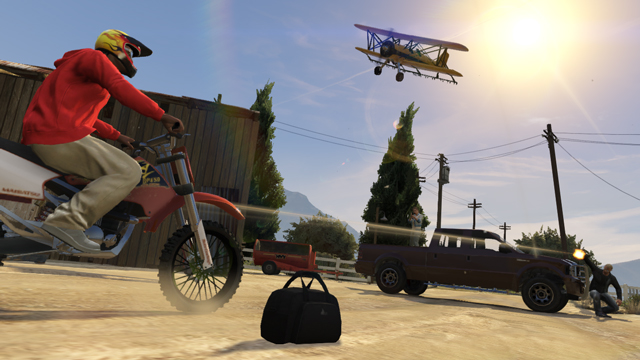 Today, there is also a new Title Update available that includes many fixes including
bonus RP
every time you like or dislike content after playing it, the ability to call Lester and have him instruct the cops to turn a blind eye to criminal activity for a short period of time, as well as
increased payouts
for completing Parachute, Races, Deathmatches and LTS Jobs with less than four players. To get the new update, just go online with your PS3 or Xbox 360 and GTAV. You'll be prompted to download an automatic update. For the full list of fixes and changes, check out
this article at the Rockstar Support page
.
See you then! Join the fun in the
forums
!
---
WEDNESDAY, APRIL 02, 2014 :: Posted by TreeFitty :: 40 Comments :: 4,449 Views
Create your own Capture job? Check. New DLC? Check. Heists? ... Finally, check! Rockstar has given everyone a quick glimpse of things coming our way this spring in Grand Theft Auto Online (and likely singleplayer too).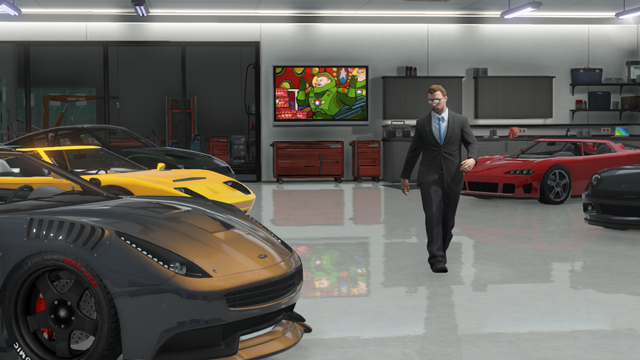 You'll soon be able to own multiple properties in GTA Online as part of the forthcoming High Life Update.
CAPTURE CREATOR
Coming next week, the Creator community will be able to make their own original
customized Capture Jobs
and add to the over 3.5 million (and counting) player-created Deathmatches and Races currently available on Social Club. Strategically place pick-ups, define weaponry, set location, and tweak tons of other variables to make your own unique Capture Job for others to take on.
THE HIGH LIFE UPDATE
The High Life Update will allow you to expand your foothold in Los Santos with
new high-end apartment options
, the powerful
Bullpup Rifle
, new wardrobe items, the
Dinka Thrust motorcycle
and three new lavish cars to choose from, including the
Super class Pegassi Zentorno
. The High Life Update will also feature the debut of multi-property ownership in GTA Online, which means you'll be able to own two distinct properties (with garages) simultaneously. All this plus the new Mental State player statistic, which is designed to let you see just how passive or psychotically unhinged fellow players in your session really are, and a slew of new Jobs.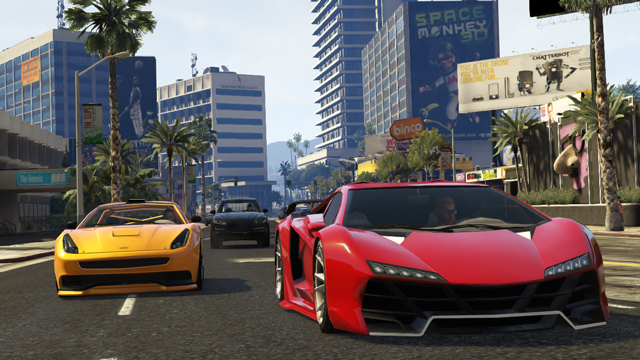 The new Dewbauchee Massacro and Pegassi Zentorno racing down West Eclipse Blvd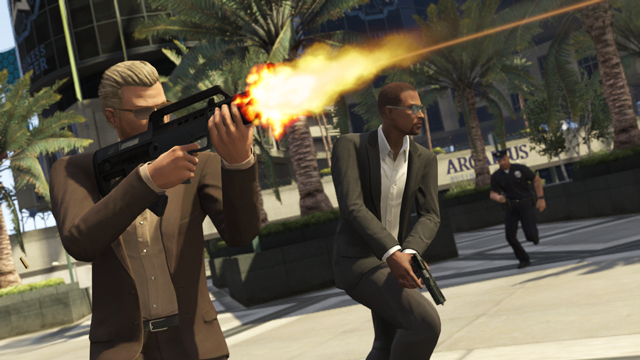 The Bullpup Rifle, coming soon to Ammu-Nation.
HEISTS
Coming this spring to Grand Theft Auto Online, team up with your most trusted Crew members or with random other mercenaries in Grand Theft Auto Online to pull off cooperative Heist Missions for glory and profit. Rockstar knows many in the GTA Online community have been looking forward to this update.
And later this year, look for even more additions to both Grand Theft Auto Online and Grand Theft Auto V, including more holiday-themed updates, some very exciting Story Mode DLC, and much more!
CONTINUING REFINEMENTS BASED ON YOUR FEEDBACK
Rockstar continues to value your feedback on GTAO. If you have suggestions send them to
GTAOnline@rockstargames.com
. In upcoming Title Updates and via dynamic tuning, you can expect:
The addition of a 'Non-Contact' option for Races. This will allow you to play standard Races with collisions disabled between player vehicles. Other players will appear as semi-transparent and you'll still be able to collide with non-player traffic, structures and other scenery, but this mode - for those who want to play it - will eliminate the "rubbing is racing" mentality that some wish to avoid.
Players will be able to call Lester and have him tell his cop buddies to turn a blind eye to any crime you may or may not be committing for a short period of time.
As a reward for players who leave feedback on Jobs, there will be some bonus RP granted every time a player likes or dislikes content after playing it.
GTA$ payouts will be increased when completing Parachute, Races, Deathmatches and LTS Jobs with less than 4 players.
As part of the ongoing commitment to target cheaters and keep the game as fair as possible, Rockstar is closing RP exploits and will be adjusting the RP totals of players who they know for certain to have gained illegitimate RP by cheating. Your RP will only be adjusted if you participated in mods, hacks, DNS redirects, manipulation of cloud files, or other similarly nefarious behavior. If you grinded short legitimate missions or otherwise gained a small amount of RP without modding, your RP should not be affected by this correction.
They'll be fixing the issue where players who had upgraded personal vehicles prior to Title Update 1.10 were only able to sell them for $10,000.
Sounds good! Join the chat in the
forums
!
---
WEDNESDAY, MARCH 26, 2014 :: Posted by TreeFitty :: 2 Comments :: 1,699 Views
Adding to the long list of items in the
GTA V collection at Rockstar Warehouse
, you can now purchase a limited edition golf club, USB gold bar flash drive, and a T.P.I. t-shirt. More details below...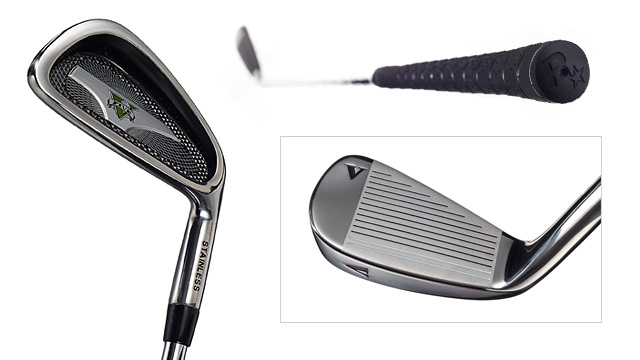 GTA V Iron: Limited Edition Golf Club
With less than 1,000 units produced this limited edition Grand Theft Auto V Iron makes a nice conversation piece and is also a sturdy 5-iron that can handle those tough, mid-range approach shots. It features the familiar "V" branding on its head and a Rockstar Logo on its grip.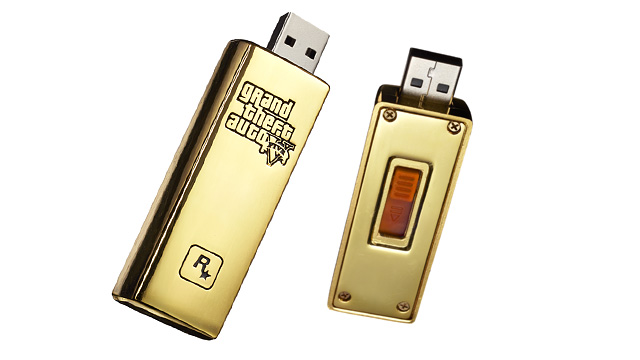 GTAV Gold Bar USB Drive
Snag some encrypted info on the go with this golden hued 2GB USB flash drive featuring a retractable USB that is extended via a slider on the bottom. The bar is cast in a weighty zinc alloy and features molded Grand Theft Auto V and Rockstar Logos on its front.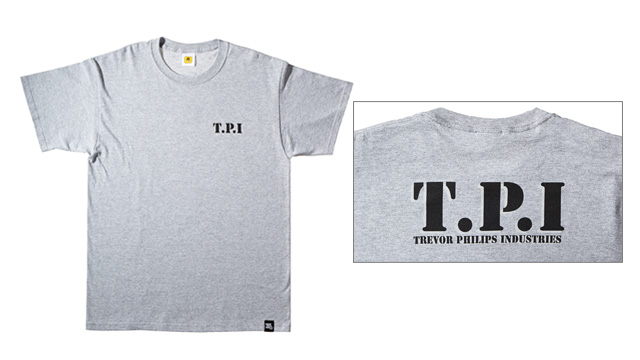 GTAV Trevor Philips Industries Tee
Nervous Ron and Trevor are working hard to grow Trevor Phillips Industries. To look the part of a diligent employee consider rocking this soft grey 100% cotton tee featuring a small T.P.I logo on the front and the full "Trevor Philips Industries" logo just below the neck line on the back.
Enjoy and join us in the
forums
!
---
THURSDAY, MARCH 13, 2014 :: Posted by TreeFitty :: 3 Comments :: 2,278 Views
Out of the
9 BAFTA nominations
Grand Theft Auto V and Rockstar Games received, they managed to
take home 3
plus induction into the Academy Fellowship.
The awards gained are:
Game Design in 2014
Multiplayer in 2014
British Game in 2014
Fellowship in 2014
Top people from Rockstar Games - Dan & Sam Houser, Leslie Benzies, and Aaron Garbut - were at the ceremony to accept the honors:
Congrats to all involved!
Be sure to join the various conversations in the
forums
!
---
WEDNESDAY, MARCH 05, 2014 :: Posted by TreeFitty :: 4 Comments :: 2,293 Views
Once again Rockstar Games is turning up the RP and hosting a
Las Venturas
Los Santos
business party to celebrate the
latest DLC release
for GTA V and Grand Theft Auto Online. It's time for some capitalism punishment in the
Business Weekend Social Club Online Event
, this Friday, March 7th, through Sunday, March 9th.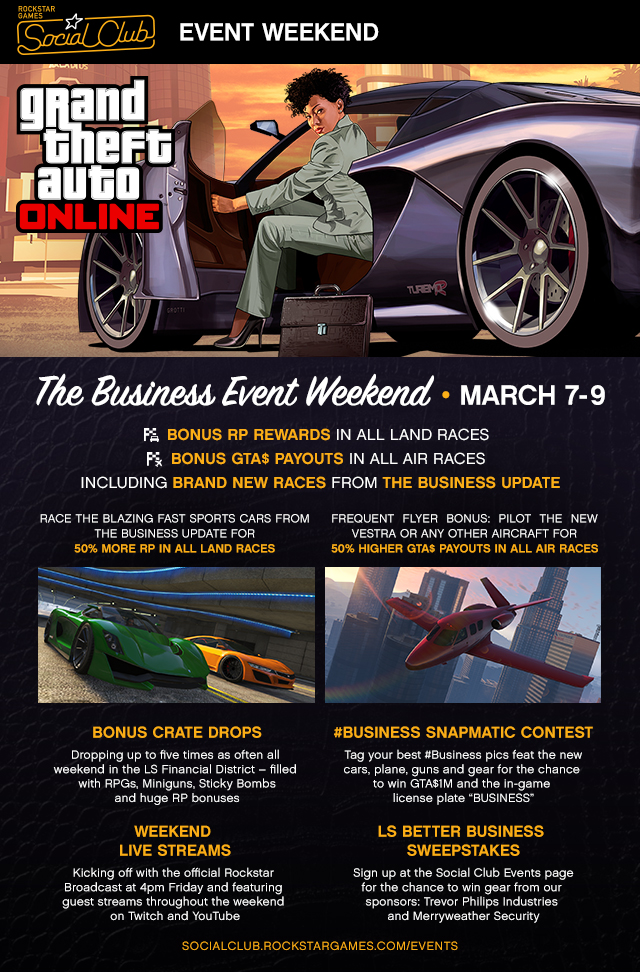 High-end cars and rarefied recreational activities are on the menu, featuring a diverse portfolio of in-game benefits like bonus RP and GTA$ payouts for Land Races and Air Races respectively - and high powered weapons literally falling from the sky in Event Crate Drops all weekend. Also, there'll be chances to score rare GTAV gear in the
Social Club Los Santos Better Business Sweepstakes
and in-game GTA$1M and the exclusive 'BUSINESS' vanity plate in the
#BUSINESS Snapmatic Contest
. There'll also be special Event Weekend live-stream broadcasts starting this Friday afternoon with the official Rockstar show, featuring special guests and fun with the new plane, cars, guns and Jobs included in The Business Update.
IN-GAME REWARDS AND BONUSES
Acquire the new blazing fast sports cars, Vestra aircraft, and powerful weaponry that are now available in The Business Update and also reap special in-game rewards and bonuses right through the weekend including:
50% more RP in all Land Races, providing the ideal opportunity to open up that brand new Albany Alpha, Dinka Jester and Grotti Turismo R.
50% higher GTA$ payouts in all Air Races - a frequent flyer bonus for those who thrive in the skies of Los Santos.
High Priority Vehicle - Simeon has spotted a rush in demand for company cars and has put the call out for Ocelot Jackals this weekend. Wait for his text, grab the car and fight your way back to the docks for a nice GTA$ boost.
Event Crate Drops - Bonus Event Crate Drops will be falling from the skies regularly in the Downtown Los Santos financial district as well as around the airfields of Los Santos and Blaine County. This weekend, the Crates will be stuffed with RPGs, Miniguns, Sticky Bombs and more RP than ever - with up to 8000RP in every Crate.
#BUSINESS SNAPMATIC CONTEST
Tag your best Snapmatic shots between now and end of day Sunday with #BUSINESS showing off your most creative, most awesome, and most beautifully composed moments featuring any of the new cars, guns, aircraft, gear or Jobs from The Business Update. Rockstar Games will pick five (5) favorites to award GTA$1M in in-game financial dividends as well as the exclusive 'BUSINESS' in-game vanity license plate so you can always roll around Los Santos like a boss.
See full rules and eligibility details
.
EVENT WEEKEND LIVE STREAMS
Rockstar will be kicking off the weekend with this Friday's official Rockstar live stream broadcast from 4-6pm Eastern Time US with two hours of mayhem, hijinks, and playthroughs of the new Business Update Jobs and gear hosted by Rockstar and featuring special invited on-stream guests. They'll be streaming across the
Social Club Multiplayer Events page
, the
Rockstar Games Twitch.tv channel
, and the
Rockstar Games YouTube channel
. Tune in and join the fun in the hosted chat at Twitch and Social Club as well.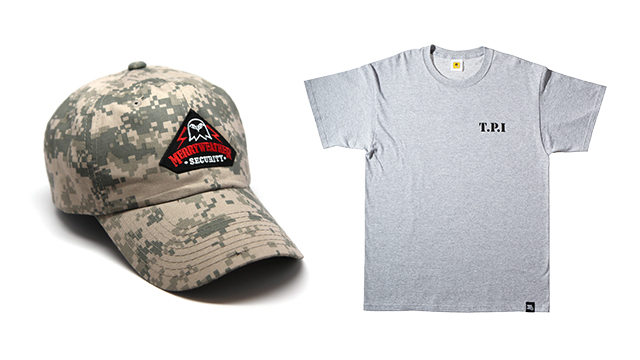 LOS SANTOS BETTER BUSINESS SWEEPSTAKES
Finally, enter The Los Santos Better Business Sweepstakes all weekend for the chance to become a walking billboard for some of Los Santos and Blaine County's most reputable local businesses. Five lucky winners will win the super rare
Trevor Phillips Industries tee
and
Merryweather Security camouflage cap
. 10 runners-up will score GTAV tees and stickers. To enter, just fill in the form at the
Social Club Events page
between Friday and the end of day Sunday March 9th.
Sounds good! Join the chat in the
forums
!
---
TUESDAY, MARCH 04, 2014 :: Posted by TreeFitty :: 8 Comments :: 3,125 Views
The Business Update
is now available to download from PSN and Xbox Live. This update adds three new blazing fast cars to the Legendary Motorsport roster: the Albany Alpha, Dinka Jester, and Grotti Turismo R. Plus there are also new vehicle horn and wheel-smoke options available at LS Customs to give these new rides some additional flair.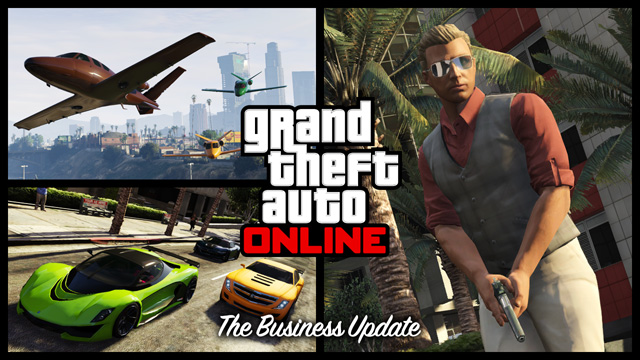 For those who prefer to navigate Southern San Andreas by air, hit up Elitas in-game to order the new Vestra luxury jet. There are also two new high-powered weapons available at Ammu-Nation: the Heavy Pistol and Special Carbine automatic rifle - plus a new ensemble of business shirts, suits, vests, skirts, hats and other high end attire.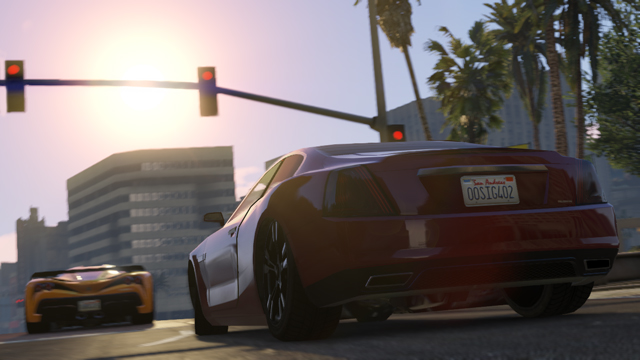 The update also added 14 new Jobs to GTA Online, many of which are inspired by the new additions from The Business Update. There are four new Land Races designed specifically for the Sports and Super class cars. You can take the new Vestra airplane on a tour of the Los Santos skies in any of four new Air Races. Additionally, a pair of new Vehicle Deathmatches feature the Buzzard and the Rhino Tank, plus a new Last Team Standing in Little Seoul, a 2 team Capture at Los Santos City Hall and a new Survival around the Maze Bank Tower.
And make sure to join Rockstar this weekend for the Business Weekend Social Club Online Event featuring exclusive RP and GTA$ bonuses, a new Snapmatic competition, and more! Stay tuned for more details later this week.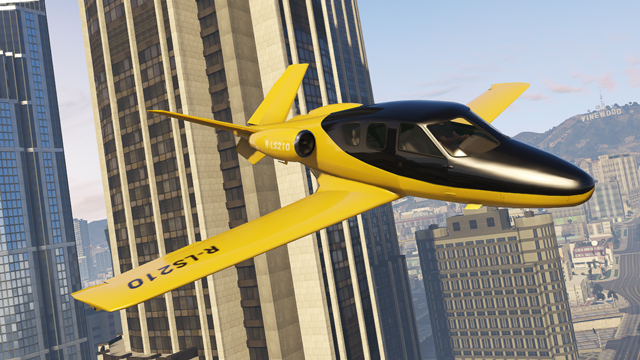 Finally, this week's update to GTA Online also includes a host of additional updates and fixes including the ability to disable Slipstreaming in Races, the addition of Barber Shop and Tattoo Parlour locations to the Quick GPS, and a number of other exploit and stability fixes. For the full list, check out the
corresponding article on the Rockstar Support page
.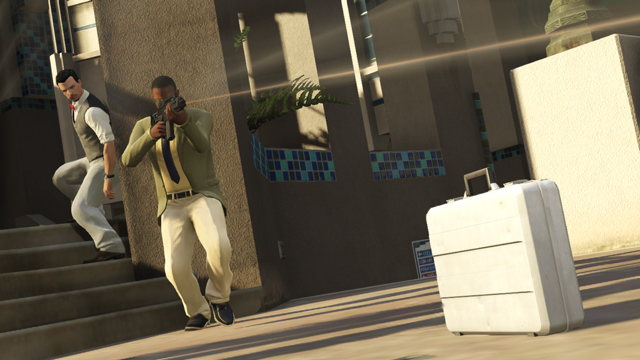 To acquire today's free update, fire up your online-connected PS3 or Xbox 360 and load up GTAV. You'll be prompted to download the automatic update (Xbox 360 players will also be required to download an additional compatibility pack). From there, head to the in-game store from the pause menu to access and download the Business Update.
Enjoy and join the fun in the
forums
!
---
THURSDAY, FEBRUARY 27, 2014 :: Posted by bOnEs :: 10 Comments :: 3,998 Views
Just as the
Valentine's Day Massacre DLC
leaves, a new one enters the picture! On Tuesday, March 4th the
Business Update DLC Pack
will be released. And with it comes new clothing options, new rides, and new weapons. Here's the details straight from the source: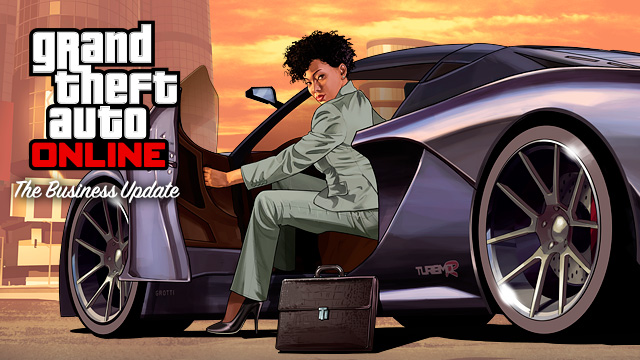 Enjoy the perks of rising through the ranks of your Los Santos and Blaine County business ventures with The Business Update, coming next week on Tuesday March 4th to PSN and Xbox Live. Thrill-seekers and weekend warriors can hop in any of three all-new, blazing fast sports cars: the
Albany Alpha
,
Dinka Jester
and
Grotti Turismo R
... or take to the skies in the new
Vestra
airplane.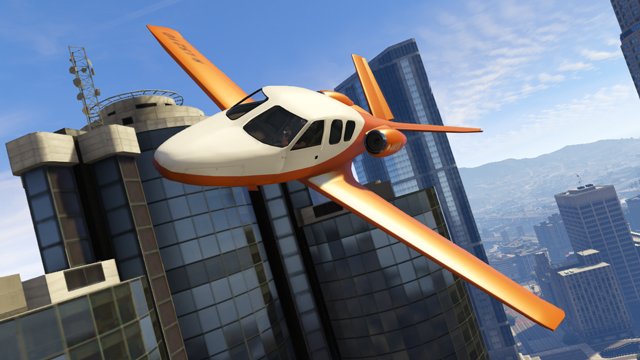 Swing by Ammu-Nation to pick up two new weapons, the
Heavy Pistol
and
Special Carbine
, which both offer some serious firepower.
Dress for success with formal and business casual attire options like new suit jackets, slacks, glasses, heels and blouses, or don new all-business hairstyles and currency themed tattoos. There's also a collection of new masks, perfect for disguising yourself during the next hostile takeover.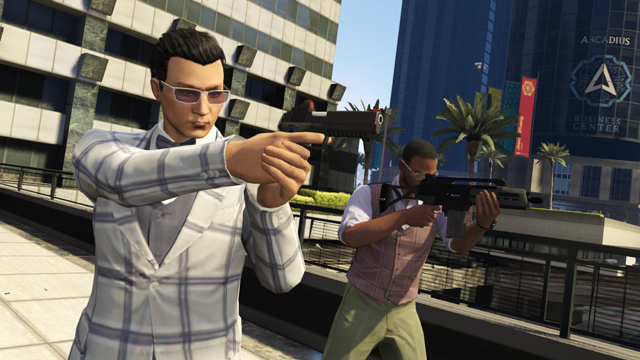 Just like the recent Valentine's Day Massacre Special, the new vehicles and weapons will be available in both Story Mode and Online. In Story Mode, weapons will be deposited into all three characters' inventory with two full ammo-clips and all three cars are accessible from their garage properties. In GTA Online, you'll be able to purchase the new weapons and their attachments at any Ammu-Nation location while the vehicles will be available for purchase from Legendary Motorsport and Elitas.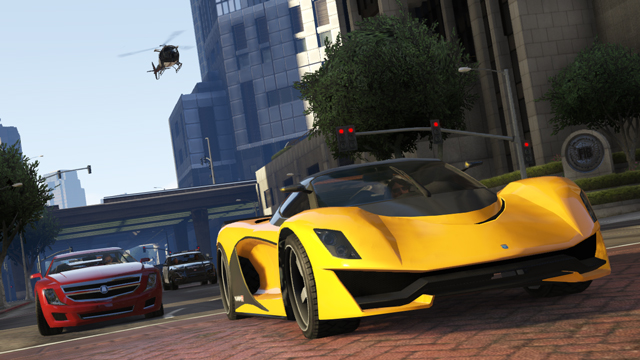 Don't forget that this weekend is your last chance to grab the Albany Roosevelt limousine, the Gusenberg Sweeper machine gun and all the rest of the exclusive items from the Valentine's Day Massacre Special before they're gone. Once you purchase them in-game, they're yours to keep - but they will no longer be available to purchase after midnight PST this Sunday, March 2nd.
As we still await word on the Heists, we continue to get updates on the new content heading our way, including the mention of a Capture Creator Tool in the works, and Story Mode updates including new Assassination and Flight School Missions. Join us in the
Forums
to discuss more!
---
THURSDAY, FEBRUARY 13, 2014 :: Posted by TreeFitty :: 5 Comments :: 4,110 Views
A little earlier
than stated
but that's nothing to complain about. The Valentine's Day Massacre Special is now available with the latest title update (1.10).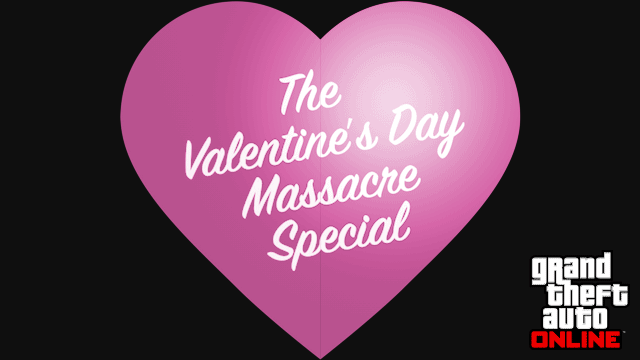 The update includes a variety of fun Valentine's themed extras for Story Mode and GTA Online like the Gusenberg Sweeper machine gun, the new Albany Roosevelt ride, and a host of new attire options like double breasted suits, flapper dresses, sexy undergarments, novelty t-shirts, hats, masks, and more! These items are all available to purchase in GTA Online right now until the end of February - and once acquired they're yours to keep in your inventory for good.
NEW JOBS
This update also has 10 new Jobs across a variety of modes. Here's a few details...
"Shotgun Wedding" (Team Deathmatch): The title says it all. Small-scale Deathmatch around the church in Paleto Bay that's locked to shotguns. It'll be a lot less bloody than divorce.
"Property Values" (Deathmatch): Forget about love, nothing's going to break your heart like the price of real estate. Free for all Deathmatch on an unaffordable cul-de-sac near Mirror Park. Look out for the sniper on the grassy knoll.
"Creek" (Parachuting): Nothing says 'I'm in love' like throwing yourself out of a chopper with up to seven other idiots. A steep dive, almost skirting the side of the Raton Canyon, gliding into Cassidy Creek.
"Vinewood Tours" (Race): Who needs love when you've got booze in your belly and stars in your eyes? Lap race for cars and bikes taking in all the tourist sights of Vinewood and Rockford Hills.
"Motorboating" (Sea Race): A good motorboating is all anyone wants for Valentine's Day. Take your love for a trip around buoys and over jumps to the North of Mount Gordo.
"Heart Breaker" (Bike Race): Make your feelings known by carving a love heart into the Grand Senora Desert. Hills and jumps in this mainly off-road lap race for bikes on a heart-shaped track.
VALENTINE'S MASSACRE SOCIAL CLUB EVENT WEEKEND
This Friday, February 14th through Monday, February 17th jump into GTA Online to make sure you redeem the limited-time-only Valentine's Day Massacre Special content and also reap four whole days of in-game rewards, discounts and happenings in the Valentine's Weekend Massacre Social Club Online Event. Tailor up in a new double breasted suit or flapper dress from the Valentine's Day Massacre content pack, grab a trusty Gusenberg SMG and pick up your loved ones in an Albany Roosevelt to paint the town red all weekend long.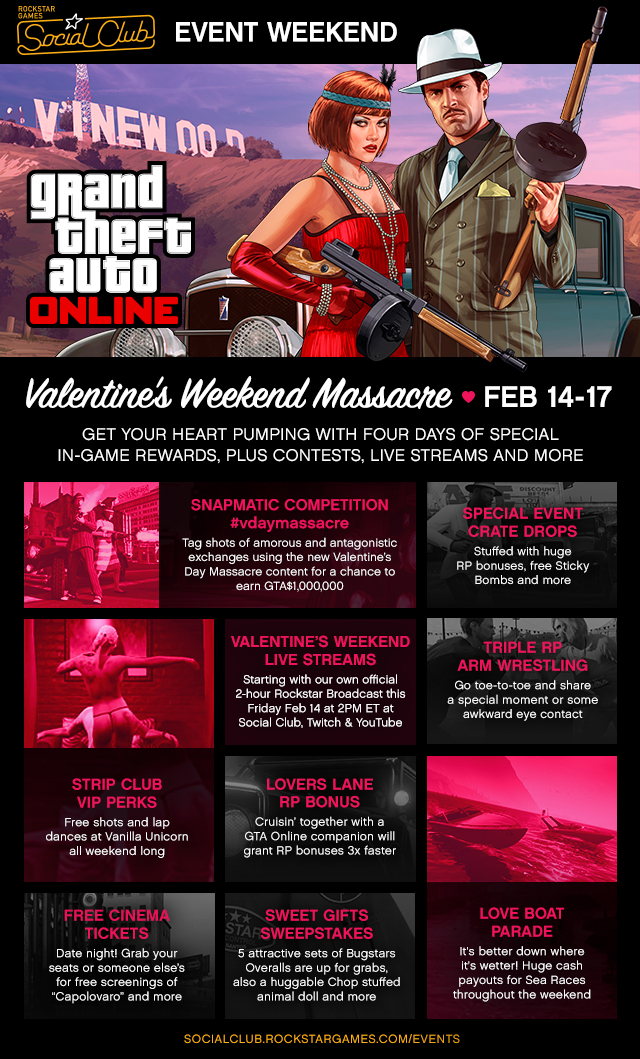 IN-GAME REWARDS
In addition to the limited-time-only Valentine's Day Massacre Special content that can only be redeemed between Friday, Valentine's Day through the end of February (but once redeemed, you can hold on to it for good), Rockstar has lined up lots of special in-game rewards exclusively for players this weekend to help you paint the town red.
Special Event Crate Drops. Make-out big by lurking around some of San Andreas' most secluded spots such as the secluded beach in North West Blaine County, the Stables, Del Perro Beach, the Observatory Car Park and, of course, the VINEWOOD sign. Special Event Crate Drops will be falling from the skies in those lovers' lane locations frequently, stuffed with huge RP bonuses, a range of SMGs, and Sticky Bombs to give that special someone some serious separation anxiety.
Triple GTA$ payouts for all Sea Races. Cruise the waterways of Los Santos and Blaine County and if you can best your rivals in a Sea Race, your happy ending will be extra sweet with triple the GTA$ payout.
Triple RP in Arm Wrestling all weekend. Lock hands, make some awkward eye contact and push for glory and triple the RP.
RP bonuses for riding in cars with others will be awarded up to three times as fast, whether you're in a traditional twosome or a full-on ménage.
Free cinema tickets all weekend to your choice of date night screenings.
Look for love in all the wrong places with free shots and free lap dances at the Vanilla Unicorn.
PLUS for old time's sake and by popular demand, Rockstar is also turning on Triple XP in both Max Payne 3 and Red Dead Redemption all weekend long (through end of day Monday).
SNAPMATIC COMPETITION - #vdaymassacre
Share your best Snapmatic shots from the Valentine's Event Weekend and tag them with #vdaymassacre for your chance to win a cool GTA$1M and one of five exclusive in-game license plates (MASACRE, VLNTINES, VMASSCRE, KISS IT, BE MINE). Rockstar Games wants to see the best shots of you and your beloved Crew members breaking hearts with the new Valentine's Day Massacre outfits, car and gun - and taking advantage of the other in-game Event rewards mentioned above. They'll pick their five photogenic favorites to feature at the Newswire and pay out a handsome GTA$1M each.
LIVE STREAMS
Rockstar is kicking off the weekend on Friday afternoon with an epic Rockstar-hosted live-stream which will be broadcast across three different channels: the
Social Club Online Events page
, the
Rockstar Games Twich.tv Channel
and the
official Rockstar YouTube channel
. Head over to Twitch.tv or YouTube now and subscribe for an automatic email notification when the stream begins. During the show, they'll be joined in the studio by esteemed Twitch broadcaster and GTA fan
Swiftor
who will be playing live along with the Rockstar Devs and members of the Social Club community joining them in lobbies Online. Rockstar will be playing through some of the brand new Jobs from the Valentine's Day Massacre Pack including brand new Last Team Standing, Races, Parachuting and Deathmatches as well as the latest round of Rockstar Verified player-created Jobs. Tune in from 2pm til 4pm ET Friday. Members of Rockstar Games will be online playing on both Xbox LIVE and PlayStation Network as PlayRockstar, PlayRockstar1 and PlayRockstar2, so feel free to look out for them in the lobbies.
There will also be more Valentine's Weekend Event live-streams happening hosted by some of Rockstar's broadcaster friends on YouTube and Twitch.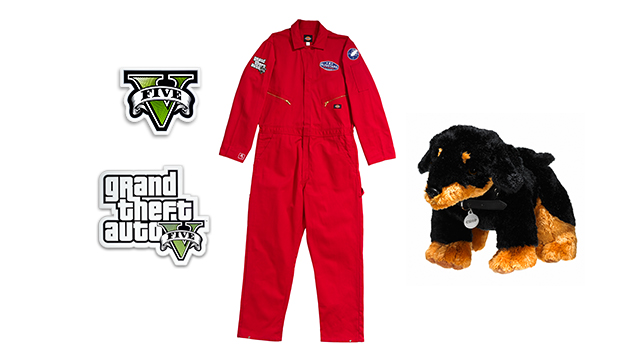 EVENT SWEEPSTAKES
Finally, enter to win sweet prizes in the Valentine's Weekend Event Sweepstakes. 5 lucky winners will score a deluxe Grand Prize Pack featuring the Valentine's-red Bugstars jumpsuit to role play in style along with a huggable Chop stash stuffed animal doll along with official GTAV t-shirts and stickers. 10 runners up will receive an official GTAV t-shirt stickers for themselves.
See Official Rules here
.
ADDITIONAL UPDATES TO GTA ONLINE
Today's automatic title update includes the triumphant return of the Rat Loader pickup truck to GTA Online. This vehicle and all its mods are available for free until the next title update, so anyone who might have lost one from their garage previously can now re-create it at no cost. Just grab it from the southernsanandreassuperautos.com in-game website and modify it at any Los Santos Customs location.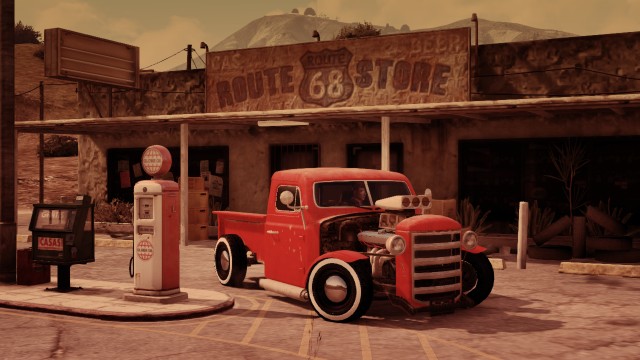 The Rat Loader returns to GTA Online. Snapmatic photo taken by jBhIpS.
This title update also enables solo players in Races to earn GTA$, plus provides fixes for numerous issues, including incorrect time displays for some players in the Bad Sport pool, issues with the Cornrows haircut and situations where characters would become bald after using a mask. For a complete list of fixes in this update, please check out the article at
Rockstar Support
.
Enjoy and join us in the
forums
!