Latest GTA 5 News, Release Date & Screenshots
Grand Theft Auto V
(also known as
Grand Theft Auto 5
,
GTA V
or
GTA 5
) is the name of the newest Grand Theft Auto game by Rockstar Games. GTA 5 launched on September 17th, 2013 for the PS3 and Xbox 360, November 18th, 2014 for the PS4 and Xbox One, and finally
January 27th
March 24th
April 14th, 2015
for PC. iGTA5.com is a dedicated GTA 5 fan site keeping you up to date with all the latest news and
facts
!
[
Read More
]
---
GTA V Information
On iGTA5.com you'll find rumors and speculation about the game,
fan artwork
and
fake screenshots
along with official
news
and facts including the
Release Date
,
Images
,
Characters
and other official content. We also have a dedicated
GTA 5 Forum
specifically for GTA V discussion, so make sure you get signed up!
---
Share Your GTA 5 Content!
If you have any GTA V news, content, or fan art to share with us, please email
submit[at]igta5.com
!
---
TUESDAY, FEBRUARY 24, 2015 :: Posted by TreeFitty :: 6 Comments :: 784 Views
Another month delay added to Grand Theft Auto V's PC release but for console players there's an official release date for heists - and they are only 2 weeks away!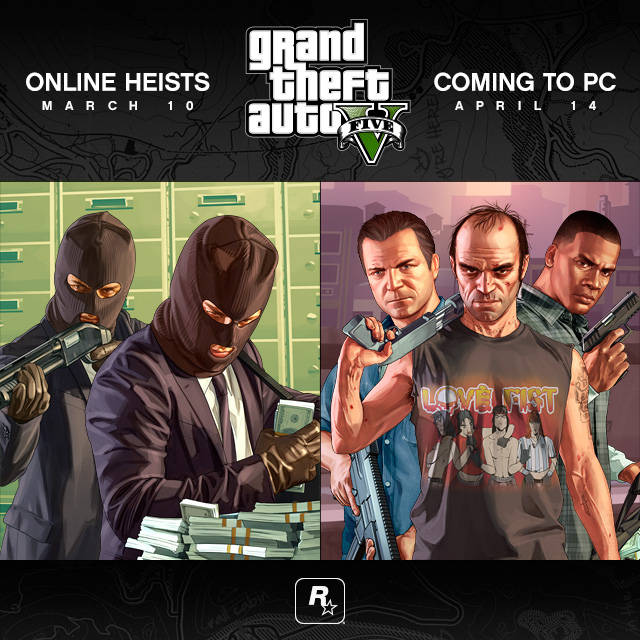 Online Heists
Rockstar are excited to announce that the launch of Heists for GTA Online is scheduled for
March 10th
. They know it's been a wait, and appreciate your patience. Heists will bring a brand new 4-player cooperative gameplay experience to GTA Online, giving players the chance to team up to pull off a string of intense, multi-part raids and robberies across Los Santos and Blaine County. Over the next couple of weeks, they will have more information about the launch of Heists and about other new features that we will release with it.
GTAV for PC
GTAV for PC will be arriving on
April 14th
at retail and as a digital download. Rockstar sends their apologies to PC gamers worldwide who have been counting down the days until the launch of the game, but a bit more time is needed to ensure that the game is as polished as possible, and to make certain that both Heists and the GTA Online experience are ready to roll out on day one for PC. As a gesture of thanks for your understanding, Rockstar will grant anyone who has pre-ordered the game an
additional $200,000 in-game cash for use in GTA Online
.
As always, they ask for the GTA PC community's understanding and assistance in helping to report any concerns during the early days of launch when those inevitable initial teething issues arise on the new platform. If you do experience issues please visit Rockstar Games Support and send feedback to GTAOnline@rockstargames.com – they'll be closely monitoring the situation and addressing any hitches as quickly as they can.
The PC version of Grand Theft Auto V is Rockstar's most graphically and technically advanced version yet, fully optimized to support a broad range of current hardware and features a host of PC-specific enhancements including greater levels of detail, deep configuration options and ultra-high-definition support – as well as the powerful new Rockstar Editor for recording, staging and editing original custom videos.
Rockstar thanks GTA players worldwide for their patience in awaiting these big game updates and they are excited to bring both Heists and GTAV for PC to you very soon. Stay tuned for lots more information in the weeks ahead and for now, check out 11 new screenshots showing action from Heists in the
screenshot gallery here
.
So there you have it (again). Hit up the chat in the
forums
!
---
FRIDAY, JANUARY 16, 2015 :: Posted by TreeFitty :: 0 Comments :: 4,369 Views
Rockstar Games is offering pre-order bonuses for those who get GTA V on PC from the Rockstar Warehouse. There is already a bonus GTA$1 million split between single and multiplayer for pre-ordering the game but if you do so by February 1st, 2015, you'll get an additional GTA$300,000 in GTA Online and also a free additional game download. Choices include previous GTA titles, Max Payne, Bully, and more.
Check out the full details at
Rockstar Warehouse here
and join the chat in the
forums
!
---
TUESDAY, JANUARY 13, 2015 :: Posted by TreeFitty :: 5 Comments :: 4,986 Views
Another SMH moment for PC and GTA fans. Just two weeks away from the official release date of GTA V on PC, Rockstar has now delayed it to
March 24, 2015
. On the upside they also stated that
GTA Online heists will become available to consoles prior to the PC launch
so at least there's that.
From Rockstar:
Our apologies for the slight shift in the date but the game requires a few extra weeks of testing and polish to make it as good as can be. Moving a release date is never a decision we take lightly and is a choice we make only when we know it is in the best interests of the game and our fans. Thanks everyone for your understanding and we assure you these few extra weeks will be worth it when the game does arrive in March.
They went on to say that GTA Online for PC will launch with the game (including heists) and support up to 30 players. Rockstar has also given us 6 new screenshots at 4k resolution (3840x2160):
Additional details about the PC version include that the game will run at 1080p and 60fps with up to 4K resolution and support for up to triple monitor configurations, as well as NVidia 3D Vision for up to triple monitor setups. The game also includes the new
Rockstar Editor
which gives players a full suite of editing tools to create and publish gameplay clips direct to both Social Club and YouTube.
PC Specs
The following PC specs were listed by Rockstar:
Minimum specifications:
OS: Windows 8.1 64 Bit, Windows 8 64 Bit, Windows 7 64 Bit Service Pack 1, Windows Vista 64 Bit Service Pack 2* (*NVIDIA video card recommended if running Vista OS)
Processor: Intel Core 2 Quad CPU Q6600 @ 2.40GHz (4 CPUs) / AMD Phenom 9850 Quad-Core Processor (4 CPUs) @ 2.5GHz
Memory: 4GB
Video Card: NVIDIA 9800 GT 1GB / AMD HD 4870 1GB (DX 10, 10.1, 11)
Sound Card: 100% DirectX 10 compatible
HDD Space: 65GB
DVD Drive
Recommended specifications:
OS: Windows 8.1 64 Bit, Windows 8 64 Bit, Windows 7 64 Bit Service Pack 1
Processor: Intel Core i5 3470 @ 3.2GHZ (4 CPUs) / AMD X8 FX-8350 @ 4GHZ (8 CPUs)
Memory: 8GB
Video Card: NVIDIA GTX 660 2GB / AMD HD7870 2GB
Sound Card: 100% DirectX 10 compatible
HDD Space: 65GB
DVD Drive
And some additional specifications/info:
Over time, downloadable content and programming changes will change the system requirements for this game. Please refer to your hardware manufacturer and www.rockstargames.com/support for current compatibility information. Some system components such as mobile chipsets, integrated, and AGP graphics cards may be incompatible. Unlisted specifications may not be supported by publisher.

Other requirements: Installation and online play requires log-in to Rockstar Games Social Club (13+) network; internet connection required for activation, online play, and periodic entitlement verification; software installations required including Rockstar Games Social Club platform, DirectX, Chromium, and Microsoft Visual C++ 2008 sp1 Redistributable Package, and authentication software that recognizes certain hardware attributes for entitlement, digital rights management, system, and other support purposes. Single use serial code registration via internet required; registration is limited to one Rockstar Games Social Club Account (13+) per serial code; only one log-in allowed per Social Club account at any time; serial code(s) are non-transferable once used; Social Club accounts are non-transferrable.
So there you have it. Join the chat in the
forums
!
---
THURSDAY, DECEMBER 18, 2014 :: Posted by TreeFitty :: 3 Comments :: 8,805 Views
Surprise! Rockstar is gearing up for the holidays a little early with their
Festive Surprise
update for GTA Online. It's that most wonderful time of the year in Los Santos and you can take part with new clothing items, snowball fights, and more!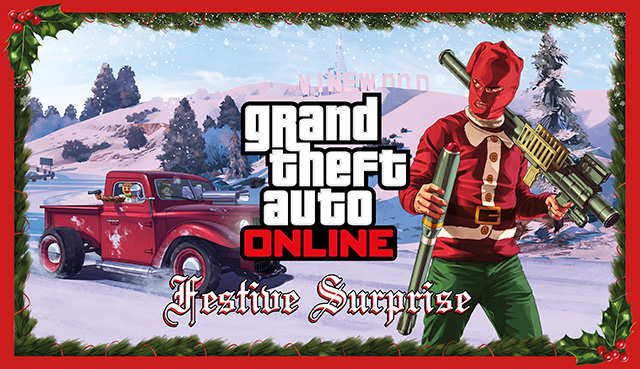 There's plenty to see and do including....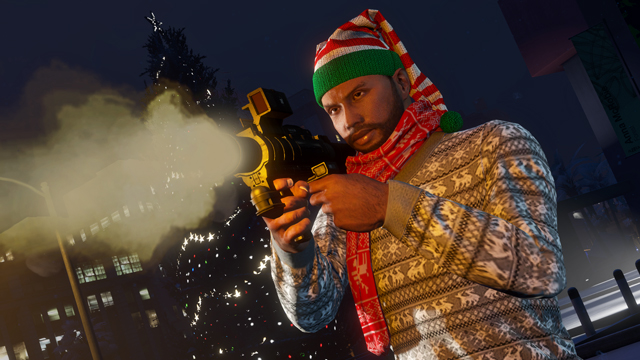 EXPLOSIVE STOCKING STUFFERS
Heat up your season's greetings with brand new items stocked at Ammu-Nation: a new
Homing Missile Launcher
and
Proximity Mines
are here just in time to make spirits bright. These items will be permanently available to acquire and keep.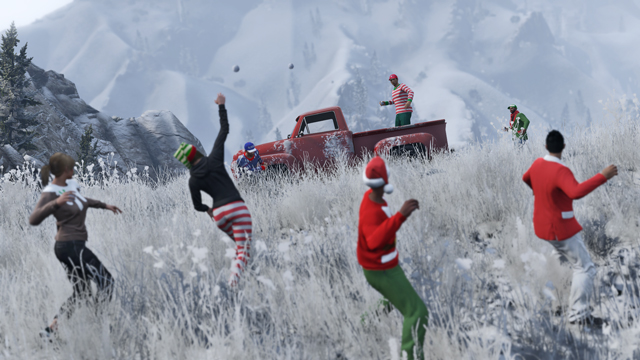 SNOW DAYS
Those dreaming of a white Christmas are in luck as the forecast calls for the extremely rare phenomenon of San Andreas
snowfall
to hit on a few special days this holiday season. Be on the lookout and ready to round up your Crew for a friendly
snowball fight
, but be forewarned, those icy little suckers can pack a wallop.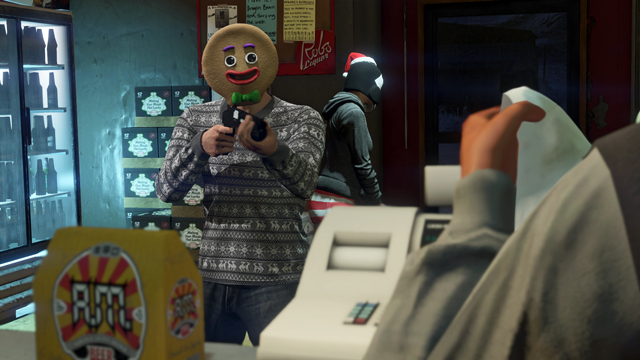 FREE SEASONAL CHRISTMAS GEAR AND MASKS
Add some merriment to your mayhem with a slew of
holiday pajamas, 'ugly' Christmas sweaters, new scarves, hats, masks and more are now all available absolutely free
to add to your inventory and wear now through Monday January 5th.
MAKE A DASH IN FOUR ALL-NEW VEHICLES
Treat yourself to some new toys this holiday season and fill your garage (now that you can own a
third property
and garage, also part of today's Title Update) with four all-new vehicles to purchase – including a tricked out
Hot Rod Christmas Ratloader
, the sturdy
Slam Van
, and the fast and flashy
Massacro and Jester
sports cars with all new Race liveries. These vehicles will be permanently available to acquire and keep.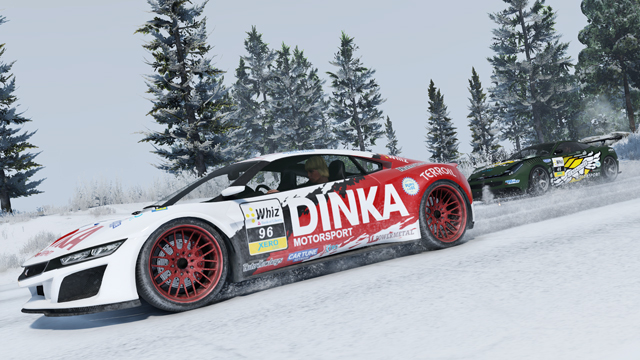 HOLIDAY SPECIAL CRATE DROPS
Keep your eyes on the sky as
Holiday Special Crate Drops
will be dropping frequently now through January 5th, stuffed with goodies to collect for your inventory – including a few of the rare vintage GTA tees that you may have missed in some of the Social Club Event Weekends over the past year as well as some brand new ones never before available.
CHRISTMAS DAY GIFTS
On Christmas Day, December 25th, as you're relaxing in your Los Santos apartment beside your Christmas tree, make sure to check your inventory for a few
extra gifts
.
SET OFF SOME NEW YEAR'S FIREWORKS
Ring in the New Year with a bang – the
Firework Launcher
and Firework rocket ammo are coming back and will be available to acquire and use from Christmas Eve until Monday, January 5th. You can score one for
free
on four special days: Christmas Eve, Christmas Day, New Year's Eve or New Year's Day.
#FESTIVESURPRISE SNAPMATIC CONTEST
Take your merriest Christmas Crew family photo or capture the insanity of the New Year's party you're hosting in your Los Santos condo – or any other amazing, amusing or beauteous
#FestiveSurprise
action. In January, Rockstar will pick five favorite shots and award the photographers with a
GTA$1M prize
. Tag your entries with #FestiveSurprise now through January 5th to be eligible.
Official rules
.
GTA ONLINE HOLIDAY PARTY LIVESTREAM ON TWITCH TOMORROW
Tune in tomorrow December 19th at 4pm Eeastern Time US at
twitch.tv/rockstargames
for the
Official GTA Online Holiday Party Livestream
with special invited guests from the community. Make sure you're in that Twitch chat as Rockstar will be inviting friendly members of chat to join them live in the lobbies on both PlayStation 4 (4-5pm) and Xbox One (5-6pm) portions of the broadcast.
Do stay tuned throughout the holiday weeks for some announcements of opportunities to score bonus GTA$ as well! Happy holidays and enjoy the Festive Surprise – available across PlayStation 3, PlayStation 4, Xbox 360 and Xbox One! If you want your party to look cool, fill your guest list with others in the
forums
!
---
WEDNESDAY, DECEMBER 17, 2014 :: Posted by TreeFitty :: 4 Comments :: 11,857 Views
Rockstar has received lots of questions from the community about what is in store for the future, including the highly anticipated launch of Online Heists which was discussed yesterday. Today Rockstar has a new installment of their Asked & Answered series that addresses those and many other frequently asked questions they've seen recently. If you've got a question for them feel free to hit up mouthoff@rockstargames.com and they'll do their best to provide you an answer.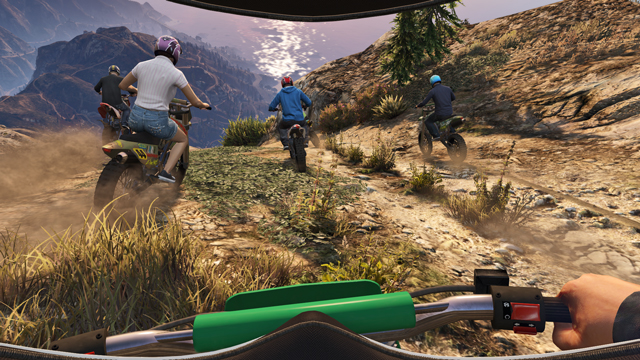 Below are answers to questions straight from Rockstar Games:
"Are you only doing first person games now? I have always loved Rockstar Games partly because they are third person games."
– Allen (via Mouthoff)
Absolutely not! We are excited by the response to our first effort at a first person experience, but remain committed to third person games and may or may not use first person as a camera option in the future. We do like to, whenever possible, give people options so they can play a game the way they like.
"To the people at Rockstar Games, could you guys please bring First Person to PS3 / Xbox 360?"
– Brandon (via Mouthoff)
"Why just have First Person on next-generation, why not on the other consoles? Could [you] add it to PS3 and Xbox [360] please?"
- @DawsonSunderlan
As we'd mentioned in our recent interview with IGN, First Person Mode is a new feature that is only technically possible for us to add to the game with the expanded memory that the new generation platforms provide. There are thousands of new animations added to the game to facilitate First Person Mode, which would have been impossible to do on the previous generation of consoles without seriously compromising the game in some other capacity.
"What is the point of Shark Cards, apart from to make you greedy bastards lots of money?"
– Tim (via Mouthoff)
The reason we included optional in-game currency in Grand Theft Auto Online, rather than directly selling DLC, was because it was the only way that we could distribute DLC without dividing the player base each time we brought out a new content pack, which would destroy the online community very quickly by splitting players up. Thanks to Shark Cards, we have been able to give away every piece of DLC so far for free in order to keep the community whole and give people options as to whether they want to earn new content by playing the game, buy new content with Shark Cards or simply don't get new content and still keep playing the game.
---
TUESDAY, DECEMBER 16, 2014 :: Posted by bOnEs :: 7 Comments :: 8,943 Views
Heists have finally been revealed with a
kick ass new trailer
, and an interview with IGN on the delays and what players should expect from these 4 player co-op missions. Rockstar is shooting for an early 2015 release. Here's the story:
GTA Online Heists are coming early in 2015 - check out the new trailer for the four-player co-op mode for Grand Theft Auto Online (above) that allows players to plan, prepare and execute multi-tiered Heists across Los Santos and Blaine County. These will require tight communication and coordination, with players taking on specified roles at each point to accomplish multiple objectives on the way to each Heist's epic finale. Featuring new gameplay, new vehicles, new weapons, new clothing and much more.

Head over to IGN for an in-depth interview that details exactly how Heists will work... and why they've taken a little more time than originally expected.
The article is loaded with info from an interview with Lead Mission Designer Imran Sarwar, as well as
20 new screens
. Check out a few below:
Can't wait! Head into the
iGTA Forums
if you wanna further the discussion.
---
FRIDAY, DECEMBER 05, 2014 :: Posted by TreeFitty :: 0 Comments :: 8,549 Views
Listen up! In honor of
next week's release of The Music of Grand Theft Auto V: Limited Edition Soundtrack CD and Vinyl Box Sets
, Rockstar is giving 10 lucky fans the chance to win a copy at the
Rockstar Games page on Facebook
. Entries end December 8th.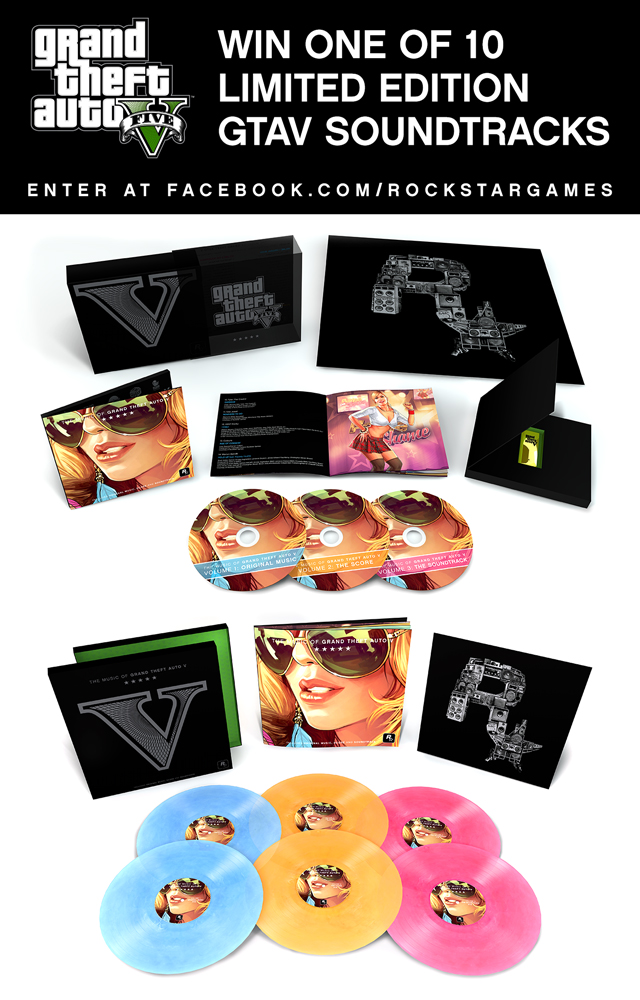 Each set includes all three soundtrack volumes (The Original Music, The Score, and The Soundtrack). The Vinyl collection features six vinyl records, a full color booklet and an exclusive lithograph poster in a classic box-set. The CD collection includes three discs along with a branded Grand Theft Auto V gold brick-shaped USB Drive, artwork and poster all sealed in a special die-cut package.
Winners will get their choice of either the CD or Vinyl collection. Limited to a production run of less than 5,000 units worldwide, these limited editions will be available to purchase beginning on December 9th at top online and physical record stores. You can pre-order the CD or Vinyl collection now at Mass Appeal.
Enter Now on Facebook
NO PURCHASE NECESSARY. Void in certain countries and where prohibited. Must be 18 years or older. See
Official Rules
and
Privacy Policy
for eligibility details. Ends Monday, December 8th, 2014.
Enjoy and join the chat in the
forums
!
---
THURSDAY, NOVEMBER 27, 2014 :: Posted by TreeFitty :: 0 Comments :: 8,947 Views
Beginning this Friday and running all the way through Monday, the
Rockstar Warehouse
annual Black Friday Sale features 30% off on all Gear and Collectibles.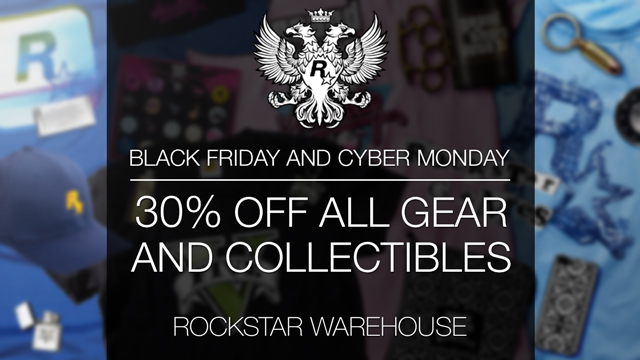 Choose anything from the
Grand Theft Auto V Collection
including popular gear and collectibles like the Zippo Lighter and GTAV Hoodie along with several items that weren't available last year at this time, such as the Body Bag Sleeping Bag and the Trevor Philips Industries Tee.
Longtime fans can also take this opportunity to grab some Rockstar Apparel or gear and collectibles from some of the classic titles, including the
Red Dead Redemption Frontier Collection
and the Anniversary Collections for all three entries in the classic Grand Theft Auto Trilogy - GTAIII, Vice City and San Andreas.
Also, all Warehouse
orders over $50 will qualify for reduced international shipping
. The Black Friday Sale begins Friday morning at 12:01am Eastern Time and ends at 11:59pm Eastern Time on Monday, December 1st. Enjoy and join the fun in the
forums
!
---
TUESDAY, NOVEMBER 25, 2014 :: Posted by TreeFitty :: 0 Comments :: 9,715 Views
In celebration of the launch of
Grand Theft Auto V for PlayStation 4 and Xbox One
, Rockstar is kicking off a pair of epic giveaways with your chance to score a grand prize super limited-edition Custom GTAV PS4 or Xbox One console - along with runners-up Deluxe Prize Packs stacked with exclusive new GTAV gear and collectibles.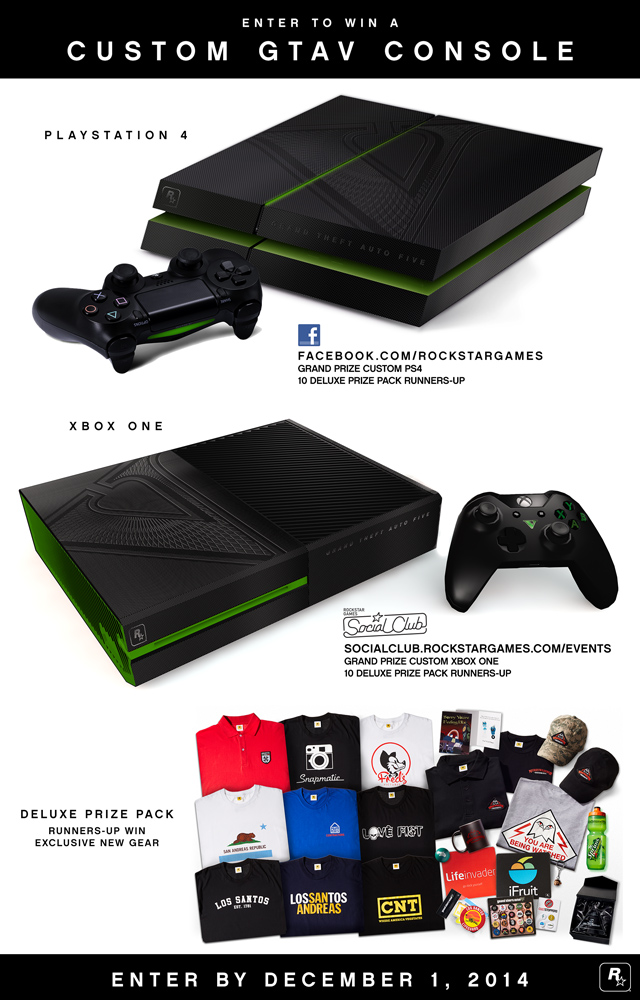 You can enter at the
Rockstar Games page on Facebook
, where the Grand Prize is the custom PS4 and at the
Rockstar Games Social Club
, where they're giving away the custom Xbox One. Both of these individually hand-fabricated consoles features an exclusive black-on-black Grand Theft Auto V design, laser etched on micro perforated metal paneling with hi-gloss deep green painted accents and a custom color-matched controller.
Rockstar is also giving away 20 Deluxe Prize Packs (10 via Facebook and 10 via Social Club) stuffed with exclusive brand new official GTAV gear and collectibles in each giveaway which includes:
CNT Tee
Cultstoppers Pin Set
Dr. Friedlander Stress Ball
Epsilon Program Laser-Etched Paper Weight
Fred's Pictures Tee
Grotti Polo
iFruit Mouse Pad
LifeInvader Mouse Pad
Loneliest Robot Greeting Card
Los Santos Est. 1781 Tee
Los Santos Radio Pin Set
Los Santos, San Andreas Tee
Love Fist Tee
Merryweather Security Polo
Merryweather Security Cap (in both Black and Fatigue)
Merryweather Security Heat Changing Mug
Merryweather Security Tee (in both Black and Grey)
Pogo Keychain
San Andreas Republic Tee
Snapmatic Tee
Sprunk Water Bottle
STD Contractors Tee
Sticker Pack featuring the brands of GTAV
They'll also be stocking this gear featured in the Prize Packs for purchase over the coming months as part of the
Grand Theft Auto V Collection at the Rockstar Warehouse
but for now your only way to score them is exclusively in this giveaway.
Enter on Facebook (PS4)
|
Enter at the Social Club (Xbox One)
NO PURCHASE NECESSARY. Void in certain countries and where prohibited. Must be 18 years or older. See
Official Rules
and
Privacy Policy
for eligibility details. Ends Monday, December 1st, 2014.
Good luck and join the chat in the
forums
!
---
TUESDAY, NOVEMBER 18, 2014 :: Posted by TreeFitty :: 9 Comments :: 14,575 Views
It's here (again)! Grand Theft Auto V is now available across the world on the PlayStation 4 and Xbox One consoles!
More than just a texture overhaul, the new version of GTA V goes to extreme detail and also offers revamped animations to coincide with the
new first person view
that lets you experience Los Santos and Blaine County from the eyes of your
character
. When you're ready to break free of the story, head online and take part in
30-player mayhem
in the jobs you know or completely new ones for the new generation. It may be the game you know, but there's a whole lot more to see and do -
especially for returning players
.
Reminder for PC players: The PC version will release on January 27th. Mark your calendars!
Enjoy and join us in the
forums
!