Latest GTA 5 News, Release Date & Screenshots
Grand Theft Auto V
(also known as
Grand Theft Auto 5
,
GTA V
or
GTA 5
) is the name of the newest Grand Theft Auto game by Rockstar Games. GTA 5 launched on September 17th, 2013 for the PS3 and Xbox 360, November 18th, 2014 for the PS4 and Xbox One, and finally
January 27th
March 24th
April 14th, 2015
for PC. iGTA5.com is a dedicated GTA 5 fan site keeping you up to date with all the latest news and
facts
!
[
Read More
]
---
GTA V Information
On iGTA5.com you'll find rumors and speculation about the game,
fan artwork
and
fake screenshots
along with official
news
and facts including the
Release Date
,
Images
,
Characters
and other official content. We also have a dedicated
GTA 5 Forum
specifically for GTA V discussion, so make sure you get signed up!
---
Share Your GTA 5 Content!
If you have any GTA V news, content, or fan art to share with us, please email
submit[at]igta5.com
!
---
FRIDAY, DECEMBER 02, 2016 :: Posted by TreeFitty :: 0 Comments :: 362 Views
Savvy CEOs know there's always more for the taking. While Special Cargo business in Southern San Andreas is booming, another opportunity to expand your hold on the city awaits. With
GTA Online: Import/Export
it's time to muscle into the lucrative and specialized field of high-volume exotic car theft.
---
TUESDAY, NOVEMBER 29, 2016 :: Posted by TreeFitty :: 0 Comments :: 96 Views
Drop in to GTA Online this week and power up with bonus Double GTA$ and RP in Drop Zone, Power Play and the newest Adversary Mode, Kill Quota. Plus, take advantage of various discounts designed to take your criminal enterprise to the next level. Also, player-created Deathmatches, Last Team Standings, and Captures get a big boost with the addition of Stunt Props to the GTA Online Creator.
DOUBLE GTA$ & RP IN DROP ZONE, POWER PLAY & KILL QUOTA​
Satisfy your paratrooper fantasy in Drop Zone or let your inner Beast run amok in Power Play, both of which are delivering Double GTA$ and RP now through December 7th, along with ongoing Double GTA$ & RP in Kill Quota, also running through December 7th.
PROPERTY AND VEHICLE DISCOUNTS, AND MORE
Every boss needs a killer pad and ample suite of weapons to keep the competition in check. Bolster the style and security of your operation with various discounts on Executive Offices, vehicles and weaponry this week.
Properties
• 50% off Executive Offices
• 50% off Office Décor & Customization
Vehicles
• 50% off the Buzzard Attack Chopper
• 25% off the Vapid Desert Raid
• 25% off the Pegassi Reaper
• 25% off the Enus Windsor
Weapons & Armor
• 25% off all Sniper Rifles
• 25% off all Shotguns
• 25% off Body Armor
STUNT PROPS NOW AVAILABLE IN DEATHMATCH, LAST TEAM STANDING & CAPTURE CREATORS
The GTA Online Creator community can now take their Deathmatch, Last Team Standing and Capture Jobs to a new level with the addition of Stunt Props from Cunning Stunts. Now that more than 200 Stunt Props have been added to the pot, the creative opportunities for these skirmishes are endless. Here's the breakdown of the categories:
• Stunt Tracks
• Stunt Set Pieces
• Stunt Tubes
• Stunt Ramps
• Stunt Raised Track
• Stunt Signs
• Stunt Building Blocks
PREMIUM RACE: TURBINE (NOVEMBER 29TH - DECEMBER 7TH)
Duck and dodge death in this week's Premium Race, "Turbine" locked to offroad vehicles. Zip around the treacherous wind farms of RON Alternates and earn big... with Triple RP for all participants and substantial GTA$ prizes for the top three finishers. To access the Premium Race, enter the yellow blip at Legion Square or via the Quick Job App on your in-game phone.
Hit up the
forums
!
---
WEDNESDAY, NOVEMBER 23, 2016 :: Posted by TreeFitty :: 0 Comments :: 135 Views
It's murder-by-numbers in
Kill Quota
, the newest team-based GTA Online Adversary Mode for up to 16 players across 2-4 teams. Starting off with a high-powered weapon from one of four distinct loadout options, each team must hit the designated body count before advancing to a more challenging and less powerful armament, culminating with a final, one-hit-kill melee round. The first team to successfully cycle through all six weapons in a match (or have the highest count at the end of the time limit) wins.
The host chooses which of the four weapon loadouts below will be used in the lobby prior to starting the match:
• Loadout 1: RPG > Minigun > Special Carbine > Heavy Revolver > Sawed-Off Shotgun > Machete
• Loadout 2: Railgun > Combat MG > Musket > Heavy Sniper > Pump Shotgun > Knuckle Duster
• Loadout 3: Sweeper Shotgun > Compact Rifle > Mini SMG > Compact Launcher > Double Barreled Shotgun > Pool Cue
• Loadout 4: RPG > Railgun > Heavy Shotgun > Advanced Rifle > AP Pistol > Knife
Earn up while exploring the new Kill Quota mode through November 28th, scoring Double GTA$ and RP for playing any of the seven new maps.
NEW VEHICLE: BRAVADO YOUGA CLASSIC
Pick up the pinnacle of authenticity and counter-culture, the Bravado Youga Classic from Southern San Andreas Super Autos. A true utility vehicle, this beach-bound beaut with high suspension will keep them all wondering what's going on in the back. This is one van you'll want to come a knockin' on.
THANKSGIVING BONUSES
Over-indulge yourself this holiday week and feast on these special GTA Online bonuses:
• Double GTA$ and RP in Kill Quota (November 22nd - 28th)
• Double GTA$ and RP in Every Bullet Counts, Running Back and Inch by Inch (Thanksgiving Day, November 24th only)
And in the spirit of Black Friday, enjoy a delicious 25% off these GTA Online items up through November 28th:
• Vehicles: Buckingham SuperVolito and SuperVolito Carbon
• Vehicle Customizations: Rims, Turbo, Liveries, Resprays, Engine Mods
• Clothing: Biker Clothing (not including Deadline Outfits) and Tattoos
• Weapons: Compact Rifle, Carbine Rifle, Assault Rifle
PREMIUM RACE: HIGH FLIER (NOVEMBER 22ND - 28TH)
Saddle up and soar through the Los Santos sky in this week's Premium Race, High Flier. Locked to Bikes and Non-Contact, you'll earn Triple RP just for giving it a go. And if you finish top three, substantial GTA$ prizes await. Available through November 28th.
Enjoy and hit up the
forums
!
---
TUESDAY, NOVEMBER 15, 2016 :: Posted by TreeFitty :: 0 Comments :: 209 Views
Introducing the Pegassi Esskey, purpose-built to trigger feelings of nostalgia in hipsters eager for the latest in vintage. With retro stylings that scream artisan craftsmanship, the Pegassi Esskey is the perfect vehicle for beard-toting citizens of Los Santos too cool for anything but the classics.
The bike is now available in GTA Online via Southern San Andreas Super Autos.
Enjoy and chat up the
forums
!
---
TUESDAY, NOVEMBER 08, 2016 :: Posted by TreeFitty :: 0 Comments :: 266 Views
Turn the streets of Los Santos into a stylish electronic videogame battle to the death with the latest update to GTA Online. Achieve hyper speed on the futuristic Nagasaki Shotaro and demolish foes with the power of your light trail in the new Adversary Mode,
Deadline
. Check out the trailer below and read on for more details, including special GTA Online bonuses happening now through Monday, November 21st.
NEW VEHICLE: NAGASAKI SHOTARO
Light up the night with the blazingly fast Nagasaki Shotaro. Packed with enough energy to power the Los Santos grid and sporting the looks of an auto show concept vehicle, the Shotaro delivers a driving experience that is out of this world. Experience the delights of the Shotaro first in the new Deadline Adversary Mode, which will unlock the bike for purchase at Legendary Motorsport, and the Deadline Outfit is also unlocked for purchase at any clothing store. And for a limited time, proud new Shotaro owners will get a free Nagasaki Logo Tee added to their wardrobe.
DEADLINE
Deadline pits up to four players against another, each mounted on a different colored Shotaro, which emits a temporary light trail as you ride through the arena. Any competitor unfortunate enough to come in contact with said trail meets an instant explosion. Make calculated movements to force opponents to cross your trail's path and take advantage of strategic power-ups for a competitive edge; use Boost to speed ahead and cut off your opponents, slow down time with Zoned for precision movement, or leap your opponent's light trail with Hop. Step in the arena now and earn Double GTA$ and RP through November 21st.
UNLOCKABLE IN-GAME T-SHIRT & BONUSES
Feeling a sense of pride after picking up your latest mode of transport? Show your colors and shine bright in the Nagasaki Logo Tee, free with any Nagasaki Shotaro purchase.
In addition to the Double GTA$ and RP in Deadline, get a boost to your Biker Business with 25% off Business supplies and resupplies plus an extra 50% GTA$ and 2X RP from Biker Business Sales. Plus, take advantage of discounted weapons and tactical vehicles listed below from now through the 21st.
Properties
• Biker Businesses – 25%
Vehicles
• Karin Technical – 25% (Heist completion requirement waived)
• Savage – 25% (Heist completion requirement waived)
• MTL Brickade – 50%
Weaponry
• Bullet Ammo – 25%
• Throwables and Explosives – 25%
• Body Armor – 25%
• Drum & Box Magazines – 25%
PREMIUM RACE: OVER THE BRIDGE (NOVEMBER 8TH - 21ST)
Suit up and put that crotch rocket to work across the La Puerta Freeway and Los Santos' docklands in the Over the Bridge Stunt Race, locked to Bikes. As always, it's Triple RP to all whom participate with generous GTA$ prizes for the top three finishers.
Enjoy and hit up the
forums
!
---
TUESDAY, NOVEMBER 01, 2016 :: Posted by TreeFitty :: 0 Comments :: 417 Views
The Tornado gets a face
lift
- uh, drop? - with the introduction of the Rat Rod variant. Plus a reminder that the GTA Online 3-year anniversary is still ongoing.
OUT NOW: DECLASSE TORNADO RAT ROD
Making its way to GTA Online today is the
Declasse Tornado Rat Rod
, now available for purchase from Southern San Andreas Super Autos. The latest vehicle from
GTA Online: Bikers
, the Rat Rod channels the spirit of Declasse's hot rod designs into a gritty chariot of fire, built to set the streets of Los Santos ablaze.
PREMIUM RACE: CITY AIR (NOV. 1ST - 7TH)
And check out this week's Premium Stunt Race "City Air" - a turbo-charged adrenaline rush high above Downtown Los Santos. Strap into your Sports class vehicle of choice and receive Triple RP for competing, as well as a sizeable GTA$ payout for finishing in the top 3. Available today through Monday, November 7th.
GTA ONLINE CELEBRATION REMINDER: 30% OFF SELECT ITEMS UNTIL NOV. 7TH
The GTA Online anniversary sale is still ongoing. Log in and take advantage of 30% off a wide variety of vehicles, weapons, and more from three years of GTA Online content. In addition, it's not too late to grab the Halloween-themed Twilight Knife and Butchery and Other Hobbies in-game T-Shirts. Simply jump into GTA Online by November 7th and claim yours.
Enjoy and hit up the
forums
!
---
FRIDAY, OCTOBER 28, 2016 :: Posted by TreeFitty :: 0 Comments :: 428 Views
Strike fear into those who cross your path in GTA Online this Halloween with the LCC Sanctus Motorcycle, and restore balance to the universe in the new Lost Vs Damned Adversary Mode, plus enjoy plenty of other thrilling bonuses and treats...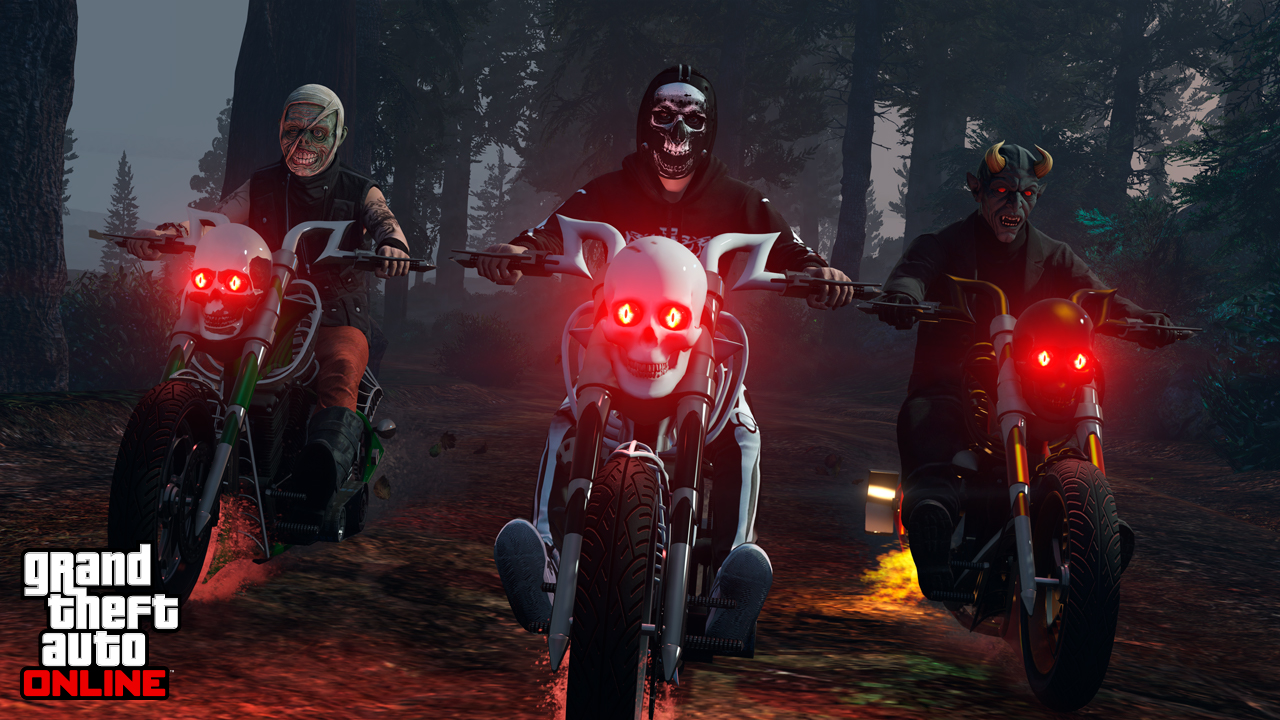 NEW VEHICLE: LCC SANCTUS MOTORCYCLE
True to the spirit of Halloween, ride on wheels designed to terrorize your foes. Distinctive and deadly, the glowing red eyes of the Sanctus are certain to conjure up all that is evil and unholy.
NEW LOST VS DAMNED ADVERSARY MODE
The new Lost Vs Damned mode plays out the oft-told story of the righteous versus the vulgar, this time pitting Angels against Devils in the ultimate battle of the soul. Each match will flip between day and night for 60 seconds at a clip, with advantages including regenerated Armor and Health and improved Weapon options depending on the time – day for the Angels and night for the Devils. Points are awarded for kills during the time your team is powerful, so seizing these opportunities are truly the difference between life and death.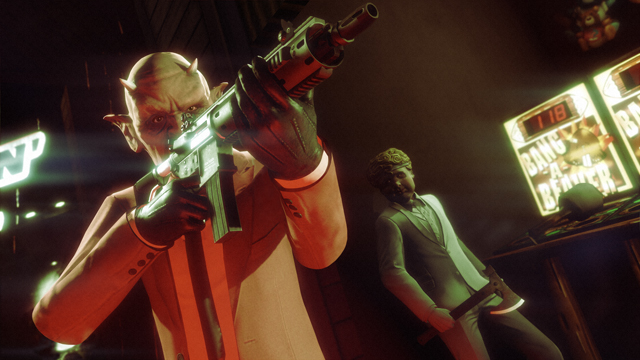 To help you dive straight in to the depths of this new Adversary Mode, there's Double GTA$ and RP available in Lost Vs Damned today through Monday, November 7th. Fight the good (and the bad) fight while pocketing some hard-earned rewards and rep.
UNLOCKABLE IN-GAME T-SHIRTS
If you're on the lookout for new thematically-appropriate attire, the Twilight Knife and Butchery and Other Hobbies T-Shirts have got you covered. Simply log in to GTA Online through Monday, November 7th to unlock your free horror flick tees.
And if you add the Sanctus to your collection now through Monday, November 7th, you'll also unlock the Cheerleader Massacre 3 T-Shirt - a perfect, bloodied accessory to any Halloween wardrobe.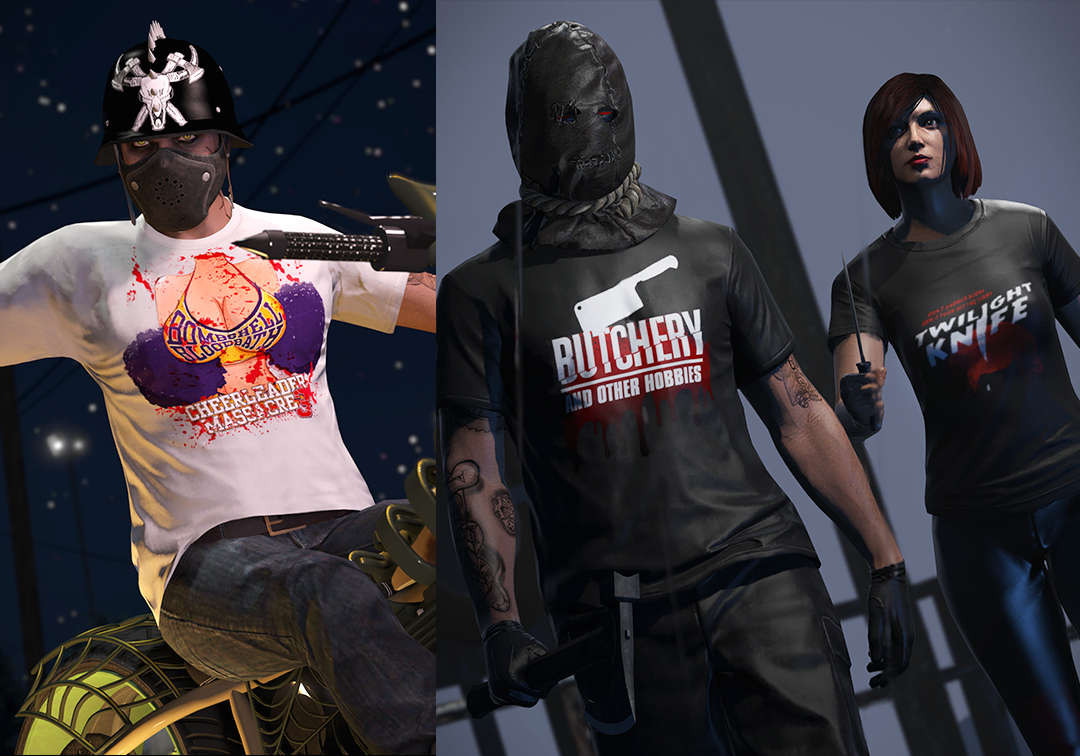 DOUBLE GTA$ & RP IN SLASHER, BEAST VS SLASHER & COME OUT TO PLAY MODES
On Halloween, jump into a special Double GTA$ & RP Playlist featuring classic horror Modes Slasher, Beast vs Slasher and Come Out to Play. Available on Monday, October 31st only, hit the prompt button on the GTAV launch screen to take part in the mischief and the mayhem.
ALSO...
On top of sinking your teeth into the fresh additions above, don't miss out on the opportunity to indulge in familiar favorites as the Lurcher Hearse and Fränken Stange return alongside a variety of spooky Masks, Facepaints, Bobbleheads and Horns – all ready to be added to your collection now through November 15th.
And, be sure to indulge in ongoing bonuses in honor of GTA Online's three year anniversary, with a 30% off sale on select Vehicles, Weapons and more, as well as Premium Stunt Races through Monday, November, 7th.
Click here for the full rundown of anniversary specials and bonuses
.
Enjoy and hit up the
forums
!
---
TUESDAY, OCTOBER 25, 2016 :: Posted by TreeFitty :: 0 Comments :: 616 Views
Hit the streets today with the new café racer inspired Pegassi Vortex motorcycle and starting this Friday, it's time to enjoy the dark revelries of Halloween weekend in GTA Online with the release of the frightful new LCC Sanctus motorcycle, a bloodthirsty new Adversary Mode and more. And starting now through November 7, celebrate this month's anniversary of GTA Online with a massive assortment of discounts spanning three years' worth of content updates, as well as a chance to score some serious bonus cash.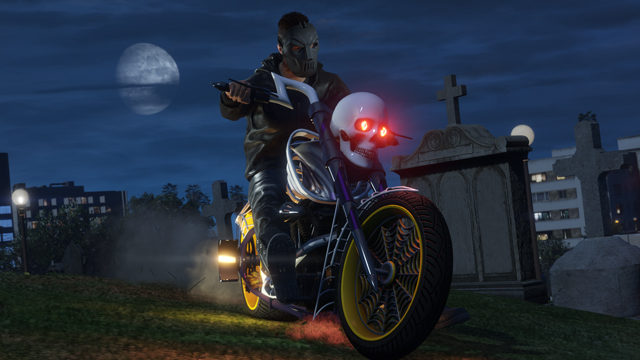 Coming this Friday, just in time for Halloween: Terrorize the streets of Los Santos with the menacing Sanctus.
COMING THIS FRIDAY OCT 28: THE NEW SANCTUS MOTORCYCLE, LOST VS DAMNED MODE & MORE
With its eerie skull-studded design, the Sanctus is a dread-inducing piece of machinery, guaranteed to strike fear into passersby on your next midnight ride. The new Lost vs Damned mode is a classic battle between the forces of good and evil, as hordes of Devils and hosts of Angels battle it out for the right to rule. Complicating the conflict will be a day/night cycle that switches every 60 seconds, with night time benefiting the Devils and day time rewarding the Angels – with increased Armor, Health and superior Weapon loadouts during each team's prime time. Classic GTA Online Halloween vehicles and items will also be returning along with some special Event Week bonuses that Rockstar will have more info on this coming Friday.
NOW AVAILABLE: THE PEGASSI VORTEX MOTORCYCLE
The latest addition to the collection of motorcycles from GTA Online: Bikers - Ride the highway to hell on the Pegassi Vortex, a sophisticated two-wheeled monster available for purchase as of today from Southern San Andreas Super Autos. Lean and lightweight, the Vortex is a versatile beast designed to suit every occasion.
CELEBRATE THREE YEARS OF GTA ONLINE: GET A GTA$250K BONUS + 30% OFF SELECT ITEMS FROM CUNNING STUNTS, ILL-GOTTEN GAINS, LOWRIDERS AND MORE
To commemorate three years of GTA Online, we're awarding anyone that logs in on PlayStation 4, Xbox One or PC from today through end of day Monday October 31st with a special GTA$250,000 gift, which will be deposited into your Maze Bank account by November 4th.
There's also 30% off a wide variety of vehicles, weapons and more – with fan-favorite items representing GTA Online content updates since November 2013's Beach Bum update - from the star-spangled Liberator to the devastatingly powerful Heavy Shotgun to the Zentorno, T20 and more. Rockstar has temporarily rescinded all rank and completion requirements, so you can take full, unadulterated advantage of these limited time discounts now through Monday, November 7th.
BY LAND
• Grotti Turismo R (Super) - The Business Update
• Grotti X80 Proto (Super) - Further Adventures in Finance and Felony
• Pegassi Zentorno (Super) - The High Life
• Progen T20 (Super) - Ill-Gotten Gains Part 2
• Annis RE-7B (Super) - Cunning Stunts
• Bravado Banshee (Sports) - Drop Zone
• Lampadati Furore GT (Sports) - Last Team Standing
• Voodoo Custom (Muscle) - Lowriders
• Willard Faction Custom Donk (Muscle) - Lowriders: Custom Classics
• Benefactor Dubsta 6x6 (Off-Road) - I'm Not a Hipster
• Vapid Liberator (Off-Road) - Independence Day Special
• Albany Roosevelt (Sports Classics) - Valentine's Day Massacre Special
BY AIR
• Western Company Besra - The San Andreas Flight School
• Buckingham Valkyrie - Heists
• Buckingham Luxor Deluxe - Ill-Gotten Gains Part 1
​BY SEA
• Pegassi Speeder - Beach Bum Update
• The Aquarius - Executives and Other Criminals
WEAPONS
• Heavy Shotgun - Last Team Standing
• Marksman Rifle - Last Team Standing
CLOTHING & TATTOOS
• Outfits: Hipster - I'm Not a Hipster
• Outfits: Finance & Felony - Further Adventures in Finance and Felony
• Tattoos - Lowriders
• Tattoos - Lowriders: Custom Classics
PREMIUM RACE: NIGHTLIFE (OCT. 25TH - 31ST)
And now through Monday October 31st, take the high road over Downtown Los Santos for a chance to win big in the Non-contact Premium Race "Nightlife" on Motorcycles. As always, Triple RP is awarded to all participants and a lucrative payout awaits those who finish in the top 3.
Enjoy and join the chat in the
forums
!
---
TUESDAY, OCTOBER 11, 2016 :: Posted by TreeFitty :: 0 Comments :: 703 Views
Last week's launch of Bikers featured loads of new gameplay including Clubhouse Contracts, new Business opportunities and more - alongside 13 new vehicles and a host of other additions - in one of the biggest GTA Online updates to date. Today, two new vehicles have been added to the roster of available rides. Plus, Dynasty 8 has answered the prayers of many players with the ability to purchase a sixth property.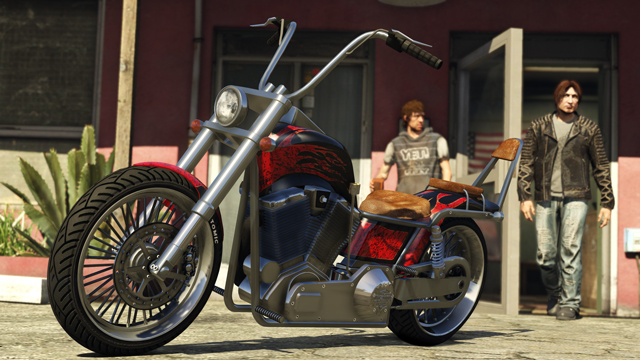 TWO NEW VEHICLES: WESTERN DAEMON CUSTOM AND BF RAPTOR
Hitting the streets of Los Santos this week are the Daemon Custom and the Raptor. The new Daemon is the perfect way to let every passerby know you belong to a long and distinguished tradition of gangland chic. But if you crave that mixture of awe, confusion and arousal that only a turbo-charged three-wheeler can inspire, the Raptor is the ride for you.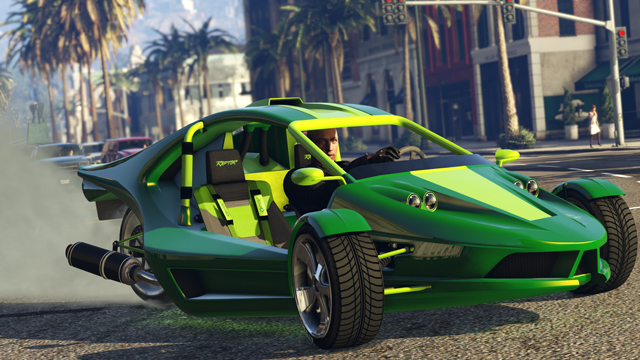 SIXTH PROPERTY NOW AVAILABLE
Already filled every square inch of garage space with cars too beautiful to sell? Stuffed your Clubhouse with as many perfectly modded rides as it'll hold? Or are you just sick of having only one luxury apartment for every day of the working week? Your pain is real, but so is the cure: you can now purchase a sixth property.
BIKERS BONUSES: OCTOBER 11TH - 24TH
Starting today, and running for a
full two weeks
through October 24th, take advantage of a new set of GTA Online discounts and unlockable rewards. You'll receive a black Western Logo Hoodie just by logging into GTA Online at any point over the next two weeks. There's also Double GTA$ & RP in the new Slipstream Adversary Mode, along with a special Double GTA$ & RP Playlist featuring a selection of Stunt Races (to join, just hit the prompt on the GTAV launch screen or select the Stunt Race Playlist from the Rockstar Playlists in the pause menu).
If you need extra back-up for your newly formed Motorcycle Club or you're looking for a break from police attention, both Lester and Merryweather have cut their prices in half across their entire catalog of Services. Those looking to make over their vehicles can head on over to Los Santos Customs where you'll receive 25% off Resprays, Tire Smoke, Rims and Turbos. And Ammu-Nation is trimming 25% off all Bullet Ammo, Tints, Body Armor, Throwables and Drum & Box Magazines.
PREMIUM RACES: FOREST (OCT. 11TH - 17TH) & DOUBLE LOOP (OCT. 18TH - 24TH)
During the bonus period there's two Premium Races on offer. Now through October 17th, zip through the trees at top speed in "Forest" (locked to Bikes). Don't worry about opponents forcing you into the nearest tree trunk as the Race is also locked to Non-Contact. Then from October 18th through 24th, it's the gravity-defying "Double Loop", locked to the Super class. All Premium Race participants earn Triple RP and have a shot at taking down GTA$ prizes for finishing 1st, 2nd or 3rd.
EARN BONUS CASH NOW THRU OCTOBER 17TH
Now through Monday, October 17th get what you want even faster with GTA$ cash-back bonuses on any Bull, Great White, Whale or Megalodon Shark Card. The bigger the card value, the heftier the GTA$ bonus you'll get:
• Bull Shark - 15% money back (GTA$75,000)
• Great White Shark – 30% money back (GTA$375,000)
• Whale Shark – 35% money back (GTA$1,225,000)
• Megalodon Shark – 50% money back (GTA$4,000,000)
All the bonus GTA$ you earn during that period will be automatically deposited as one lump sum in your in-game Maze Bank Checking account by Friday, October 21st. You can purchase Shark Cards in-game or via your favorite online or local retailer. Spend wisely, cash therapy is fleeting.
More details here
.
Hit up the
forums
!
---
TUESDAY, OCTOBER 04, 2016 :: Posted by TreeFitty :: 0 Comments :: 1,015 Views
GTA Online: Bikers opens up an entirely new part of the criminal underbelly of GTA Online, bringing proper Motorcycle Clubs to the roadways and ever-evolving illicit markets of Blaine County and Los Santos.
MOTORCYCLE CLUBS
Life in an MC is more than just a fleet of shiny new rides and impressive leather cuts. Bikers brings a range of new ways for clubs of up to eight players to earn their keep, battling rival MC's and other criminal factions. Enterprising players can form and be the President of their own MC, while anyone seeking MC life can join as a Prospect. As newcomers prove their worth, Presidents can promote Prospects to meaningful roles within the club's structure including Vice President, Road Captain, Sergeant-at-Arms, and Enforcer. Each MC role comes with its own unique abilities to help themselves and the larger MC, from dropping Body Armor and calling in Hit Squads to setting MC riding formations and starting MC Challenges.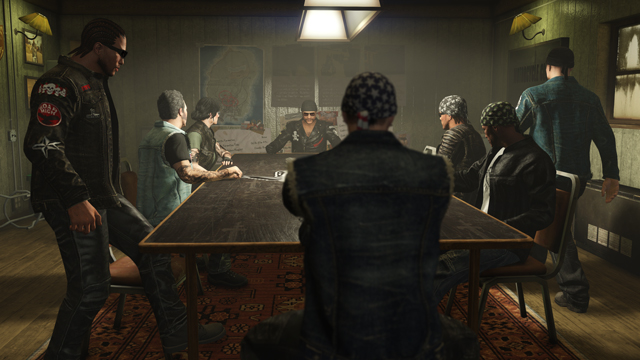 CLUBHOUSES
Your MC's Clubhouse is the base of operations. Choose from 12 available locations across the salty shores of Paleto Bay to the streets of Rancho, and make your purchase via the new Maze Bank Foreclosures website. Each Clubhouse comes complete with its own bar, activities like Darts and Arm Wrestling, various murals and the option to upgrade to your own in-house Custom Bike Shop.
Each Clubhouse includes a meeting room; Presidents can use the Contracts Wall to launch new Clubhouse Contracts - a range of new Freemode missions for you and your MC members to earn some tidy GTA$ and RP through a range of noble deeds – from the forceful liberation of your falsely incarcerated allies to good old-fashioned gunrunning. Gangs will also work against other factions in Los Santos, including opportunistic rivals seeking to exploit your MC's honest work for their own gains.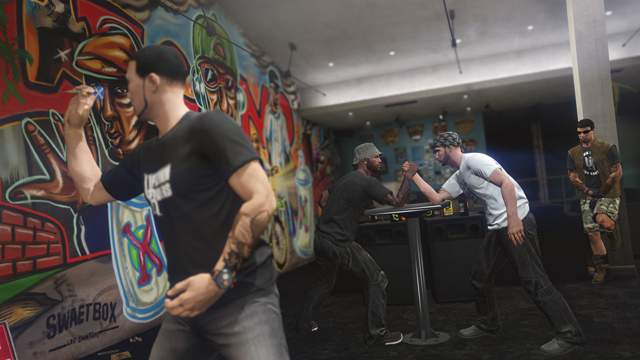 BUSINESSES
The open road isn't just a stretch of Chumash pavement anymore; log in to the nefarious Open Road online network to launch a new (non San Andreas Board of Commerce sanctioned) business. Choose how your MC is going to earn its money, as Open Road clients offer opportunities in document forgery and cash counterfeiting as well as large scale narcotics distribution. Small business owners will setup their operation with supplies before beginning production. Once your business is off the ground, build them further with risky resupply runs, and stay on the lookout for other factions who might take an interest in any unsecured operations. When you're ready, trade your goods for a profit and use your gains to reinvest in your businesses with available security, staffing and equipment upgrades.