Latest GTA 5 News, Release Date & Screenshots
Grand Theft Auto V
(also known as
Grand Theft Auto 5
,
GTA V
or
GTA 5
) is the name of the newest Grand Theft Auto game,
announced
by Rockstar Games on October 25, 2011.
GTA 5 launched on September 17th, 2013
for the PlayStation 3 and Xbox 360. iGTA5.com is a dedicated GTA 5 fan site keeping you up to date with all the latest news and facts.
GTA V releases on PS4/Xb1 in
[
Read More
]
---
GTA V Information
On iGTA5.com you'll find rumors and speculation about the game,
fan artwork
and
fake screenshots
along with official
news
and facts including the
Release Date
,
Images
,
Characters
and other official content when it's released. We also have a dedicated
GTA 5 Forum
specifically for GTA V discussion, so make sure you get signed up!
---
Share Your GTA 5 Content!
If you have any GTA V content or news to share with us, please email
submit[at]igta5.com
!
---
THURSDAY, OCTOBER 23, 2014 :: Posted by TreeFitty :: 1 Comments :: 711 Views
This weekend Rockstar Games goes back, back to the previous incarnation of San Andreas with a special event weekend for GTA Online. Of course you can take in bonus RP & GTA$, limited time shirts for you GTAO character, in-game discounts on select items, and contests! More details below...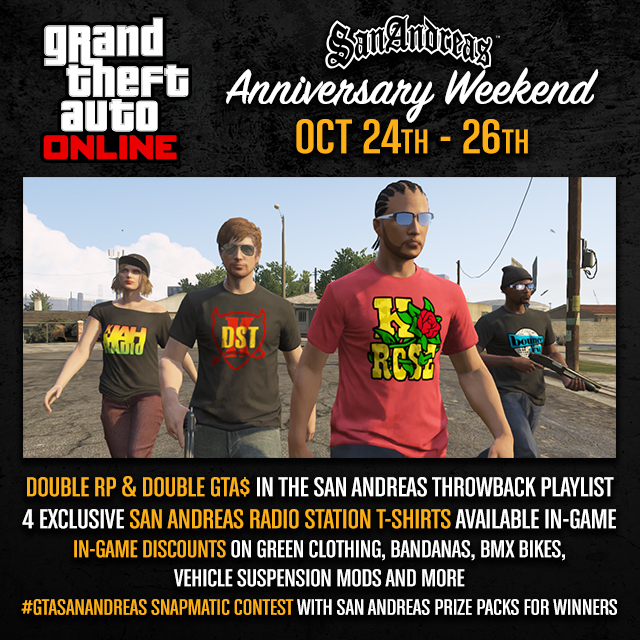 DOUBLE GTA$ AND RP FOR PLAYING THE SAN ANDREAS THROWBACK JOBS PLAYLIST
This weekend only, playing the "San Andreas Throwback Jobs" Featured Playlist will grant you Double RP and Double GTA$, regardless of whether you win or lose. To take advantage, simply launch GTAV and hit the "Featured Playlist" button on the launch screens, or access it via the "Playlists" section of the GTA Online Start Menu.
EXCLUSIVE SAN ANDREAS RADIO STATION T-SHIRTS
Look to the skies all weekend for Crate Drops containing exclusive retro t-shirts of four classic radio stations from a time when FM was king. These tees will be up for grabs in Freemode sessions, along with an accompanying trove of weaponry and GTA$ in each Crate.
Bounce FM
K-DST
K-JAH
K-Rose
And for those who'd like to recapture that 90's west coast radio vibe, check out compilations of these and other San Andreas radio stations (as well as other titles in the Grand Theft Auto legacy) available via Spotify and iTunes.
IN-GAME DISCOUNTS: GREEN CLOTHING, BANDANAS, BMX BIKES AND VEHICLE SUSPENSION MODS
Complete the GSF look while you're hanging with your Crew thanks to 50% discounts on all green clothing items as well as 50% off BMX bikes, bandanas and other accessories. Also get 25% off lowered suspension vehicle mods, so you can roll around Strawberry like a true
Sunday Driver
.
#GTASANANDREAS SNAPMATIC CONTEST
Whether it's repping outside the Cluckin' Bell in Davis or catching some air off Mount Chiliad, capture your San Andreas homages in a Snapmatic shot this weekend and you could win a retro prize pack courtesy of Rockstar Games. There are five packs up for grabs, each containing a San Andreas themed Basketball, Bandana, special 10th Anniversary tees, Playing Cards & Poker Chips, the Kubrick Box Set, and stickers. To enter, simply tag your best shots
#GTASanAndreas
on Social Club.
Official Rules here
.
THROWBACK JOBS LIVE STREAM
Rockstar will also be playing through the aforementioned
San Andreas Throwback Jobs Featured Playlist
with the Social Club members who created them and other friends from Twitch and YouTube on Friday, October 24th - starting at 4pm ET. The session will be streamed live on the
Rockstar Games Twitch channel
.
Have fun and join the chat in the
forums
!
---
THURSDAY, OCTOBER 02, 2014 :: Posted by Massacre :: 1 Comments :: 3,037 Views
Details on the Last Team Standing event weekend are now available.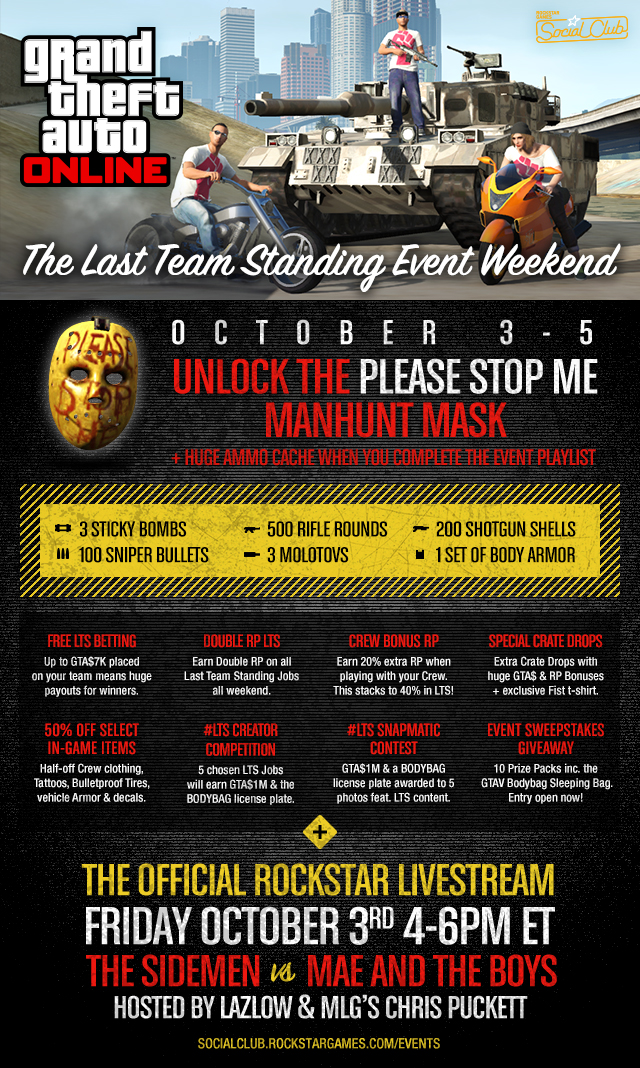 Put it all on the line this weekend, tomorrow Friday October 3rd thru Sunday October 6th, in the GTA Online Last Team Standing Event Weekend. Limited time only GTA$ and RP bonuses, exclusive weekend-only unlocks to collect, special contests, an epic all-star Last Team Standing live stream and much more await those with both the staying power and the stopping power to rule the 10 new Jobs from The Last Team Standing Update and the many, many more currently being created by the Social Club community with the new Last Team Standing Creator Mode.
---
THURSDAY, OCTOBER 02, 2014 :: Posted by bOnEs :: 0 Comments :: 2,482 Views
Today, Rockstar released the
Last Team Standing Update
, full of the usual DLC additions we've gotten used to. New rides, new clothes, new weapons, new jobs. Also included with this update, as the title suggests, is the addition of the LTS creator tool. Here's the details below: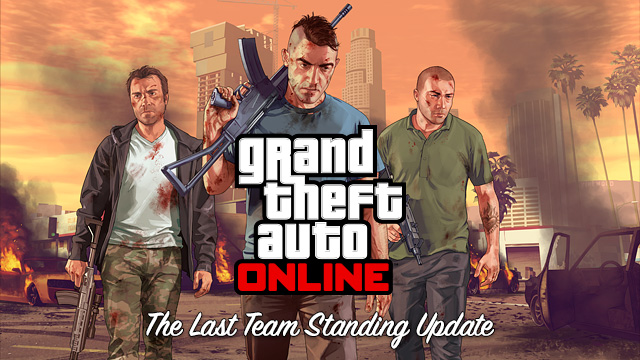 You've only got one life, use it wisely. The Last Team Standing Update introduces powerful weaponry, tactical gear, high-performance vehicles and all-new Creator features to celebrate Grand Theft Auto Online's most high stakes mode. Today's update features 10 new Last Team Standing Jobs spread out across Los Santos and Blaine County plus additional gameplay changes to allow for a greater range of game types and enhanced matchmaking.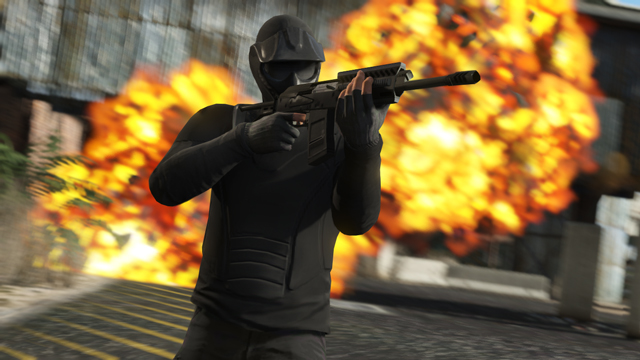 Take enemies down with brutal force when you equip the new Heavy Shotgun.
Visit Ammu-nation to expand your arsenal with a pair of potent new firearms: the
Heavy Shotgun
delivers serious stopping power in close quarters, and the
Marksman Rifle
can drop targets from long range with lethal accuracy. Plus, suit up your team with new Outfits, along with new Masks, Tops, Pants, Bulletproof Helmets and more.
Rule the road with two new Motorcycles – the
Shitzu Hakuchou
sport bike and the
LCC Innovation
chopper. Or, for those with more sophisticated tastes, show off your elite style in the fiery
Lampadati Furore GT
.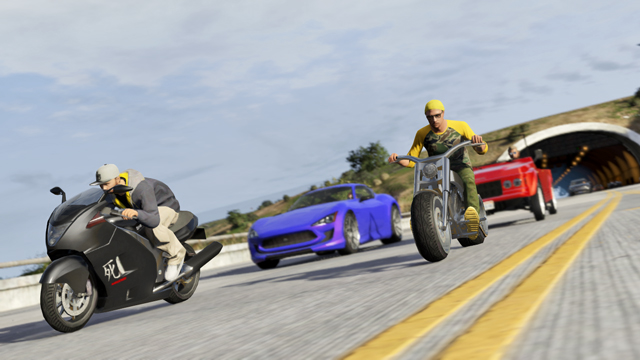 The Hakuchou and Innovation lead the Furore GT here on the Great Ocean Highway.
This update also presents the launch of the
Last Team Standing Creator Mode
. You can now design original GTA Online Jobs in this strategic and deadly mode that pits teams against one another with no second chances. This Creator update features a new option for building even more dynamic matches across other modes – with the ability to add
Rounds
to Captures and Last Team Standing Jobs. Or raise the stakes by adding rounds to Rockstar Created LTS, Captures and Versus Missions. And be sure to take advantage of the new
Forced Weapon
setting, allowing you to limit weapons for specific options like "Snipers-Only".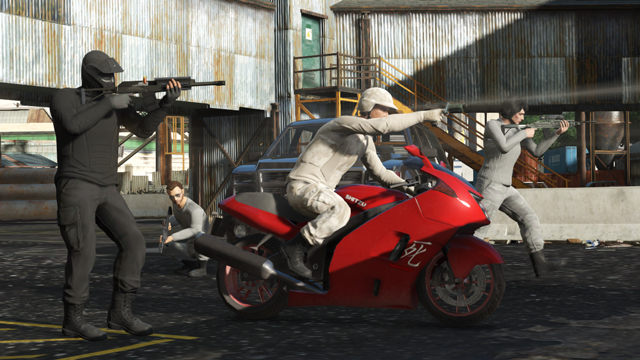 All new tactical gear including bullet proof helmets are now available in shops.
Also part of today's automatic update, we've now globally synchronized the Job voting screens, allowing us to merge sessions where players have voted on the same Job. This, combined with the on-call matchmaking introduced in a previous update allows players to find the Jobs they like more easily, and to stay with as many like-minded players as possible. There are lots of additional changes and tweaks to GTA Online,
all listed out in detail at the Rockstar Support site
. These include the ability to now go on-call for activities like Arm-Wrestling, Darts or Golf or to quick match with your friends for those activities using the option in your phone, as well as an increase in the maximum bet limit from GTA$2,500 to GTA$10,000.
To download today's update, just switch on your online-connected PS3 or Xbox 360 and start GTAV. From there, you'll be prompted to download the automatic update (1.17).
Look for the details of our Last Team Standing Update Event Weekend to hit the Newswire later today, and stay tuned for more info on future updates to GTA Online.
If you're still standing, join us in the
forums
!
---
WEDNESDAY, SEPTEMBER 17, 2014 :: Posted by TreeFitty and bOnEs :: 1 Comments :: 3,995 Views
To mark the first anniversary of Grand Theft Auto V's
first
release, Rockstar Games has released numerous artworks - new and old - as wallpapers.
Check out all of them in the largest size in
our artwork gallery here
or get them in various sizes for your computer or mobile device from
Rockstar Downloads
. Enjoy and join the fun in the
forums
!
---
FRIDAY, SEPTEMBER 12, 2014 :: Posted by TreeFitty :: 8 Comments :: 4,809 Views
Rockstar Games has finally revealed the release date(s) for the new-gen version of Grand Theft Auto V! The game will arrive on the PlayStation 4 and Xbox One on November 18, 2014 with the PC version to follow January 27, 2015.
Grand Theft Auto V for PlayStation 4, Xbox One and PC will feature a range of major visual and technical upgrades to make Los Santos and Blaine County more immersive than ever. In addition to increased draw distances and higher resolution, players can expect a range of additions and improvements including:
New weapons, vehicles and activities
Additional wildlife
Denser traffic
New foliage system
Enhanced damage and weather effects, and much more
Grand Theft Auto V for PlayStation 4, Xbox One and PC will also feature enhanced radio selections with over 100 additional new songs and new DJ mixes from returning DJs across the game's 17 radio stations.
All players who pre-order the game will get $1,000,000 in-game bonus cash to spend across Grand Theft Auto V and Grand Theft Auto Online (GTA$500K each for your Story Mode and for your GTA Online in-game bank accounts).
A host of new, exclusive content also awaits for players returning from the PlayStation 3 and Xbox 360 versions including rare versions of classic vehicles to collect from across the Grand Theft Auto series such as the Dukes, the Dodo Seaplane and a faster, more maneuverable Blimp; activities including wildlife photography and new shooting range challenges, new weapons and more.
Enhancements to Grand Theft Auto Online include an increased player count, with online play now for up to 30 players on PlayStation 4 and Xbox One. All existing gameplay upgrades and Rockstar-created content released since the launch of Grand Theft Auto Online will also be available for the PlayStation 4, Xbox One and PC with much more to come.
Existing players will be able to transfer their Grand Theft Auto Online characters and progression to their choice of PlayStation 4, Xbox One or PC. For more info about gaining access to exclusive content for returning players, please visit rockstargames.com/V/bonuscontent.
Check out a new trailer above and also
16 high-res screenshots
in the
image gallery here
plus join the fun in the
GTA V forums
!
---
TUESDAY, SEPTEMBER 02, 2014 :: Posted by TreeFitty :: 0 Comments :: 3,890 Views
Continuing with the Flight School Update, Rockstar has released 16 new jobs related to the update and put an assortment of them into a
New Flight School Jobs Playlist
. Even better, the playlist will earn you
double RP
this week! And for those who may have been unable to unlock the exclusive
'High Flyer'
Parachute Pack as part of the recent Event Weekend, Rockstar is making that available to all who play through this new Playlist to completion. More details below...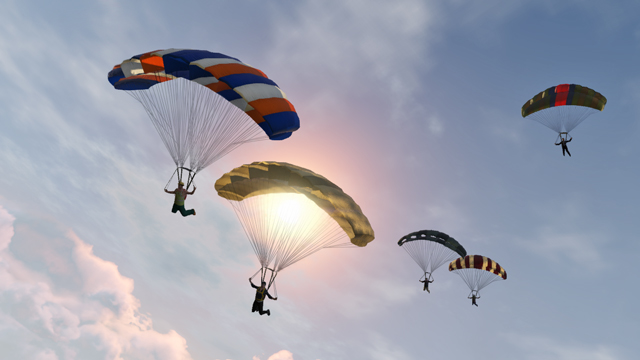 NEW CONTACT MISSIONS
As part of today's update, two new Contact Missions are available to play (once you meet the rank requirement you'll receive a phone call from the associated Contact):
Chop Chop
(Contact: Trevor, Rank 43, 2-4 Players)
"Our friend Ronald is getting increasingly agitated about Merryweather Security's presence in the state, and a nervous Ron gets on my t***. Why don't you go to Sandy Shores Airfield, hack into the Merryweather Network, find their outposts and then take their choppers and blow 'em all to hell. Okay? Great!"
Effin' Lazers
(Contact: Martin, Rank 44, 2 Players)
"The market's about to be flooded with inferior product. I... WE... have too much invested in it to let that happen. I need you to get in some Lazer fighter jets and take out the planes holding product before they land. It sounds extreme, but these are desperate times."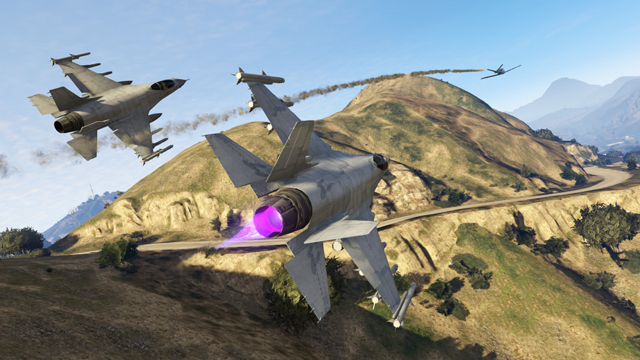 NEW RACES, PARACHUTE JUMPS & CAPTURE
Airstrip
(Rank 11, 1-8 Players)
If a recruit shacks it on exercise, they don't need the added humiliation of hitching back to the landing strip. Practice landing where you took off with this flowing descent from 4,300 ft. to McKenzie Airfield. On the way down you can admire the view or ruminate on failure.
Branching Out
(Rank 20, 1-8 Players)
From the sea side to mountain peaks, from hikers to technophobic, cannibalistic cultists, from state parks to secret weed farms, the San Andreas wilderness has it all. Drink it in with this Lap Race for choppers by Mount Chilliad and Raton Canyon.
Flying Colors
(Rank 12, 1-8 Players)
Regulation Air Force exercises happen at high altitude over the ocean, but where's the fun when you can't get a feel for how fast you're flying. Lap Race for planes low over rural Eastern Blaine County. How close to the dirt can you go without taking the head off a fruit picker?
GTA: Wingmen
(Rank 1, 2-8 Players)
It's a buyer's market as rival groups attempt to deliver Buckingham military jets to LSIA. They're vintage collectors' items and they fly like it, so use Lazers for defense and attack. Each team will only have one Buckingham in play at any time. Start points are Fort Zancudo and the Sandy Shores Airfield.
High Dive
(Rank 1, 1-8 Players)
Dive bomb Downtown in this point to point for jets. You start in the Tongva Hills, climb to high altitude, make a near vertical descent, and try to pull up at the last minute. It's the highest climb and fall we've got on our books. You'll make an impression or make an impression on the ground.
In The Loop
(Rank 35, 1-8 Players)
Hold onto your lunch or you'll need windshield wipers on the inside of your cockpit. Point to point for jets through the docks and Downtown. Obstacles to avoid and two loop the loops will keep you on your toes… or your head.
Under the Bridge
(Rank 11, 1-8 Players)
Gravity does most of the hard work when you jump out a chopper from 4,000 ft. We're going to make it a bit more interesting by staging the drop in the flight path, and making recruits go under a bridge. Best played at night, so you can see the warning lights on obstacles.
Have fun and join us in the
forums
!
---
SATURDAY, AUGUST 30, 2014 :: Posted by TreeFitty :: 0 Comments :: 4,116 Views
First up, a bit of a random bonus. This week calling for support from notorious friends in high places in GTA Online just got more affordable. So if you find yourself in need of backup, air support, transport or just need to disappear for a while, dial up any of your allies for a little "Roadside Assistance" and get 50% off the normal price.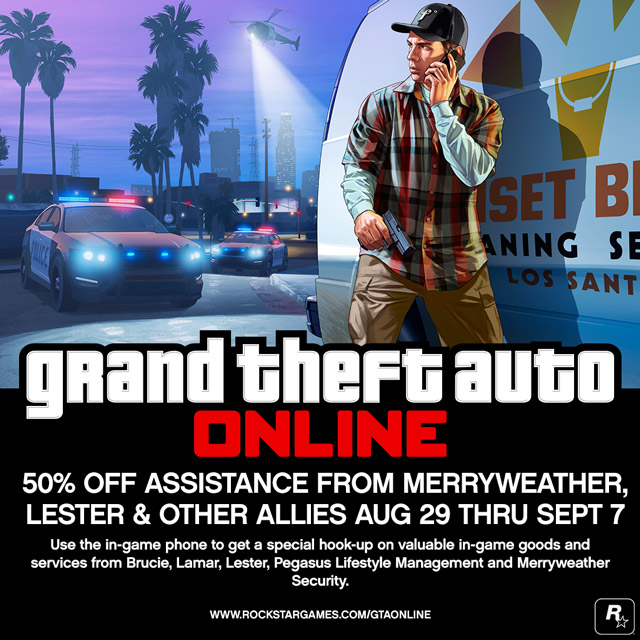 Rank requirements for these discounted services have also been removed but note that you will need to have received at least one call from each contact in order to use their service.
Brucie: Stay alpha with Brucie's BullShark Testosterone, which doubles damage inflicted and halves damage received.
Lamar: Call up Lamar and he'll send a mugger after any one of your chosen adversaries who'll lighten their wallet by stealing a portion of their cash.
Lester: One of Los Santos' most connected criminals, Lester can help you avoid the fuzz by persuading them to turn a blind eye for a short period of time or clearing your wanted level. He can also locate transportation (cars, boats, planes and helicopters) or play tricks with the radar - revealing other players or masking your location temporarily. Lester's normal GTA$1,000 fee for setting bounties on other players has also been slashed to GTA$500.
Pegasus: Retrieve personal vehicles from Pegasus Lifestyle Management and have them delivered to your location.
Merryweather: Access all the paramilitary services that Merryweather Security Consulting has to offer at this reduced rate, including ammo crate drops, helicopter backup, boat/helicopter pickup, airstrikes and even your own private army of vengeful mercenaries.
These services can all be accessed via the
Contacts
menu on your GTA Online character's in-game phone. Discounts run until September 7th.
---
Next up, end of summer blues got you down? Get up and drop some cash at the
Rockstar Games Warehouse
for their End of Summer Sale. Get 25% off of your favorite apparel and collectibles from some of their most popular games. The sale runs through Monday, September 8th, so you have a little over a week to take advantage.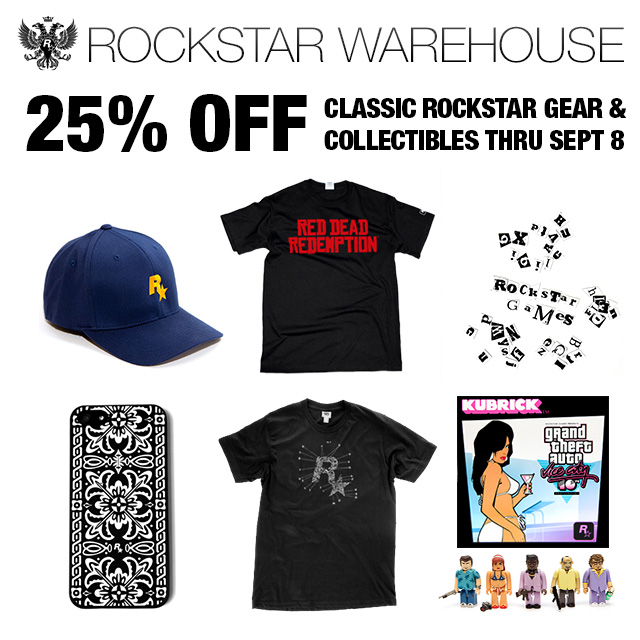 Rock a bit of the old school with a tee from the Red Dead Redemption Frontier Collection, or raid the Posters section to wallpaper your bedroom on the cheap with vintage snipes available from Manhunt, Red Dead Revolver, and the original Max Payne. Get ready for the end of summer holidays now, and stock up for the fall with some Original Soundtrack CDs, Caps, Kubrick Box Sets and a whole lot more.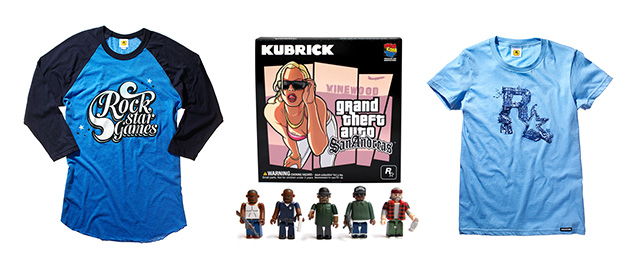 NOTE:
This offer is valid on rockstarwarehouse.com only. Offer does not include any games or GTAV gear or collectibles. Offer does not apply to previous purchases, credits, or gift cards. Discount applied before shipping and taxes are added (if any). Offer valid through Monday, September 8th, 2014, 11:59pm Eastern Time US. ET is local time in New York City, USA. Offer cannot be redeemed for cash. Details of offer are subject to change and may be canceled without notice.
Enjoy and join the fun in the
forums
!
---
WEDNESDAY, AUGUST 20, 2014 :: Posted by TreeFitty :: 2 Comments :: 7,654 Views
Time to take the training wheels off your jet fighter and take control of the skies this weekend, August 22nd-24th, for the SA Flight School Event. As usual there are special playlists, bonus rewards, and contests to win. More details below and in the
full article
.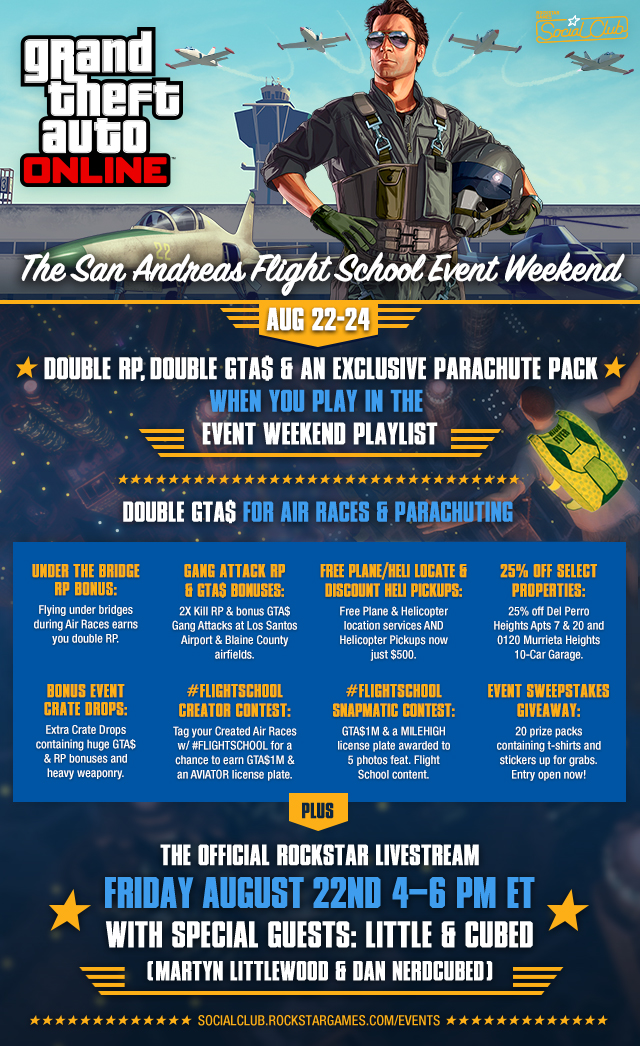 ---
TUESDAY, AUGUST 19, 2014 :: Posted by TreeFitty :: 1 Comments :: 4,924 Views
As promised late yesterday, the San Andreas Flight School Update for GTA Online is now available via automatic update 1.16 for both PS3 and Xbox 360. So get yourself down to The San Andreas Flight School right now. Grab the stick of the fast and nimble
Western Besra training jet
and push it to the edge of the envelope. Master absolute air superiority in 10 new solo missions that will make you comfortable in any pilot's danger zone, including combat maneuvering, low-flying challenges, formation flying, and more!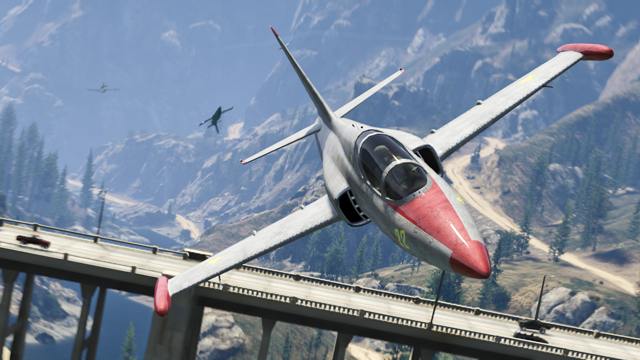 Once it's "mission accomplished" and you're out of your heroic new Flight Suit, spend your shore leave buzzing the skies in the luxury
Swift helicopter
, or cram your entire squad into the new
16-seater Buckingham Mil-Jet
for team transport in style. Hit the silk with a collection of new Chutes and Parachute Bags, and if things get a little out of control, rely on the
Reserve Parachute
to give you a second chance at that soft landing - or use it to get creative with your precision dives. Later, hit the streets in the shapely
Invetero Coquette Classic
, available in either hard-top or topless roadster variants for whatever your sea-level speed fix.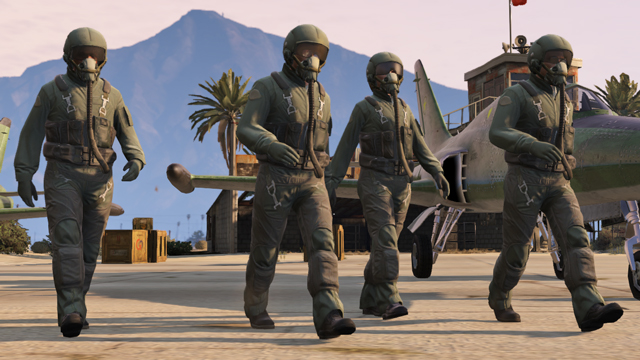 And round up your wingmen for new Races, Captures, Parachute Jumps and more, including the three all-new VS Mission modes. Acquire Targets is a kill-the-carrier style mode where opponents fight in P996 Lazers to control one flag; maintain control for as long as you can to rack up points. In G-Rating, compete against other cadets as you fly to pick up 15 flags in both weapons hot and cold environments. Or try out Air Force Zero, where the defending team must protect an aircraft against an attacking team as it flies to the safe LZ.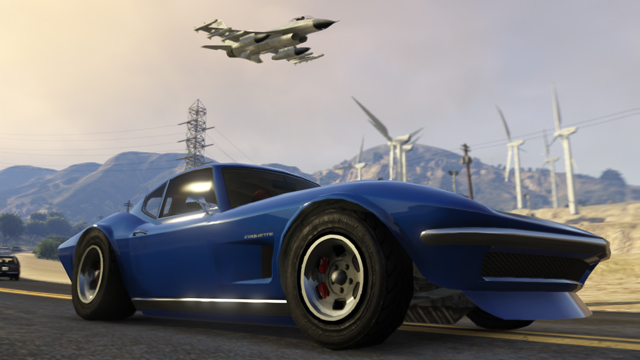 In addition to everything listed above, today's update also includes a number of other adjustments and fixes for GTA Online. Most notably, all Contact Mission GTA$ and RP awards have been rebalanced so that more difficult missions will earn you greater rewards, GTA$ payouts on replays are no longer reduced and all rewards are now time scaled. For a look at all the changes in this update, please check out the
full listing at Rockstar Support here
.
Stay tuned for more details on continuing updates to GTA Online and look out for specifics later this week on the upcoming Event Weekend to commemorate the launch of the San Andreas Flight School Update. See you on the tarmac and get into the danger zone in the
forums
!
---
MONDAY, AUGUST 18, 2014 :: Posted by bOnEs :: 4 Comments :: 5,011 Views
It's been a while since we heard from Rockstar about future content. Today that wait ended with the announcement of the
San Andreas Flight School Update
, heading our way tomorrow, August 19th. New vehicles (both land and air), updates to missions, and plenty more details to come.
"Starting tomorrow, enjoy the thrill and exhilaration of being a patriotic hero with the San Andreas Flight School Update for GTA Online. This new update will feature a collection of new air and land vehicles, aerial solo challenges, and much more. Tomorrow's update will also introduce a host of gameplay changes to GTA Online – these include increased payouts for harder to complete missions and GTA$ bonuses for playing missions with others. Stay tuned for more details tomorrow.

For now, check out the SA Flight School's informational video above and prepare yourself for the opportunity to become one of the best of the best."
Get ready for a week of aerial mayhem, and be sure to join the discussion in the
forums
!