Latest GTA 5 News, Release Date & Screenshots
Grand Theft Auto V
(also known as
Grand Theft Auto 5
,
GTA V
or
GTA 5
) is the name of the newest Grand Theft Auto game,
announced
by Rockstar Games on October 25, 2011.
GTA 5 launched on September 17th, 2013
for the PlayStation 3 and Xbox 360. iGTA5.com is a dedicated GTA 5 fan site keeping you up to date with all the latest news and facts.
GTA V releases on PS4/Xb1 in
[
Read More
]
---
GTA V Information
On iGTA5.com you'll find rumors and speculation about the game,
fan artwork
and
fake screenshots
along with official
news
and facts including the
Release Date
,
Images
,
Characters
and other official content when it's released. We also have a dedicated
GTA 5 Forum
specifically for GTA V discussion, so make sure you get signed up!
---
Share Your GTA 5 Content!
If you have any GTA V content or news to share with us, please email
submit[at]igta5.com
!
---
TUESDAY, NOVEMBER 18, 2014 :: Posted by TreeFitty :: 8 Comments :: 934 Views
It's here (again)! Grand Theft Auto V is now available across the world on the PlayStation 4 and Xbox One consoles!
More than just a texture overhaul, the new version of GTA V goes to extreme detail and also offers revamped animations to coincide with the
new first person view
that lets you experience Los Santos and Blaine County from the eyes of your
character
. When you're ready to break free of the story, head online and take part in
30-player mayhem
in the jobs you know or completely new ones for the new generation. It may be the game you know, but there's a whole lot more to see and do -
especially for returning players
.
Reminder for PC players: The PC version will release on January 27th. Mark your calendars!
Enjoy and join us in the
forums
!
---
WEDNESDAY, NOVEMBER 12, 2014 :: Posted by TreeFitty :: 1 Comments :: 2,419 Views
The new GTA Online is just under a week away and Rockstar wants to share a little more information on hwat to expect. The power of the latest console hardware has added new potential to the world and Rockstar is very excited for what the amazing player community will make of Grand Theft Auto V and Grand Theft Auto Online on PlayStation 4 and Xbox One next week.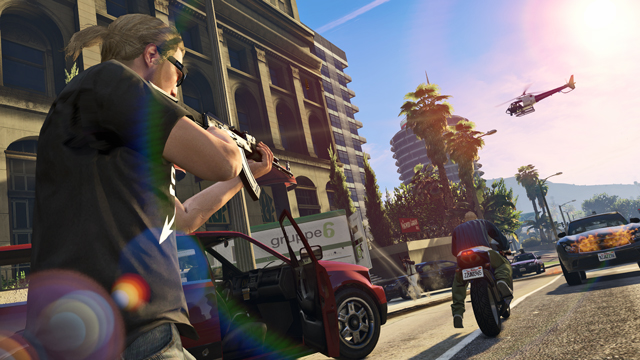 With the advent of First Person Mode, 30-player Online support and other new features made possible by the new systems, your feedback, help and guidance is more important than ever to help Rockstar make the game experience all it can be. Whether it's letting them know what you like and what you don't like about the new features, reporting any technical issues you may experience during the early days of GTA Online's next generation launch, or any other suggestions for improvements and tweaks whatsoever - they need your continued help, and, maybe, just a little patience if there are any teething problems around the launch on the new systems. They have, of course, tested the game extensively but there is no way their several hundred testers can be quite as comprehensive as millions of players! Please bear with them should any issues arise - they will be working hard to fix any problems that arise, and generally ensure this launch is as smooth as possible.
To help aid on that front, Rockstar wants to continue to encourage all players to utilize the following communication channels:
The dedicated Rockstar Games Support website for help with any and all technical issues that may arise. You can browse the knowledge base of known GTAV and GTA Online issues and subscribe to articles there to get automatic updates of when they're addressed. And if your issue does not appear as an existing knowledge base item, you can also always create a new ticket to get help.
The GTAOnline@rockstargames.com official player feedback inbox. Over the past year, with each and every Update released for GTA Online were tons of positive changes made as a direct result of player feedback that the development team consulted constantly for input. From specific content added to the game to countless enhancements such as improvements to GTA Online's RP and GTA$ payouts, insurance system, passive mode, Creator features, damage system – and so much more were all made to the game thanks to your very helpful suggestions.
Also expect a Title Update to be made available for download on both PS4 and Xbox One by this Monday that will include some last tweaks and optimization fixes for game day. In order to experience the game properly, please make sure you install this Update before playing (like all Title Updates, it will be applied automatically as long as you are connected to the internet).
Rockstar will be looking closely at your feedback from the initial launch days on the new platforms to help inform other future dynamic tuning changes and Title Updates as always. And get ready for continuing free content Updates for Grand Theft Auto Online, including the highly-anticipated launch of Online Heists (
which, to be absolutely clear, will be available for all four consoles to enjoy
).
Beyond that, here's just a few things to get excited for in Grand Theft Auto Online for PlayStation 4 and Xbox One starting next week: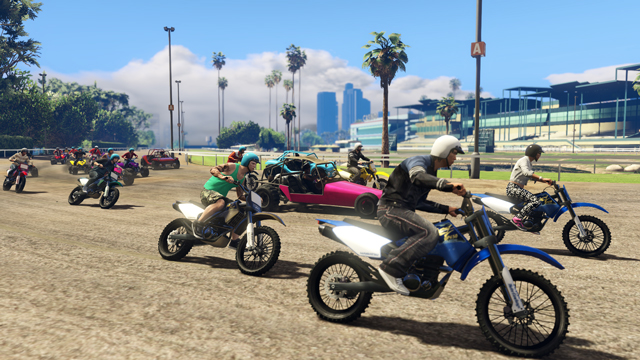 Up to 30 Player Mayhem
Whether it's mass marauding in Freemode or lining up a proper Crew convoy for an epic GTA Race – there will now be the opportunity for nearly double the player action that was possible on the PS3 and 360.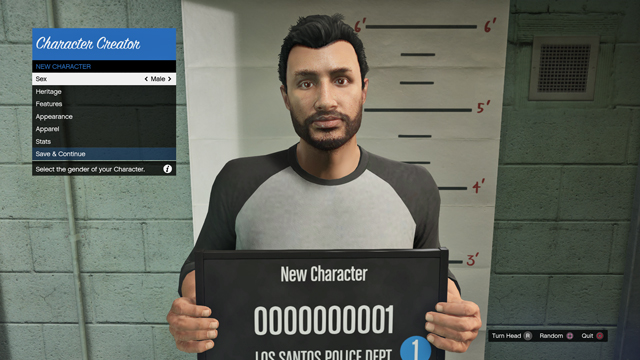 The Next Generation Character Creator
Give your GTA Online player a dramatic makeover thanks to the new customization options that the overhauled character creator offers. Create a brand new character from scratch or take your current guy or gal for a bit of cosmetic surgery in true Los Santos fashion.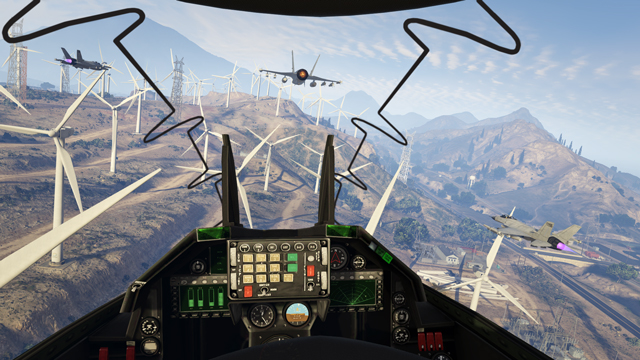 The GTA Online First Person Experience
IGN
revealed the first person experience for GTAV last week
, a feature that will be available in both Story Mode and GTA Online allowing you to seamlessly switch between first and third person perspectives while playing. Fancy trying your favorite Team Deathmatch as a first person shooter – or weaving through the turbines at the RON wind farm with a view from the cockpit of your Lazer in glorious 1080p? That's just scratching the surface of the possibilities that the first person experience will add to the gameplay of GTA Online.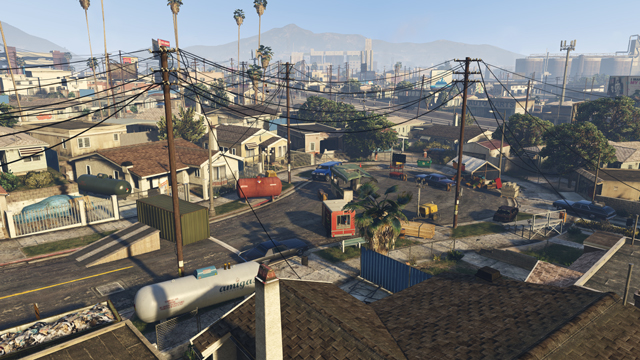 Double the Props in the Creator Tool
To date, the amazing minds who've put the Creator Tool to work are responsible for nearly
10 million
original custom Deathmatches, Races, Captures and Last Team Standing Jobs. Amongst those are some truly epic experiences including some masterfully imaginative metagames that we never could have envisioned. Now with the possibilities of prop placement doubled, you'll be able to build enormous arena-style Deathmatches for concentrated chaos, or maze-based Land Races requiring extreme guile, or stack shipping containers around Air Race checkpoints to create large scale obstacle courses for GTA Online stunt pilots! With double the props and up to 30 players, Rockstar can't wait to see the ways in which the incredible Creator community will assuredly concoct brilliant gameplay magic on the PS4, Xbox One and PC.
That's all for now. Look for more last-minute info soon and hit up the
forums
!
---
MONDAY, NOVEMBER 10, 2014 :: Posted by TreeFitty :: 2 Comments :: 1,968 Views
We're just over a week away from the PlayStation 4 and Xbox One release of Grand Theft Auto V and Rockstar has released the launch trailer. Enjoy...
Rockstar Games also reminds you to
pre-order your copy now
and get a bonus $1,000,000 of in-game money to spend ($500K for Story Mode and $500K for GTA Online). And with IGN & Rockstar Games putting out quite a lot of information (and
screenshots
) last week we might as well cut through the jouralism garbage and present the big points that came out of it. Consider this a Reader's Digest of the previews.
The new first-person experience
The
big reveal last Tuesday
was that GTA V and GTA Online will in fact have a full first-person feature. For this, Rockstar Games had to go beyond upgrading textures and draw distances for the new version of the game. They made objects much more detailed and had thousands of animations adjusted to look better while re-experiencing Los Santos and Blaine County. Vehicles now have detailed and functioning dashboards as well. Going further, helmets restrict your view and muffle sounds. If your character likes a song playing on the radio they can start bobbing their head - and your view - too. When Rockstar says they want you to become the characters they mean it. You may notice tons of details that have been there from the start including how pedestrians stare at you while walking by. You can turn off the view with the tap of a button and choose if you want to use it while in-cover or not.
Rockstar made a video featuring various clips of the new first-person perspective:
Comparing the old and new GTA V
The
next preview from IGN
talked more about the visual details. As revealed previously, all content updates for GTA V will be present in the new-gen version. Vehicles from the updates will appear on the streets as a part of the population. Vehicle and pedestrian populations have been increased to breathe more life into the game. But don't forget the vegetation. John Marston's jaw would drop from looking at the vast amount of plant life added to GTA V. Grass is no longer a flat texture over hills or open areas with some tall grass sprinkled here and there. Rockstar has added actual blades, flowers, leaves - and trash - everywhere.
Another big point is lighting. Rockstar has completely upgraded the game's lighting from street lights to headlights. Light will refract through water including rain and even react to fog in a realistic manor so get those camera phones ready for awesome Snapmatics! Car reflections have received an overhaul as well with much more visible detail. Of course shadows also come into play with crisper lines or varying softness when needed and more realistic shadow casting between objects.
Rockstar put together a comparison video featuring the PlayStation versions of the game:
30 player playground
The
last part of IGN's preview
covers GTA Online. As noted previously you can use the first-person view in GTA Online and hosts can even lock matches to use that view only if they wish (or allow a choice). The level of detail from storymode continues online to allow you to see enemies or targets further into the distance. New-gen GTA Online accomodates up to 30 players plus two spectators in a match.
As was made known prior, you can transfer your GTA Online characters into the new-gen. You won't be stuck with the same old character, though. You will be allowed to adjust characterization stats and essentially reconstruct your avatar's DNA by adjusting almost every facial feature including nose and lips. This of course goes for newly created characters too.
Finally IGN mentions that heists are still on the way for all platforms new and old but Rockstar gave them the broken record "soon" as a timeline.
CVG also had a preview of the new-gen GTA V but pretty much said the same as IGN in fewer words. They reconfirmed the game runs at 1080p and 30fps with the PC version supporting 4K. They also metioned that there are 20 new species of
animals
and hundreds of new
songs
as well as hours of new DJ chatter. The PS4 controller will not only provide police radio but the light on the controller will also change colors depending on the character you are controlling.
Grand Theft Auto V is definitely [re]shaping up into a great experience on new consoles and PC. Hit up the comments below with any other questions we might be able to answer. Check out
71 high-res screenshots in the gallery here
and join the chat in the
forums
!
---
TUESDAY, NOVEMBER 04, 2014 :: Posted by bOnEs :: 6 Comments :: 3,986 Views
A fortunate few within the gaming community got the chance to sit down and play next-gen Grand Theft Auto V. There's loads of new details on what to expect for both the single player and online experience. So without further adieu, let's get right to it.
IGN is up first with an article titled, "
Grand Theft Auto 5: A New Perspective
". You read that right, GTAV next-gen will feature a FIRST PERSON MODE!
"Police cars are stacking up in the cul-de-sac below and a helicopter is hovering somewhere overhead. I can't really see where it is, but I feel its presence, and the cops open fire. So I make a run for it, vaulting over a fence into a parking lot, where I jack a car, climb in, and as I look down to hot-wire it, I see there's a bullet hole in my in my forearm and blood is running out.

I've never had a GTA experience like this before, and that's because it's all playing out in the first-person."
Into further detail...
"Nelson and his team have worked tirelessly to make this new perspective not only work but feel totally immersive. The fastidious attention to detail that originally went into the creation of GTA 5 is once again evident in the way first-person mode has been executed. When you step inside a car for the first time and settle down into the driver's seat, you'll notice the vehicle has a thoughtfully-designed dashboard – the speedometer and rev counter all work and, in some of the more high-end cars, digital displays even show the name of the radio station and song you're listening to. Your character will even bob his head to the music. And that level of detail extends to every car, boat, and plane; they all have unique cockpits, so you're never just plonked behind the same wheel.

Hop on a bike or jump into a helicopter, and your character puts on a helmet or a set of goggles that authentically restricts your view and muffles the ambient noise of the world. It's these details, seemingly incidental, which cement the illusion and make GTA 5's first-person mode feel like a substantial part of the experience, rather than a bullet-point on the back of a box."
Be sure to click on the link above to read the full article and
check them out 15 new screenshots in the gallery here
. There' also a video accompanying the article worth checking out if you want to see it in action.
hr>
Up next is the article from Computer and Videogames, titled, "
Hands-On with GTAV PS4: Rail guns, FPS mode, and more
". Be sure to check out their GTA O'Clock hour long special video as well.
"Sure, cruising around Downtown Los Santos in a Pegassi Zentorno can almost look and feel mundane (well, relatively), until your attention is caught by a comically-fluffy cat eye-balling you at the traffic lights, as it ambles up a side street. Good / bad news: cats aren't bullet-proof, but we didn't put it to the test. There's over 20 new species of wildlife, but it's those in bushy new-gen fuzz that catch the eye."

"GTA Online lets you create FP-only races and death-matches, with the long-anticipated Heists now, apparently, on the near-horizon. Call of Duty-style contests? Almost certainly, and Rockstar have the scope to tackle their rivals on all fronts with custom DLC and user-created FP content."

"We haven't even talked about the 100s of new songs our hours of new DJ chatter (Back Street Boys 'Tell me Why', anyone?), or the ability to dip into first-person at any time (tap the PS4 face pad), or the amazing new pedestrian chatter (we tailed a guy fobbing off his boss in a 30 second phone call), or the soft, haunting glow of lightning, or the new smog effects, or the fireflies in the forest, or swimming with a whale."
The article has 23 new screnshots to browse as well or
check them out in the gallery here
.
Be sure to check out the
Forums
if you want to discuss next-gen GTA!
Update
Part 2 of IGN's preview includes a comparison video highlighting the amazing new detail of the new-gen GTA V.
Check out
the full article here
.
---
TUESDAY, NOVEMBER 04, 2014 :: Posted by TreeFitty :: 0 Comments :: 2,280 Views
To celebrate the release of the new, enhanced versions of Grand Theft Auto V for PlayStation 4, Xbox One and PC, Rockstar will be releasing limited edition collections of the game's star-studded
soundtrack
on both CD and Vinyl in collaboration with Mass Appeal Records.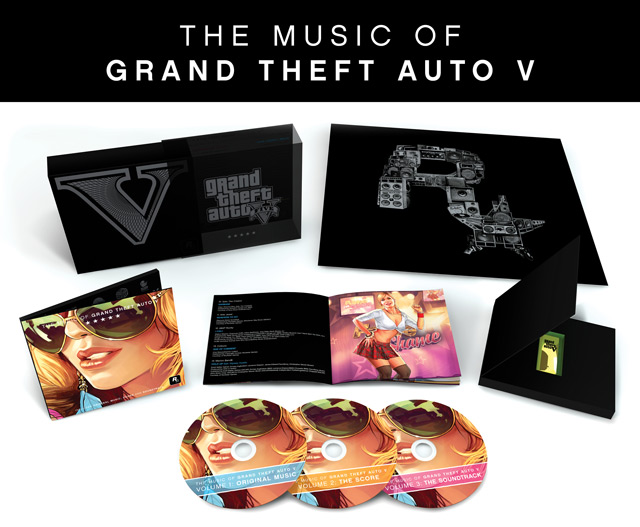 The Music of Grand Theft Auto V
limited edition collections include 59 tracks with original music from A$AP Rocky, Tyler, The Creator, Twin Shadow, Wavves, Flying Lotus, Yeasayer and more. In addition, these limited editions will feature the original score composed by Tangerine Dream, Woody Jackson, The Alchemist + Oh No, mixed by DJ Shadow, along with the other incredible music featured in Grand Theft Auto V. Limited to a production run of under 5,000 units worldwide, these limited editions will be available from
December 9
at top online and physical record stores.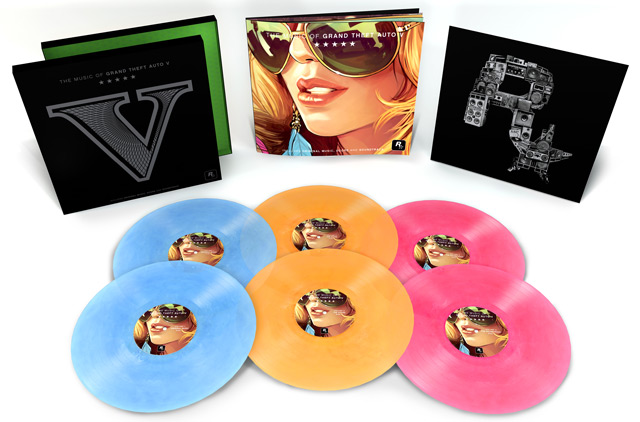 The vinyl collection will feature a total of six vinyl records, a full color booklet and an exclusive lithograph poster in a classic box-set. The CD collection includes three discs along with a branded Grand Theft Auto V gold brick-shaped USB Drive, artwork and poster all sealed in a special die-cut package.
Also, as mentioned in
Pitchfork's story here
, a number of DJs from GTAV are adding new radio content to their
respective stations
, including Big Boy, DJ Pooh, Nathan and Stephen from WAVVES, Kenny Loggins, Twin Shadow and Cara Delevingne as well as a few of the dial's biggest chatterboxes - Dr. Ray De Angelo Harris and Duane Earl.
Be on the look out for new-gen previews of GTA V later today and join the fun in the
forums
!
---
FRIDAY, OCTOBER 31, 2014 :: Posted by bOnEs :: 0 Comments :: 2,595 Views
Put on your best costume and let's go have a good time this weekend in the
Rockstar Games Halloween Weekend Event
being hosted thru Sunday Night. With it comes bonuses, rare shirts, and a Snapmatic contest. Here's the rest of the details below: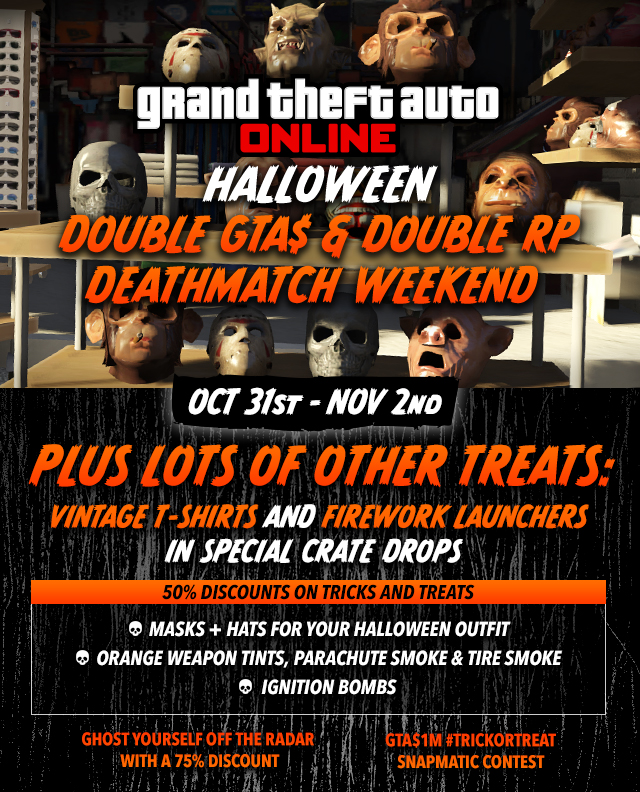 Fresh off the heels of last weekend's San Andreas Anniversary celebration in GTA Online, we've got three more days of in-game bonuses and more to take advantage of this Halloween weekend starting today Friday, October 31st.
In ghoulish fashion, all Deathmatches will reward players with Double RP and Double GTA$ all weekend long – including Rockstar Created, Rockstar Verified and all player-created Deathmatch Jobs. The inhabitants of Los Santos will also be out causing mischief in Freemode and gathering treats along the way from Crate Drops including Firework Launchers, exclusive T-shirts and more. We've also got the #TrickOrTreat Snapmatic contest in effect so go all out on your weekend costumes with half price discounts on Masks and select Hats, as well as 50% off orange tints and smoke trails to aid you in capturing the Halloween spirit. Read on for full details.
DOUBLE GTA$ & DOUBLE RP FOR ALL DEATHMATCHES
Frightful GTA Online encounters are guaranteed with Double RP and Double GTA$ in all Deathmatches, all weekend long. Aim for the pumpkin to max out the headshot RP bonus, or seek out a dark corner of the map to plot your ghoulish intentions.
TREATS INSIDE EVERY SPECIAL CRATE DROP
Keep watching the skies! This weekend only, rare vintage GTA T-shirts will be available in Special Crate Drops, with a different shirt available to collect each day of the weekend:
Friday - Flash FM
Saturday - Bobo
Sunday - Fever 105 FM
There'll also be Firework Launchers, Miniguns and an abundant cache of RP, GTA$ and ammo. We've upped the frequency of the Special Crate Drops in every Freemode session - keep an eye on your Feed ticker to find out when they're coming down and look for the Smugglers plane on the map so that you can track the landing spot of the Crate itself, but be warned: You are not alone.
HALF PRICE DISCOUNTS ON HALLOWEEN THEMED GOODIES
To get you into further frightful festivities, you'll also need a costume worthy of playing the part. Vespucci Beach Mask Shop offers an array of accessories and freaky faces to complete your outlandish outfit. This weekend, you'll be able to purchase all masks and hats at half-price and we've also discounted orange weapon tints, orange parachute smoke and orange tire smoke. Finally, in case anyone tries to steal your ride, grab a half-price ignition bomb for a special Halloween trick.
75% DISCOUNT OFF THE RADAR
All Hallows Eve can play tricks on the mind - fool your enemies into doubting their senses with 75% off Lester's Off the Radar service. Go ghost, and use it to get the jump on any goblins looking to ruin your day.
HALLOWEEN SNAPMATIC CONTEST - #TRICKORTREAT
Once you're fully decked out in your most creative outfit, hit the sidewalks and alleyways to put on a full-on freakshow. Capture your best Halloween-themed shot with Snapmatic, tag it with #TrickOrTreat on Social Club and you could have your pic featured at the Rockstar Newswire, not to mention a treat of GTA$1M. Official Rules here.
HALLOWEEN SPECIAL LIVESTREAM
Tune in as we'll be playing through a selection of player-created horror themed Jobs and more during a special Halloween Edition Livestream this Friday October 31st at 4pm ET / 8pm GMT. We'll be joined by special guests from the community as we stalk, slash and body one another in Deathmatches, check out each other's best Halloween costumes and more. We'll be inviting a few guest players to join the lobby via both Twitter and during the stream via Twitch chat – so make sure you're Following us in both places to get the word.
Sounds like a ghoulish good time! Join in in the
Forums
, if you dare... MWAHAHAHA!
---
TUESDAY, OCTOBER 28, 2014 :: Posted by TreeFitty :: 2 Comments :: 3,796 Views
As we step closer to November, Rockstar has revealed details on exclusive content for the new-gen version of Grand Theft Auto V available to those who have already played the last-gen version. There's quite a few
vehicles
being added as well as some new side
missions
and
weapons
. Check out the long list of details below...
New Events & Rewards
Encounter new events happening all across the world, and complete the challenges they present to unlock exclusive new vehicles like the menacing
Imponte Duke O'Death
and that veritable GTA classic bird of flight, the
Dodo
seaplane.
Murder Mystery
As Michael, follow a trail of cryptic clues to unravel a grisly murder mystery. Put the clues together and you'll unlock two Noir Style Filters, which will give your Story Mode gameplay and Snapmatic photos the feel of a gritty old school crime classic.
Weapons: The Rail Gun & Hatchet
Obliterate your adversaries with the high-powered, high-velocity
Rail Gun
. This piece of experimental military technology also has its own set of Shooting Range Challenges at your local Ammu-Nation shooting range. Or hack and slash foes up close and personal with the brutal
Hatchet
melee weapon.
Wildlife Photography Challenge
There are new species of animals across Los Santos and Blaine County, and the LS Tourist Board needs someone to document them. As Franklin, catalog unique animal species scattered across the map to unlock the special
Kraken Sub
.
Stock Car Races
Win a series of new Stock Car Races to earn unique custom Muscle Cars adorned with logos from some of the companies that made this country great.
Monkey Mosaics
A mysterious street artist is tagging walls all across town with his simian-inspired silhouettes. Track down and photograph them all to earn new monkey outfits (available to all players) and a special
Go Go Monkey Blista
exclusively for returning players.
New Vehicles and More
Grind up the Los Santos freeways (and over anybody in your path) with the
Cheval Marshall
monster truck and take to the skies in a faster and more maneuverable
Blimp
, compliments of Xero Gas.
There will also be a bounty of content for all players, new and returning, to discover - including a fleet of classic GTA vehicles and a few more surprises we've got planned that you'll have to discover for yourself come game day. And as previously announced, current GTA Online players on PS3 and Xbox 360 will be able to pick up where they left off, transferring their characters and progression seamlessly to their choice of PlayStation 4, Xbox One or PC (
Social Club
membership required).
In addition, anyone who pre-orders the game will receive a bonus of GTA$1M ($500k for Story Mode and $500k for use in Grand Theft Auto Online). Rockstar also received tons of great questions from excited fans about what's in store for the game. Below are some of the more frequent ones they've gotten that are able to shed a little light on - and stay tuned for more info in the coming weeks. Remember, you can always send your questions to
mouthoff@rockstargames.com
, or shoot a tweet at
@RockstarGames
. If you've got feedback about what you'd like to see in GTA Online specifically, don't hesitate to drop the dev team a line at
gtaonline@rockstargames.com
.
What about the exclusive in-game content I originally received for purchasing the PS3 or Xbox 360 Special Edition or Collectors Edition last year? Will I be able to access that content on PS4, Xbox One or PC?
Yes, if you purchased the Special Edition or the Collector's Edition last year, when you upgrade to one of the new systems, you will automatically have those items unlocked and accessible. Those in-game bonuses include the Stunt Plane Trials, Bonus Outfits and Tattoos, and the Pistol .50, Bullpup Shotgun and melee Hammer all for Story Mode use; as well as the Custom Classic GTA Parent Characters and the high-end Khamelion electric car for GTA Online. Furthermore, if you missed out on your chance to buy a CE or SE the last time around, Rockstar will also make all of that content available for all players on PS4, Xbox One and PC to earn and acquire with in-game cash (original SE and CE owners will not have to spend any in-game cash to obtain them, they will automatically be accessible upon upgrade).
Can you only make the GTA Online character progress transfer once?
If I transfer my GTA Online character to the new systems, will I still be able to play with him/her on my PS3 or Xbox 360?
Yes, you will only be able to transfer your character once. After transferring your character to PS4, Xbox One or PC, you can continue playing with him/her on your PS3 or Xbox 360 but the progress you make while playing is not shared to the character you transferred to your new version.
Will PC players also receive the exclusive upgrade content like the Dodo and Dukes?
Yes indeed! The content detailed above will be available to returning players on all three new platforms.
Will any of these updates being made for the new systems be also made available for the previous generation of consoles?
The vastly enhanced graphics and many other gameplay updates on the new versions of Grand Theft Auto V are really only made possible by virtue of the powerful new hardware of the new consoles and PC. Some of the other updates such as the upgrade content detailed above are being designed exclusively as a reward for returning players so those will not be released on the previous versions; however do stay tuned for more updates to be made available for Grand Theft Auto Online across all platforms and they'll have more information on that soon.
Will my created Jobs transfer over to the new systems?
Yes, any Jobs you've published in GTA Online using the Creator tool will transfer over so that you and others can continue playing them on the new platforms. Please be aware however that Leaderboards, Snapmatics, Playlists and bookmarks are unique to the console generation you made them on so those will not carry over. (GTAV photographers should get ready to take
all-new high-res Snapmatics
!)
Will 30-person GTA Online sessions include competitive modes such as Races and Deathmatches?
Yes, they will! GTA Online on the new systems will support 30 players not just in Free Roam but in competitive modes as well (unless of course the Job you're playing has been designed to be set to a specifically lower player max). Rockstar looks forward to seeing what unique matches the community can create for a vastly increased number of players.
That's all for now! Stay tuned for more info in the coming weeks and join the fun in the
forums
!
---
THURSDAY, OCTOBER 23, 2014 :: Posted by TreeFitty :: 1 Comments :: 3,366 Views
This weekend Rockstar Games goes back, back to the previous incarnation of San Andreas with a special event weekend for GTA Online. Of course you can take in bonus RP & GTA$, limited time shirts for you GTAO character, in-game discounts on select items, and contests! More details below...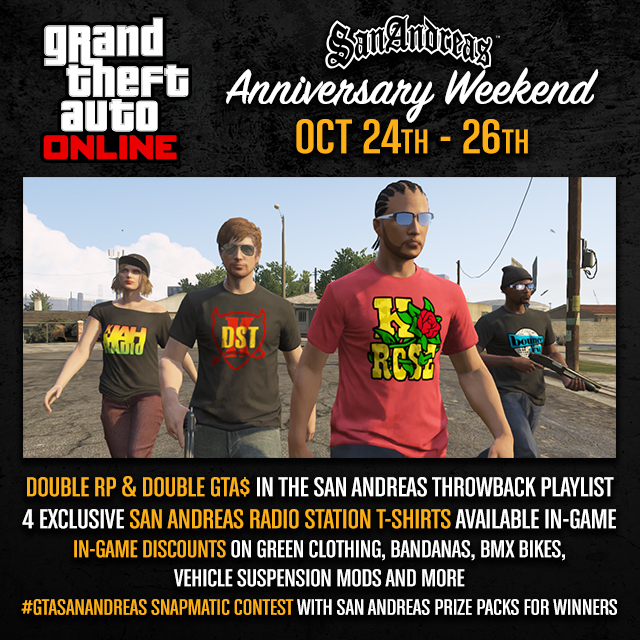 DOUBLE GTA$ AND RP FOR PLAYING THE SAN ANDREAS THROWBACK JOBS PLAYLIST
This weekend only, playing the "San Andreas Throwback Jobs" Featured Playlist will grant you Double RP and Double GTA$, regardless of whether you win or lose. To take advantage, simply launch GTAV and hit the "Featured Playlist" button on the launch screens, or access it via the "Playlists" section of the GTA Online Start Menu.
EXCLUSIVE SAN ANDREAS RADIO STATION T-SHIRTS
Look to the skies all weekend for Crate Drops containing exclusive retro t-shirts of four classic radio stations from a time when FM was king. These tees will be up for grabs in Freemode sessions, along with an accompanying trove of weaponry and GTA$ in each Crate.
Bounce FM
K-DST
K-JAH
K-Rose
And for those who'd like to recapture that 90's west coast radio vibe, check out compilations of these and other San Andreas radio stations (as well as other titles in the Grand Theft Auto legacy) available via Spotify and iTunes.
IN-GAME DISCOUNTS: GREEN CLOTHING, BANDANAS, BMX BIKES AND VEHICLE SUSPENSION MODS
Complete the GSF look while you're hanging with your Crew thanks to 50% discounts on all green clothing items as well as 50% off BMX bikes, bandanas and other accessories. Also get 25% off lowered suspension vehicle mods, so you can roll around Strawberry like a true
Sunday Driver
.
#GTASANANDREAS SNAPMATIC CONTEST
Whether it's repping outside the Cluckin' Bell in Davis or catching some air off Mount Chiliad, capture your San Andreas homages in a Snapmatic shot this weekend and you could win a retro prize pack courtesy of Rockstar Games. There are five packs up for grabs, each containing a San Andreas themed Basketball, Bandana, special 10th Anniversary tees, Playing Cards & Poker Chips, the Kubrick Box Set, and stickers. To enter, simply tag your best shots
#GTASanAndreas
on Social Club.
Official Rules here
.
THROWBACK JOBS LIVE STREAM
Rockstar will also be playing through the aforementioned
San Andreas Throwback Jobs Featured Playlist
with the Social Club members who created them and other friends from Twitch and YouTube on Friday, October 24th - starting at 4pm ET. The session will be streamed live on the
Rockstar Games Twitch channel
.
Have fun and join the chat in the
forums
!
---
THURSDAY, OCTOBER 02, 2014 :: Posted by Massacre :: 1 Comments :: 6,464 Views
Details on the Last Team Standing event weekend are now available.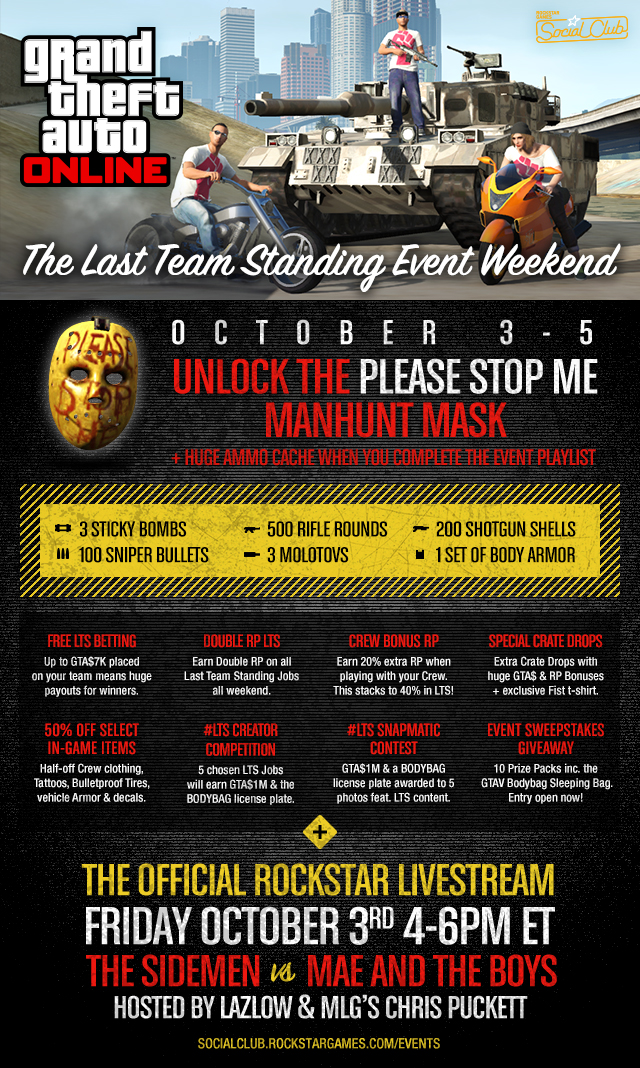 Put it all on the line this weekend, tomorrow Friday October 3rd thru Sunday October 6th, in the GTA Online Last Team Standing Event Weekend. Limited time only GTA$ and RP bonuses, exclusive weekend-only unlocks to collect, special contests, an epic all-star Last Team Standing live stream and much more await those with both the staying power and the stopping power to rule the 10 new Jobs from The Last Team Standing Update and the many, many more currently being created by the Social Club community with the new Last Team Standing Creator Mode.
---
THURSDAY, OCTOBER 02, 2014 :: Posted by bOnEs :: 0 Comments :: 4,832 Views
Today, Rockstar released the
Last Team Standing Update
, full of the usual DLC additions we've gotten used to. New rides, new clothes, new weapons, new jobs. Also included with this update, as the title suggests, is the addition of the LTS creator tool. Here's the details below: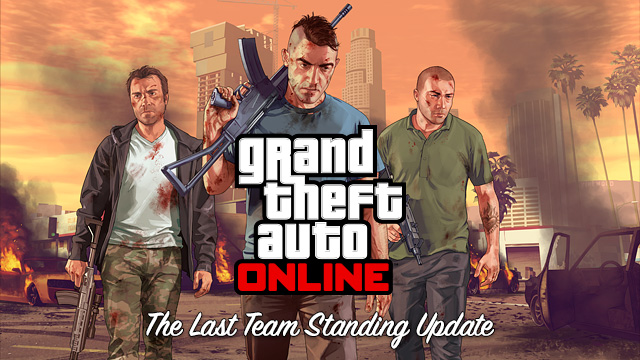 You've only got one life, use it wisely. The Last Team Standing Update introduces powerful weaponry, tactical gear, high-performance vehicles and all-new Creator features to celebrate Grand Theft Auto Online's most high stakes mode. Today's update features 10 new Last Team Standing Jobs spread out across Los Santos and Blaine County plus additional gameplay changes to allow for a greater range of game types and enhanced matchmaking.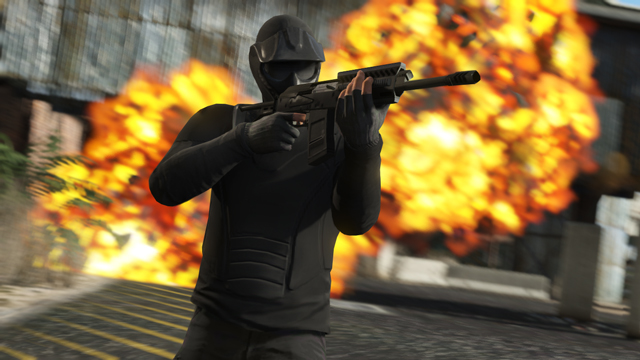 Take enemies down with brutal force when you equip the new Heavy Shotgun.
Visit Ammu-nation to expand your arsenal with a pair of potent new firearms: the
Heavy Shotgun
delivers serious stopping power in close quarters, and the
Marksman Rifle
can drop targets from long range with lethal accuracy. Plus, suit up your team with new Outfits, along with new Masks, Tops, Pants, Bulletproof Helmets and more.
Rule the road with two new Motorcycles – the
Shitzu Hakuchou
sport bike and the
LCC Innovation
chopper. Or, for those with more sophisticated tastes, show off your elite style in the fiery
Lampadati Furore GT
.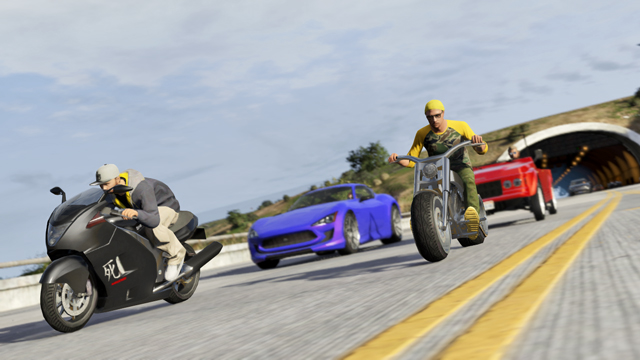 The Hakuchou and Innovation lead the Furore GT here on the Great Ocean Highway.
This update also presents the launch of the
Last Team Standing Creator Mode
. You can now design original GTA Online Jobs in this strategic and deadly mode that pits teams against one another with no second chances. This Creator update features a new option for building even more dynamic matches across other modes – with the ability to add
Rounds
to Captures and Last Team Standing Jobs. Or raise the stakes by adding rounds to Rockstar Created LTS, Captures and Versus Missions. And be sure to take advantage of the new
Forced Weapon
setting, allowing you to limit weapons for specific options like "Snipers-Only".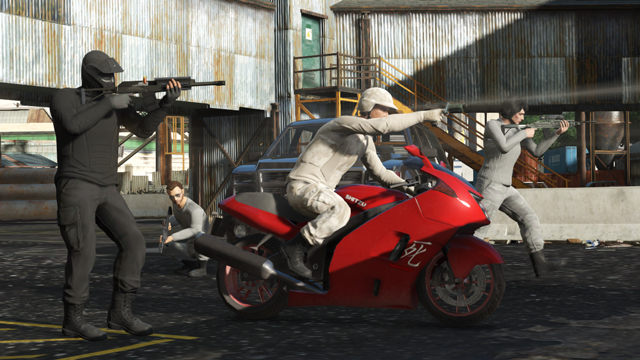 All new tactical gear including bullet proof helmets are now available in shops.
Also part of today's automatic update, we've now globally synchronized the Job voting screens, allowing us to merge sessions where players have voted on the same Job. This, combined with the on-call matchmaking introduced in a previous update allows players to find the Jobs they like more easily, and to stay with as many like-minded players as possible. There are lots of additional changes and tweaks to GTA Online,
all listed out in detail at the Rockstar Support site
. These include the ability to now go on-call for activities like Arm-Wrestling, Darts or Golf or to quick match with your friends for those activities using the option in your phone, as well as an increase in the maximum bet limit from GTA$2,500 to GTA$10,000.
To download today's update, just switch on your online-connected PS3 or Xbox 360 and start GTAV. From there, you'll be prompted to download the automatic update (1.17).
Look for the details of our Last Team Standing Update Event Weekend to hit the Newswire later today, and stay tuned for more info on future updates to GTA Online.
If you're still standing, join us in the
forums
!