Latest GTA 5 News, Release Date & Screenshots
Grand Theft Auto V
(also known as
Grand Theft Auto 5
,
GTA V
or
GTA 5
) is the name of the newest Grand Theft Auto game by Rockstar Games. GTA 5 launched on September 17th, 2013 for the PS3 and Xbox 360, November 18th, 2014 for the PS4 and Xbox One, and finally
January 27th
March 24th
April 14th, 2015
for PC. iGTA5.com is a dedicated GTA 5 fan site keeping you up to date with all the latest news and
facts
!
[
Read More
]
---
GTA V Information
On iGTA5.com you'll find rumors and speculation about the game,
fan artwork
and
fake screenshots
along with official
news
and facts including the
Release Date
,
Images
,
Characters
and other official content. We also have a dedicated
GTA 5 Forum
specifically for GTA V discussion, so make sure you get signed up!
---
Share Your GTA 5 Content!
If you have any GTA V news, content, or fan art to share with us, please email
submit[at]igta5.com
!
---
FRIDAY, MARCH 27, 2015 :: Posted by TreeFitty :: 1 Comments :: 455 Views
We're a little over 2 weeks away from the PC release of Grand Theft Auto V and Rockstar has posted 15 new high-res screenshots (quelling our fears of yet another delay)...
Arriving on April 14th, GTA V for PC is fully optimized to support all the
latest and greatest hardware with an abundance of PC-specific enhancements
.
Look for the official GTA V PC trailer next week and if you plan on getting the digital download version, make sure to pre-order by next week Tuesday March 31st to get $1.5 million in in-game bonus money to spend (GTA$500K for Story Mode and GTA$1M for GTA Online use).
Here's a few of the new screenshots:
Check out the rest in the
GTA V Screenshot Gallery here
and join the fun in the
forums
!
---
TUESDAY, MARCH 10, 2015 :: Posted by TreeFitty :: 2 Comments :: 2,436 Views
Heists - a brand new 4-player cooperative gameplay experience for Grand Theft Auto Online, giving players the chance to team up and pull off a string of intense, multi-part heists, raids and robberies across Los Santos and Blaine County - are now available for
free
in Grand Theft Auto Online.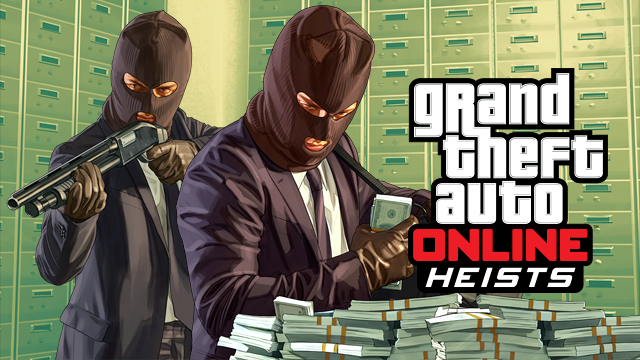 Plan, Prepare, Execute
- Online Heists span numerous missions featuring new gameplay, vehicles, weapons, and scenarios to test a team's full set of skills: from computer hacking to stealth infiltration, precision driving to aerial dogfighting, sniping, skydiving and much more.
4-Player Teams, 4 Ways to Play
- Choose your roles and strategize to complete each stage of a Heist, with tight communication and coordination the key to success. Some missions will require the team to work as a single unit, while others will break the team into separate roles to complete key objectives. Replay each Heist to experience a different perspective on the action, and complete Elite Challenges for extra cash.
Additional New Adversary Modes
- Brings new kinds of competition to GTA Online while new Daily Objectives and other Freemode activities bring chaos to the streets of Los Santos and Blaine County.
Assemble Your Team
- Create a Crew or join existing Crews at the Rockstar Games Social Club to earn additional RP rewards as you play.
Play Now
- Heists are now available for
free
in Grand Theft Auto Online for PS3, PS4, Xbox 360 and Xbox One (PC players will also get Heists as part of their GTA Online experience when GTAV launches for PC on April 14th). To get it, just start up GTAV from your online-connected console and follow the update prompts on screen. For a complete list of all of today's updates, check out the
official notes at the Rockstar Support site
.
Have fun and crew up in the
forums
!
---
FRIDAY, MARCH 06, 2015 :: Posted by TreeFitty :: 3 Comments :: 2,832 Views
Heists are right around the corner and Rockstar is giving everyone some tips to set up a crack team of robbers. Massive scores of GTA$ await those with the planning and the teamwork to pull these audacious thefts off. As you're taking final roll calls on your most trusted allies ahead of the launch of Heists on March 10th, here are a few pointers to help ensure your plan is of the best-laid variety.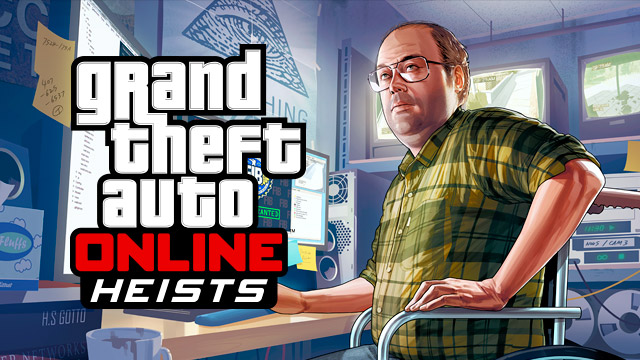 FOLLOW THE LEADER
First things first: every Heist needs a leader and the Heist Leader is going to need to be at least rank 12 and own a high-end apartment with a planning board in order to co-ordinate the crime. Not only do Heist Leaders cough up all of the setup costs up-front, they have complete control over team roles and the cut of the final take each Crew Member gets. Additionally, Heist progress is only saved for the Heist Leader - so when choosing a leader it makes sense to link up with someone you can trust.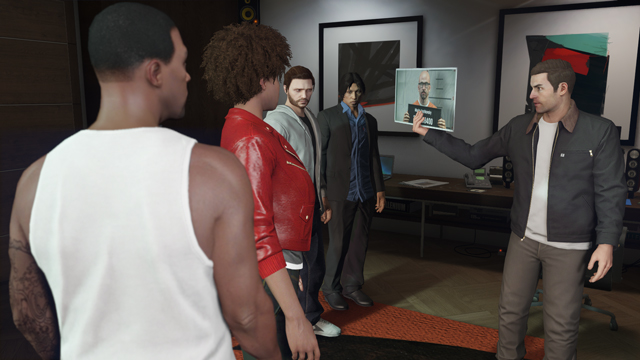 ALL TALK
It should go without saying that good teamwork starts with communication - and headsets are important to successfully pulling off Heists. Whether it's telling a lookout where they need to be, a passenger locating vehicles using the Trackify app and giving directions to the driver, or two infiltrators operating a pair of security panels in perfect sync.
ROLL CALL
At different stages of each Heist, Crew members will be assigned different roles. These could be slightly different responsibilities within a single scenario - for example, two lookouts and a bodyguard while a buyer completes a less-then-legal exchange of information - or larger deviations, like two players patrolling in an attack chopper above while the other two infiltrate a facility below. It's important for all players to know their strengths and, in turn, for the Heist Leader to assign accordingly. If you see yourself as an ace pilot, then put in some time at the Flight School and increase that flying stat to prove it.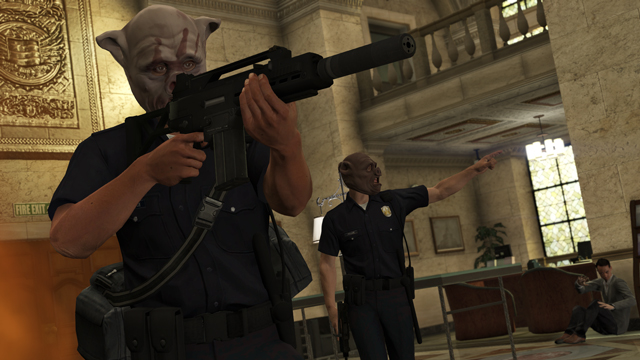 TOOL UP
Professionals don't expect the customer to provide the tools for the job. While there might be some more specialized equipment that may be provided (or that you'll need to acquire) along the way, for the most part you'll be using your own custom vehicles and firearms to get by. So it's a good time to take stock and make sure your garage and your arsenal are prepared for all possibilities. Silencers on guns and RPGs in general are especially useful for certain Heists while four-door vehicles with added armor can come in handy if you like to keep your friends close. With GTA Online Heists you'll be able to unlock a range of new vehicles and gear including an extensive selection of new outfits perfect for whatever each Heist throws at you.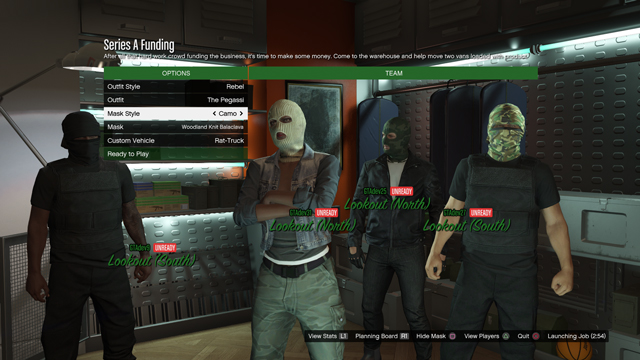 BONUS ROUND
For the financially ambitious there are a few ways to increase the income from Heists in a major way. First off, each Heist has its own Elite Challenge which, upon completion, will yield a substantial cash bonus. These can be completed multiple times, but be warned: they're no cakewalk.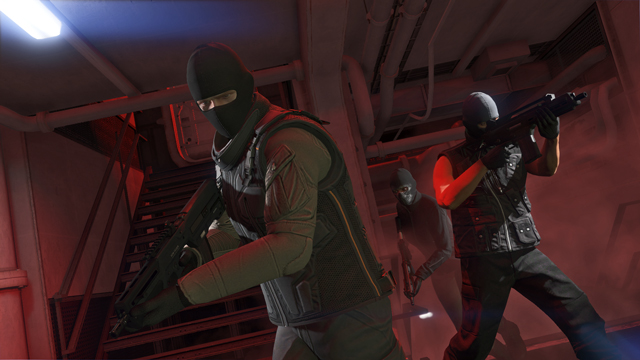 On top of that, there are Special Heist Completion bonuses that can only be achieved once per person, but will add some serious zeros to your bank balance. They are as follows:
First Time – Completing each Heist Finale for the first time, will net you a bonus cash reward
All In Order Challenge – Complete all Heists in order, including Setups, to receive a $1,000,000 cash bonus
Loyalty Challenge – Complete all Heists, including Setups, with the same team of players to receive an additional $1,000,000 bonus
Criminal Mastermind Challenge – Complete all Heists, in order, with the same group of players, without losing any lives, to receive a massive $10,000,000 bonus
The one-off bonus challenges are linked to in game awards. You can monitor your award progress via the
Stats > Awards
tab in the Pause Menu. Crew up in the
forums
!
---
FRIDAY, MARCH 06, 2015 :: Posted by TreeFitty :: 0 Comments :: 2,466 Views
Breaking update:
Rockstar has posted another sneak peek at heists with a new video:
Now back to our regularly scheduled news post...
Rockstar has announced that new radio station for Grand Theft Auto V will become available with the PC version (April 14th). The station features GTA V original score artists The Alchemist and Oh No with many guests. The station will also be a standalone music album titled "The Alchemist and Oh No Present: Welcome to Los Santos" which will releases on April 21st from Mass Appeal Records. As of this typing they haven't stated if the station is coming to consoles (or if old-gen will even get it). Their wording seems to shy away from the subject.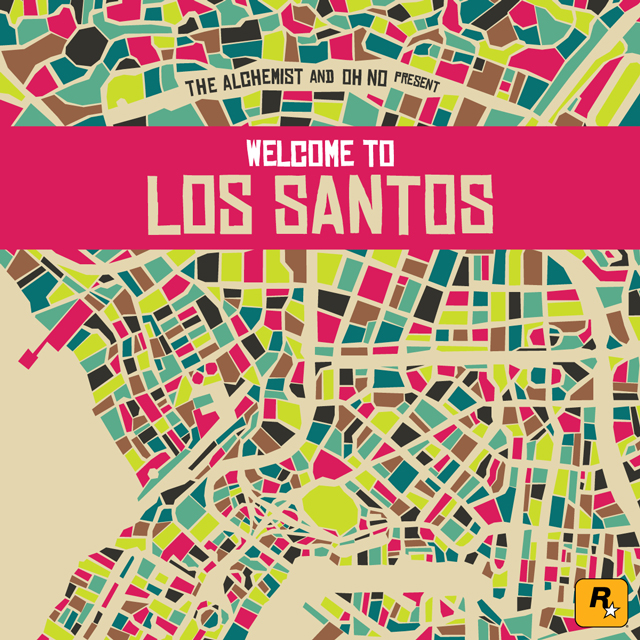 Welcome to Los Santos
features fresh tracks inspired by GTA V's original score, composed by The Alchemist and Oh No in partnership with Woody Jackson and Tangerine Dream to create a uniquely ambitious album. The Alchemist and Oh No weave together a musical journey that covers every corner of the fictional world of Grand Theft Auto V and features guests from across the musical spectrum - including Earl Sweatshirt, Little Dragon, Phantogram, Freddie Gibbs, Popcaan, Killer Mike, Tunde Adebimpe and Samuel T. Herring (from Future Islands).
The music from
Welcome to Los Santos
will debut in GTA V for PC with a new The Alchemist and Oh No-hosted radio station '
The Lab
' being added to the Los Santos radio dial. Stay tuned for more updates on GTAV music in the future. The album tracks will also be made available in the Rockstar Editor for PC as soundtracks for your original custom videos. The full standalone album, set for release on April 21st, will be available for digital download and at retail in both CD and vinyl releases from Mass Appeal Records.
Read the
Vanity Fair article here
, and listen to the first single off the album, titled "
Play it Cool
" by Gangrene (The Alchemist and Oh No) featuring Samuel T. Herring (from Future Islands) and Earl Sweatshirt.
Again, Rockstar hasn't stated if this new station is coming to consoles yet. Stay tuned for much more info in the weeks ahead and join the fun in the
forums
!
---
THURSDAY, MARCH 05, 2015 :: Posted by TreeFitty :: 1 Comments :: 2,711 Views
Heists are coming this Tuesday and the gaming media have gotten their hands on previews. Rockstar has also posted a sneak peek video of a raid on Humane Labs - the basis of the previews.
Some quick quotes from articles posted are below. IGN and Games Radar also have videos providing some tips they found out during their previews. There are plenty of new screenshots to gawk at too.
The online heist we played was called "Raid on Humane Labs." Our overall goal was to break into a laboratory, steal their data, and get out clean, splitting up $540,000 in the process. It featured five setup missions and then the heist itself, and from start to finish it took us almost exactly three hours. I'm confident we could get that down to two-and-a-half or even two flat with an experienced, well-coordinated team, but the point is that these long-awaited four-player online heists are meaty and, in our initial experience, very different from anything else in GTA 5.
-
IGN
The new Heists mode debuts on March 10th on all major formats (they'll be live for PC launch on April 14th, too), for the dizzying price of free. The update delivers five major Heists, playable in four-player co-op, that take around 2 or 3 hours each to complete subject to your skills and approach. Each heist is split into substantial preparation missions of 20-30 minutes each, similar to story mode heists. The update also gives you new daily objectives (a bit like Destiny), new Versus modes and a raft of new vehicles and equipment, including a VTOL Hydra jet fighter and night vision goggles.
-
Games Radar
As with other joint missions there's a shared pool of Lives and a completion timer when engaged in a job.

Cooperation is essential, tag-teaming Merryweather soldiers on foot or in vehicles while escaping with a machine gun-packing jeep, or putting down covering fire to open an escape for fellow crew members boxed in by authorities in a hand-off gone wrong.

Communication is important, even vital come one standout moment in a half day's worth of them: working as a coordinated sniper team during a nighttime infiltration of the Lab. If any guard or lab assistant is alerted, it's mission over. Cue timed simultaneous takedowns of patrols and witnesses.
-
Gamereactor
UPDATE:
Additional non-English previews are available from
Meristation
,
Gameswelt
, and
Power Unlimited
.
Looks like heists might just be worth the wait. Join the chat in the
forums
!
---
TUESDAY, MARCH 03, 2015 :: Posted by bOnEs :: 0 Comments :: 2,895 Views
Heists aren't the only addition to GTA Online next Tuesday! Rockstar revealed the new
"Adversary Mode", as well as additions to Freeroam and new Daily Objectives
to keep you entertained in between rounding up the crew for another big score. Here's the details...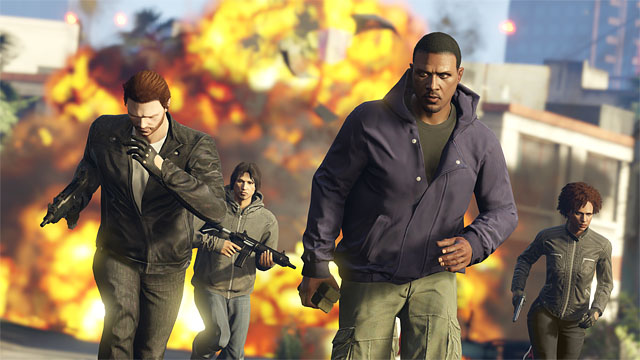 Next week, Heists will deliver a brand new gameplay experience to GTA Online, offering players the chance to team up to take down big scores. Alongside this massive new addition comes a range of new features and enhancements to make the entire GTA Online experience bigger and deeper. Adversary Modes bring three new kinds of competition to GTA Online while new Daily Objectives and other Freemode activities bring new life to the hectic streets of Los Santos and Blaine County. Here's a rundown of just some of the new features and additions launching next week alongside Heists that will continue to expand and augment the world of Grand Theft Auto Online.
New Adversary Modes
These brand new player vs. player modes bring a range of intense new competitive challenges to GTA Online. Adversary Modes will unlock as players progress through Heists.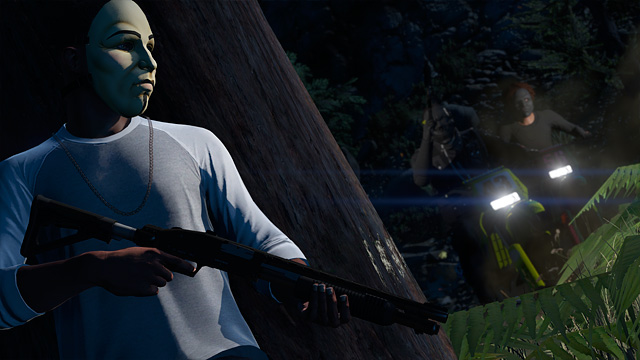 Come Out To Play
A team of three Runners just trying to make it home, and a team of Hunters are out for blood. Runners are well-armed but limited to movement by foot, while the opposition wield free-aim shotguns and ride motorbikes or ATVs. Hunters must stay on their bikes and have access to unlimited lives, while the Runners have just one life but all their weapons available to pick off the Hunters at will.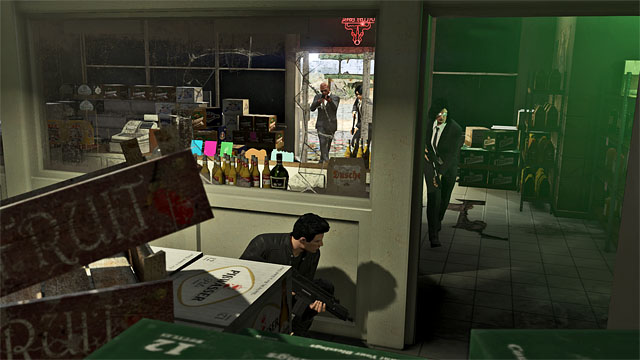 Siege Mentality
Up to four players stand their ground, outnumbered but not outgunned as they fight to survive against up to 6 determined attackers in a location defense mode, GTA style. Attackers have unlimited lives but fight only with sawn-off shotguns. Defenders have full use of all their weapons.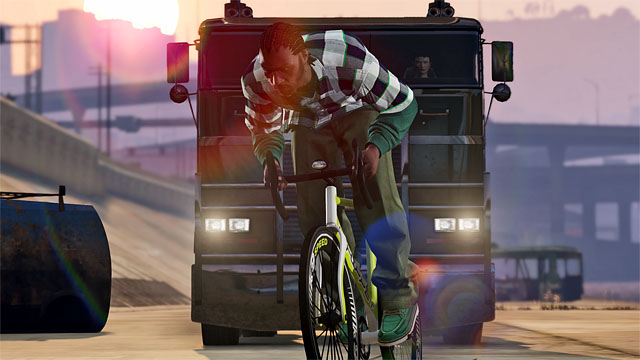 Hasta La Vista
The chase is on as Truckers in big rig cabs hunt down a team of Cyclists. The Cyclists' goal is simple: reach the final checkpoint without getting crushed under the wheels of the pursuing trucks. Without traditional weapons the Truckers must rely solely on their vehicles to crush the Cyclists. Meanwhile, the Cyclists must harness the maneuverability and acceleration of their bikes to evade the trucks, while keeping an eye over their shoulder. If one of the Cyclists reaches the checkpoint, the Cyclists win. If all Cyclists are terminated, the Truckers prevail.
Daily Objectives
The Los Santos daily hustle just got a little more lucrative. Whether you tend towards Jobs or free-form activities, Daily Objectives will give you a rotating series of challenges to take on for GTA$ rewards. With three new objectives per day, players can stack up challenges over consecutive days to earn bonuses of up to $500,000.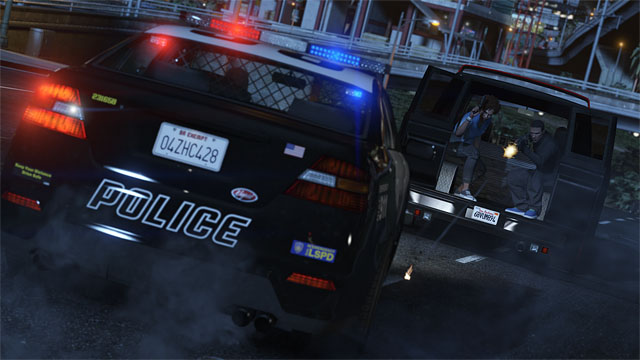 New Freemode Activities
You and your fellow players also have new opportunities for cash and RP rewards with
new activities added to the world in Freemode
. Be on the lookout for calls from Lester, who may need help to distract the cops in a specific area while Lester's accomplices finish their criminal business. Lamar may call looking for help destroying a vehicle or two, while Trevor and Ron need occasional help picking their business rival's planes out of the sky. Along with GTA$ and RP bonuses, there are all-new Awards available for completing these challenges with style.
There's also a new in-game
Email
notification system that will allow you to contact and message any of your GTA Online friends, no matter what session they're in - as well as a host of new
Awards
that yield new items including exclusive t-shirts and car modifications.
Everything detailed here will be added to GTA Online for consoles in tandem with Heists on March 10th and on day one for PC when it launches on April 14. Stay tuned to the Newswire for more news, including our suggestions on how you can ready your crew to take down scores when Heists launch next week.
---
We can't wait to check out this meaty addition to GTA Online! Come discuss it with us in the
Forums!
---
FRIDAY, FEBRUARY 27, 2015 :: Posted by TreeFitty :: 0 Comments :: 3,109 Views
Since we have
quite a wait left
for the PC version of GTA V to arrive, Rockstar has given us 15 brand new screenshots showcasing some of the detail and refinements that PC players can expect in Grand Theft Auto V. They also remind everyone to pre-order by March 31st to get a bonus $300,000 of in-game cash for GTA Online (that's on top of the $1,200,000 of in-game cash that all pre-orders - either physical copy or digital download - will receive).
Here are a few of the new screens. Take a look at them all in the
screenshot gallery
.
Keep an eye out for more GTAV info in the weeks ahead including a new trailer and a look at the PC version's powerful new
Rockstar Editor
for making your own original custom videos. Enjoy and join us in the
forums
!
---
TUESDAY, FEBRUARY 24, 2015 :: Posted by TreeFitty :: 9 Comments :: 4,559 Views
Another month delay added to Grand Theft Auto V's PC release but for console players there's an official release date for heists - and they are only 2 weeks away!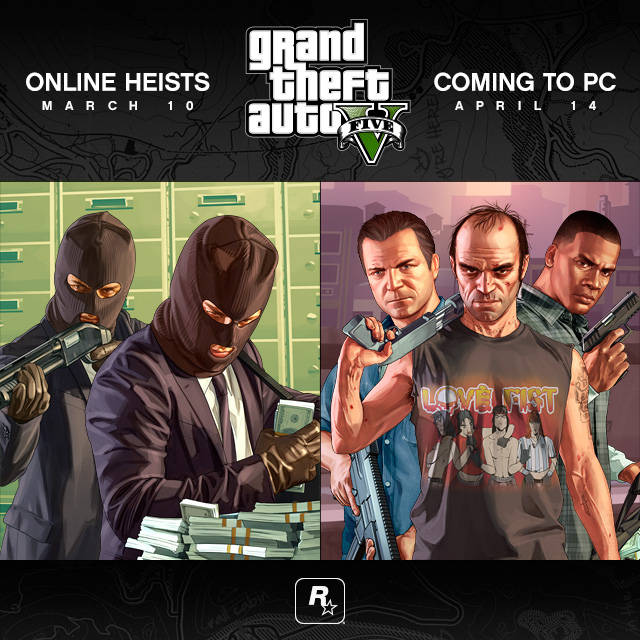 Online Heists
Rockstar are excited to announce that the launch of Heists for GTA Online is scheduled for
March 10th
. They know it's been a wait, and appreciate your patience. Heists will bring a brand new 4-player cooperative gameplay experience to GTA Online, giving players the chance to team up to pull off a string of intense, multi-part raids and robberies across Los Santos and Blaine County. Over the next couple of weeks, they will have more information about the launch of Heists and about other new features that we will release with it.
GTAV for PC
GTAV for PC will be arriving on
April 14th
at retail and as a digital download. Rockstar sends their apologies to PC gamers worldwide who have been counting down the days until the launch of the game, but a bit more time is needed to ensure that the game is as polished as possible, and to make certain that both Heists and the GTA Online experience are ready to roll out on day one for PC. As a gesture of thanks for your understanding, Rockstar will grant anyone who has pre-ordered the game an
additional $200,000 in-game cash for use in GTA Online
.
As always, they ask for the GTA PC community's understanding and assistance in helping to report any concerns during the early days of launch when those inevitable initial teething issues arise on the new platform. If you do experience issues please visit Rockstar Games Support and send feedback to GTAOnline@rockstargames.com – they'll be closely monitoring the situation and addressing any hitches as quickly as they can.
The PC version of Grand Theft Auto V is Rockstar's most graphically and technically advanced version yet, fully optimized to support a broad range of current hardware and features a host of PC-specific enhancements including greater levels of detail, deep configuration options and ultra-high-definition support – as well as the powerful new Rockstar Editor for recording, staging and editing original custom videos.
Rockstar thanks GTA players worldwide for their patience in awaiting these big game updates and they are excited to bring both Heists and GTAV for PC to you very soon. Stay tuned for lots more information in the weeks ahead and for now, check out 11 new screenshots showing action from Heists in the
screenshot gallery here
.
So there you have it (again). Hit up the chat in the
forums
!
---
FRIDAY, JANUARY 16, 2015 :: Posted by TreeFitty :: 0 Comments :: 7,085 Views
Rockstar Games is offering pre-order bonuses for those who get GTA V on PC from the Rockstar Warehouse. There is already a bonus GTA$1 million split between single and multiplayer for pre-ordering the game but if you do so by February 1st, 2015, you'll get an additional GTA$300,000 in GTA Online and also a free additional game download. Choices include previous GTA titles, Max Payne, Bully, and more.
Check out the full details at
Rockstar Warehouse here
and join the chat in the
forums
!
---
TUESDAY, JANUARY 13, 2015 :: Posted by TreeFitty :: 5 Comments :: 7,619 Views
Another SMH moment for PC and GTA fans. Just two weeks away from the official release date of GTA V on PC, Rockstar has now delayed it to
March 24, 2015
. On the upside they also stated that
GTA Online heists will become available to consoles prior to the PC launch
so at least there's that.
From Rockstar:
Our apologies for the slight shift in the date but the game requires a few extra weeks of testing and polish to make it as good as can be. Moving a release date is never a decision we take lightly and is a choice we make only when we know it is in the best interests of the game and our fans. Thanks everyone for your understanding and we assure you these few extra weeks will be worth it when the game does arrive in March.
They went on to say that GTA Online for PC will launch with the game (including heists) and support up to 30 players. Rockstar has also given us 6 new screenshots at 4k resolution (3840x2160):
Additional details about the PC version include that the game will run at 1080p and 60fps with up to 4K resolution and support for up to triple monitor configurations, as well as NVidia 3D Vision for up to triple monitor setups. The game also includes the new
Rockstar Editor
which gives players a full suite of editing tools to create and publish gameplay clips direct to both Social Club and YouTube.
PC Specs
The following PC specs were listed by Rockstar:
Minimum specifications:
OS: Windows 8.1 64 Bit, Windows 8 64 Bit, Windows 7 64 Bit Service Pack 1, Windows Vista 64 Bit Service Pack 2* (*NVIDIA video card recommended if running Vista OS)
Processor: Intel Core 2 Quad CPU Q6600 @ 2.40GHz (4 CPUs) / AMD Phenom 9850 Quad-Core Processor (4 CPUs) @ 2.5GHz
Memory: 4GB
Video Card: NVIDIA 9800 GT 1GB / AMD HD 4870 1GB (DX 10, 10.1, 11)
Sound Card: 100% DirectX 10 compatible
HDD Space: 65GB
DVD Drive
Recommended specifications:
OS: Windows 8.1 64 Bit, Windows 8 64 Bit, Windows 7 64 Bit Service Pack 1
Processor: Intel Core i5 3470 @ 3.2GHZ (4 CPUs) / AMD X8 FX-8350 @ 4GHZ (8 CPUs)
Memory: 8GB
Video Card: NVIDIA GTX 660 2GB / AMD HD7870 2GB
Sound Card: 100% DirectX 10 compatible
HDD Space: 65GB
DVD Drive
And some additional specifications/info:
Over time, downloadable content and programming changes will change the system requirements for this game. Please refer to your hardware manufacturer and www.rockstargames.com/support for current compatibility information. Some system components such as mobile chipsets, integrated, and AGP graphics cards may be incompatible. Unlisted specifications may not be supported by publisher.

Other requirements: Installation and online play requires log-in to Rockstar Games Social Club (13+) network; internet connection required for activation, online play, and periodic entitlement verification; software installations required including Rockstar Games Social Club platform, DirectX, Chromium, and Microsoft Visual C++ 2008 sp1 Redistributable Package, and authentication software that recognizes certain hardware attributes for entitlement, digital rights management, system, and other support purposes. Single use serial code registration via internet required; registration is limited to one Rockstar Games Social Club Account (13+) per serial code; only one log-in allowed per Social Club account at any time; serial code(s) are non-transferable once used; Social Club accounts are non-transferrable.
So there you have it. Join the chat in the
forums
!