Latest GTA 5 News, Release Date & Screenshots
Grand Theft Auto V
(also known as
Grand Theft Auto 5
,
GTA V
or
GTA 5
) is the name of the newest Grand Theft Auto game,
announced
by Rockstar Games on October 25, 2011.
GTA 5 launched on September 17th, 2013
for the PlayStation 3 and Xbox 360. iGTA5.com is a dedicated GTA 5 fan site keeping you up to date with all the latest news and facts.
GTA V releases on PC/PS4/Xb1 in
[
Read More
]
---
GTA V Information
On iGTA5.com you'll find rumors and speculation about the game,
fan artwork
and
fake screenshots
along with official
news
and facts including the
Release Date
,
Images
,
Characters
and other official content when it's released. We also have a dedicated
GTA 5 Forum
specifically for GTA V discussion, so make sure you get signed up!
---
Share Your GTA 5 Content!
If you have any GTA V content or news to share with us, please email
submit[at]igta5.com
!
---
THURSDAY, JULY 31, 2014 :: Posted by TreeFitty :: 2 Comments :: 381 Views
Not much else to say. Double RP this weekend in GTA Online and last chance to take advantage of the Independence Day Special items.
Beginning tomorrow, August 1st, and running all weekend long through midnight Eastern Time US on Sunday, August 3rd, get 2X RP in GTA Online. All Jobs and other RP-gaining activities like Gang Attacks, Hold Ups, and Import/Export to name a few, will earn you double RP.
This will also be your last chance to pick up the limited-time Independence Day Special content, like the Liberator monster truck, Sovereign motorcycle, Musket, and assorted patriotic apparel - so make sure to grab these items by Sunday night! Have fun and join us in the
forums
!
---
MONDAY, JULY 28, 2014 :: Posted by TreeFitty :: 1 Comments :: 754 Views
The
Independence Day Special
is finally coming to an end this week. Rockstar still has not given an exact date but they are saying "less than a week left". Considering Thursday is the last day of July we think that's a safe bet for the last day.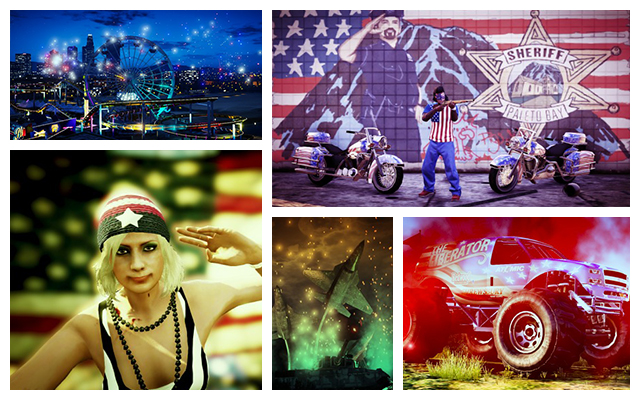 So if you have yet to acquire vehicles like the Sovereign motorcycle and the Liberator monster truck, weapons like the Musket and Firework Rocket Launcher, or any of the patriotic tees and masks in-game then now's the time. The seven new properties, the ability to ride the Ferris Whale and the Leviathan Roller Coaster, and the 17 new Jobs will all remain open permanently.
For those who've asked, the Firework Rocket Launcher along with its ammo will be available again during future holidays and other special events when fireworks are traditionally let off. At the beginning of any holiday or special event where fireworks are available, players who purchased the Firework Rocket Launcher previously will receive
one free full refill
of ammo per qualifying event in order to make sure you can properly celebrate.
Also look for another round of
Double RP
later this week to help send off the Independence Day Special in proper patriotic style. And since I have your attention, the
iGTA Crew
is hosting our
weekly event tonight
. Sign up in the
forums
!
---
SATURDAY, JULY 26, 2014 :: Posted by TreeFitty :: 0 Comments :: 905 Views
This weekend
GameStop
is including a free 2-sided poster with pre-orders of Grand Theft Auto V for PC, PlayStation 4, or Xbox One.
The poster features the cover art on one side and an official artwork of the three protagonists on the other side.
Grand Theft Auto V and GTA Online are coming to PC and new-gen consoles this Fall 2014. An
official release date
has not been set yet but keep up with the latest and greatest in the
forums
!
---
WEDNESDAY, JULY 02, 2014 :: Posted by TreeFitty :: 0 Comments :: 2,666 Views
As promised, here's the details for this weekend's 4-day Independence Day celebration in GTA Online starting tomorrow. San Andreas will be celebrating the birthplace of freedom with big RP & GTA$ bonuses, patriotic discounts at Ammu-Nation, giveaways and lots more!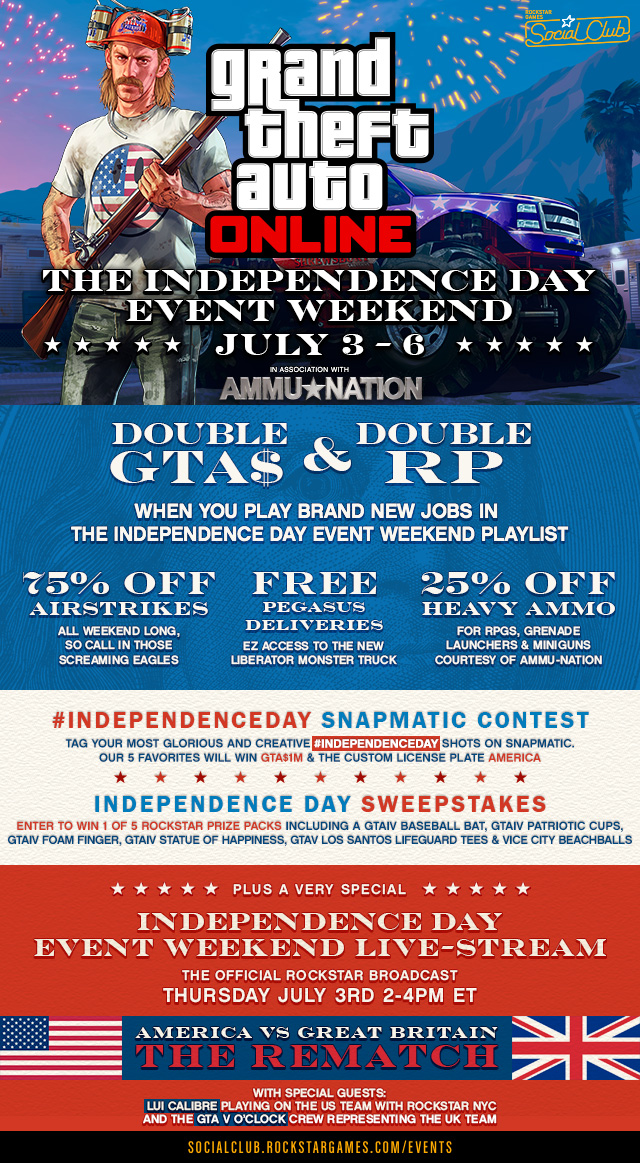 ---
TUESDAY, JULY 01, 2014 :: Posted by TreeFitty :: 5 Comments :: 2,639 Views
Kind of expected but still a bit of a surprise. The Independence Day Special
starts today
featuring new USA-themed clothing, vehicles, and more! Check out all the goods and get ready to scream
'merica!
over and over again!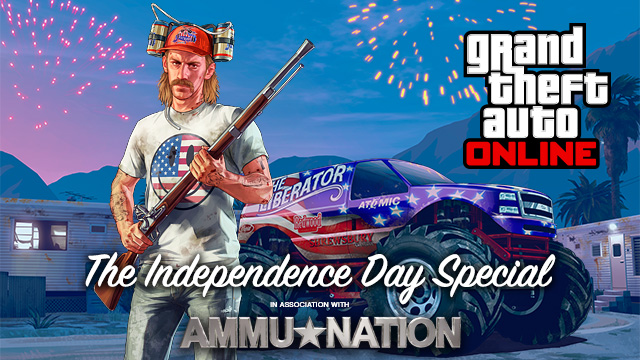 From Paleto Bay to the Port of Los Santos and everywhere in between, it's time to celebrate the birthplace of freedom with The Independence Day Special (in association with Ammu-Nation) for Grand Theft Auto Online.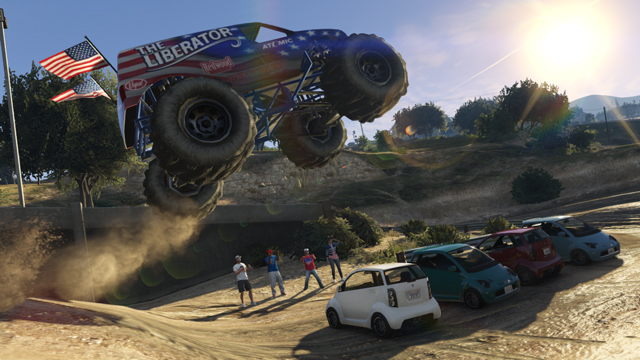 Demonstrate your exceptionalism and own the road from sea to shining sea with two new star spangled rides, the
Sovereign motorcycle and the super-sized Liberator monster truck
. And protect your rights the same way our Founding Fathers did with the latest addition to Ammu-Nation's antiques collection, the high-powered
Musket
... or channel your inner Jack Howitzer with the spectacular
Firework Rocket Launcher
.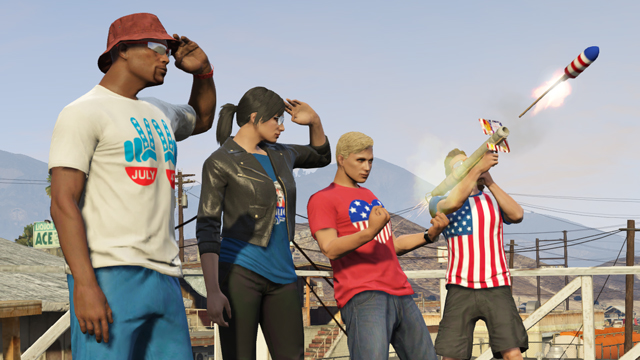 Seven new properties have also been added to the Dynasty 8 rolls, including locations in Paleto Bay and Vinewood Hills that provide plenty of yard space to scorch the grass with your very own Fireworks show. Use up to
12 varieties with different fuse lengths
to create a spectacle that would make even the most battle-hardened Republican Space Ranger shed a tear. If you prefer rickety amusements operated by minimum wage teenage workers over incendiary lawn displays, then venture down to Pleasure Pier where you can now
ride the Ferris Whale and the Leviathan Roller Coaster
.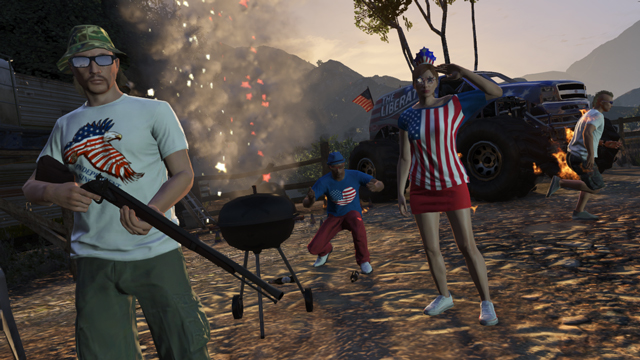 This limited-time update also features an overabundance of patriotic flare: show off nationalistic pride with a "Made in the U.S.A." t-shirt, a backwoods mullet or let the eagle soar with an animal mask featuring this great nation's most fearsome and majestic creatures.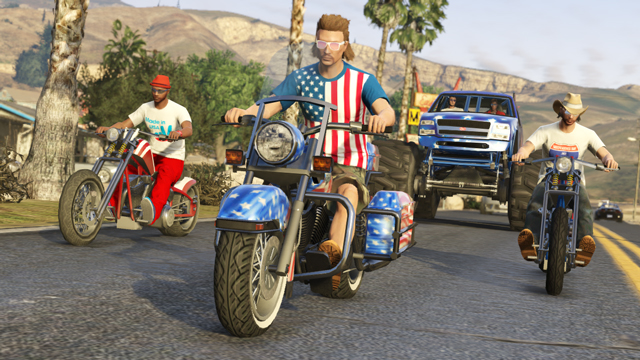 This special seasonal content will be available to redeem in-game until Mid-July (specific expiration date soon). The automatic update for the Independence Day Special also includes additional game tuning updates and other adjustments, including the new On Call Matchmaking function. This new option allows players to accept a Job invite and continue playing in Freemode until that Job fills up, reducing time spent idle while waiting for a Job to start. For the complete list of all the fixes and tuning updates,
visit the Rockstar Support site
.
Look for details about the upcoming celebratory 4-day Independence Day Weekend Event tomorrow. Enjoy and join the chat in the
forums
!
---
WEDNESDAY, JUNE 18, 2014 :: Posted by TreeFitty :: 1 Comments :: 3,576 Views
With another content update for GTAV/GTAO comes yet another weekend event for Grand Theft Auto Online. Check out live streams with chat this Friday, take part in a snapmatic contest and get bonuses Friday through Sunday including exclusive shirts for Social Club members.
Many more details in the full article
...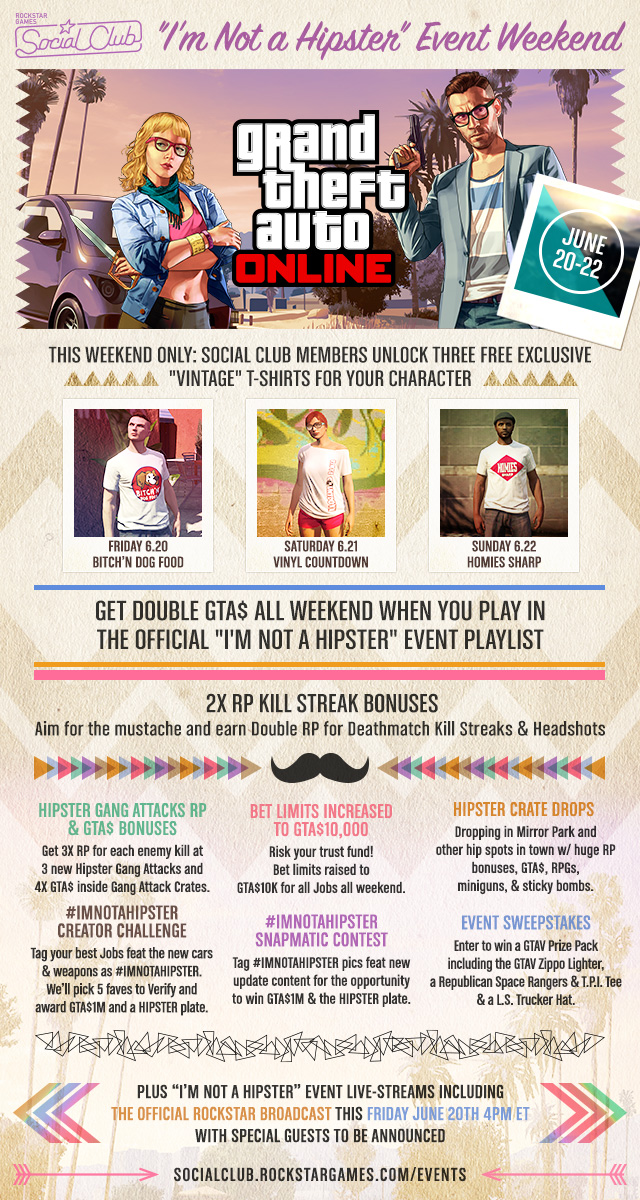 ---
TUESDAY, JUNE 17, 2014 :: Posted by Massacre :: 10 Comments :: 2,855 Views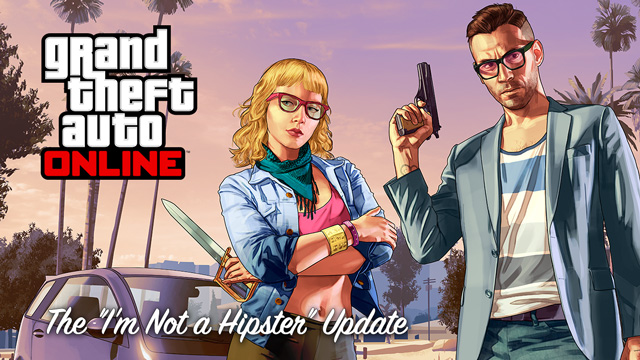 Express your incredible individualism and stand out from the herd with The post ironic, artisanal, organic, entirely independent, 100% re-claimed "I'm Not a Hipster" Update now available for Grand Theft Auto Online. This new content update features new retro print tees, skinny jeans, hairstyles, tattoos, animal masks and more, as well as additional enhancements to general gameplay to ensure the world is constantly evolving.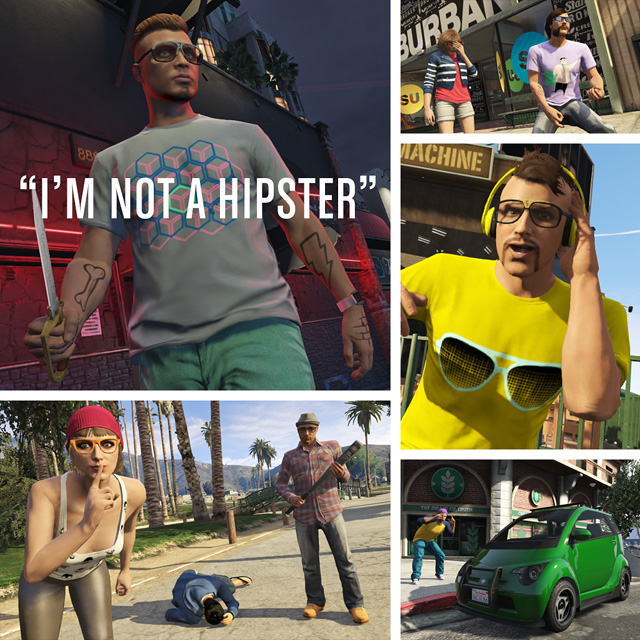 Choose from seven new vehicles including classic nostalgia rides like the Glendale, Warrener, Blade and Rhapsody – affordable cars that seem casual on the surface, but have hidden potential to be unleashed with a few modifications. The environmentally conscious set can check out the Panto microcar, while those looking to roll with their Crew in more ostentatious style can add the massive 3-axel, 6-seater Dubsta (unlocks at Rank 100) to their fleet.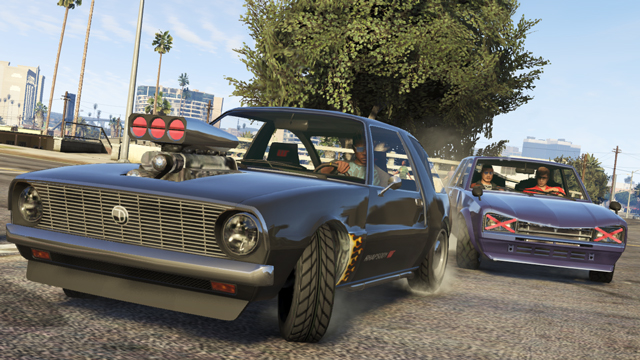 Even Ammu-Nation is getting in on the latest non-ironic trends with the Vintage Pistol and Antique Cavalry Dagger now in stock. Make sure to try all these out in the slew of new Jobs, as part of your long arduous journey to become one of Los Santos' effortlessly cool.
Along with today's update, gear up for 12 new Jobs across an assortment of game modes, including Races that provide showcase opportunities for these new retro rides, a Deathmatch in Puerta Del Sol, two new Captures and more. There are also three new Gang Attacks in Chumash, East Vinewood and Mirror Park.
Airwaves
(Rank 15, 1-8 Players)
Students of style know that what comes up must go down. Drop 4,370 feet while imagining you're over all the bands you listen to on Radio Mirror Park, as you twist and turn sharply down to the pond below.
Beach Odyssey
(Rank 15, 1-16 Players)
Nothing says artistic credibility like a grainy image of trash next to a burnt out RV, so get your butt off a nice beach, and go to a nasty one. This is a Point to Point Race for Sports Classics starting in Chumash, ending in Sandy Shore, mainly on-road with opportunities to hit top speed.
Before It Was Cool
(Rank 15, 1-8 Players)
Any skinny jeans wearer will tell you, sometimes things just don't fit. Try and squeeze up to eight compact cars around the tight corners of this lap Race in Mirror Park.
Caffeine Rush
(Rank 1, 1-8 Players)
If your friends caught you drinking anything except a flat white at an independent coffee house it would be social suicide, but when you need java, you need java. This is a Point to Point Sedan Race from Del Perro to Mirror Park passing by four 'Cool Beans' coffee shops.
Contend: Condo-monium
(Rank 1, 2-8 Players)
Make a statement about late capitalism or income equality or art or pointless statements or something by trashing condos in Puerto Del Sol. This is a Contend style Capture going for the last of the party supplies in the courtyard between two identical apartment blocks.
East Vinewood LTS
(Rank 9, 2-16 Players)
They don't know how it started, maybe two girls got the same tattoo, or reposted a Snapmatic without giving photo credit. What they do know is sides have been chosen and East Vinewood's gone to hell in this two team Last Team Standing.
Embracing America
(Rank 1, 1-8 Players)
All your friends are going East in search of the last un-gentrified patch of turf in the country, and you're heading West. Load up a so-uncool-it's-cool Sedan, and race toward Little Seoul. Lots of straights and a few tight turns at the end of this point to point track.
GTA: Grab a Cab
(Rank 1, 2-8 Players)
After twelve hours 'rolling' at your local post-industrial techno-house night, your tattooed friends will be too wide-eyed to drive themselves. Pick up some taxis for them in this two team GTA-style Capture based around the Downtown Cab Co depot in East Vinewood.
Hip to be Cool
(Rank 1, 1-8 Players)
Because driving around Rockford Hills in nice cars is too mainstream, and going through Vespucci Beach in low riders is kinda yesterday... This Compact class Race takes you back and forth over the Los Santos Freeway and in and out of the Casino parking lot.
Legion Square Survival
(Rank 25, 1-4 Players)
Freedom of speech is dead as the cops crack down on Legion Square protesters. Battle the police on foot, in SUVs, and eventually in Buzzard helicopters. And remember that the real bad guys are the bankers looking down on the action from their office windows.
Puerta Del Sol
(Rank 1, 2-8 Players)
Every artist wanted to die young, then they wanted to mock their predecessors with an ironic statement about dying young, now it's a post-ironic statement and they might end up actually dying.
Trend Setting
(Rank 1, 1-16 Players)
A Lap circuit Race with muscle cars around Mirror Park for simple people who want to seem complicated.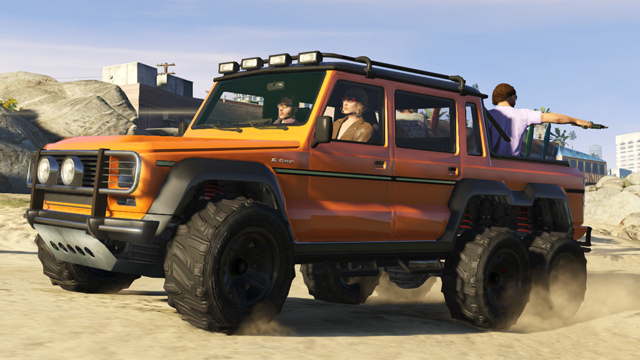 There are also tons of tweaks and updates made to Grand Theft Auto Online as part of this update. A few notable ones include:
Ten existing GTAV vehicles have been added to the southernsanandreassuperautos.com website for purchase, including Story Mode characters' vehicles:
Albany Primo
BF Surfer
Bravado Buffalo
Franklin's Bravado Buffalo S
Bravado Youga
Cheval Picador
Dundreary Regina
Trevor's Karin Rebel (clean version)
Trevor's Nagasaki Hot Rod Blazer
Michael's Obey Tailgater
Pure Gold and Brushed Gold paint colors have been added to LS Customs in the 'Metals' category. These unlock at Rank 100.
A new Pure Black window tint has been added to LS Customs, along with four new jazzy vehicle horns (including one which loops and speeds up / slows down as you drive).
Eight new individual player celebrations and four new paired Celebration animations have been added.
Players will no longer be charged Insurance costs if their vehicle is destroyed by another player who does not have enough GTA$ to pay.
Fixed an issue where, if an insured Personal Vehicle was destroyed, both parties had to pay the insurance costs.
Fixed an issue where some four-wheel drive vehicles had reverted to two-wheel drive.
Players are now able to bookmark Jobs whilst in a Playlist from the Pause menu.
Tear Gas now does more damage and lasts longer.
A small tick has been added to the first screen in the corona if a player has played a Job before, much like in the pause menu or Next Job Voting Screen.
The level of difficulty is now displayed when pressing D-pad down when playing Missions.
This update also includes a host of other adjustments, game tuning and exploit fixes. For the complete list, please visit the Rockstar Support site. To download the "I'm Not a Hipster" Update, just boot up your online-connected PS3 or Xbox 360 and start GTAV. You'll be prompted to download the automatic update (1.14) and Xbox 360 players will also be required to download an additional compatibility pack upon entering GTA Online.
Stay tuned for details on future GTA Online content updates in the weeks to come - as well as info on the upcoming "I'm Not a Hipster" Event Weekend with lots of special additional bonuses and contests happening this Friday through Sunday.
Join the chat in the
forums
!
---
TUESDAY, JUNE 10, 2014 :: Posted by TreeFitty :: 4 Comments :: 4,055 Views
Enjoy.
From Rockstar:
Today we're proud to announce that the critically-acclaimed and record-breaking Grand Theft Auto V is coming this fall to PlayStation 4, Xbox One and PC.

Grand Theft Auto V will take full advantage of the power of the PlayStation 4, Xbox One and PC with across-the-board graphical and technical improvements to deliver a stunning new level of detail. Increased draw distances, finer texture details, denser traffic, and enhanced resolutions all work together to bring new life to the cities, towns, deserts and oceans of Rockstar North's epic reimagining of Southern California.

Switch between the interconnected lives of Michael, Trevor and Franklin as they embark on a series of heists across Los Santos and Blaine County in the biggest, deepest and richest open world experience yet, with game world enhancements that include new wildlife, upgraded weather and damage effects, and an array of new details to discover.

The new generation upgrades also extend to Grand Theft Auto Online, an ever-evolving Grand Theft Auto universe. Rise through the criminal ranks by banding together to complete Jobs for cash, purchase properties, vehicles and character upgrades, compete in traditional competitive modes, or create your own content to play and share with the Grand Theft Auto community.

All new content and gameplay created since the launch of Grand Theft Auto Online, including an extensive array of new Jobs, an arsenal of new weapons, scores of new vehicles, new properties and player customizations will also be available for the PlayStation 4 system, Xbox One and PC with much more to come. In addition, the current community of players will have the ability to transfer their Grand Theft Auto Online characters and progression to their choice of PlayStation 4, Xbox One or PC.

Grand Theft Auto V for PC will also feature a video editor designed for advanced movie-making.
Looks amazing!
Pre-Orders open tomorrow
. Hit up the comments below and join the chat in the
forum topic here
.
---
THURSDAY, MAY 15, 2014 :: Posted by TreeFitty :: 2 Comments :: 3,457 Views
If you've spent all your money on High Life Update content, get it all back during this weekend's event with bonuses plus play with Rockstar Games tomorrow, May 16th, and enter contests to win in-game & real prizes! More details below...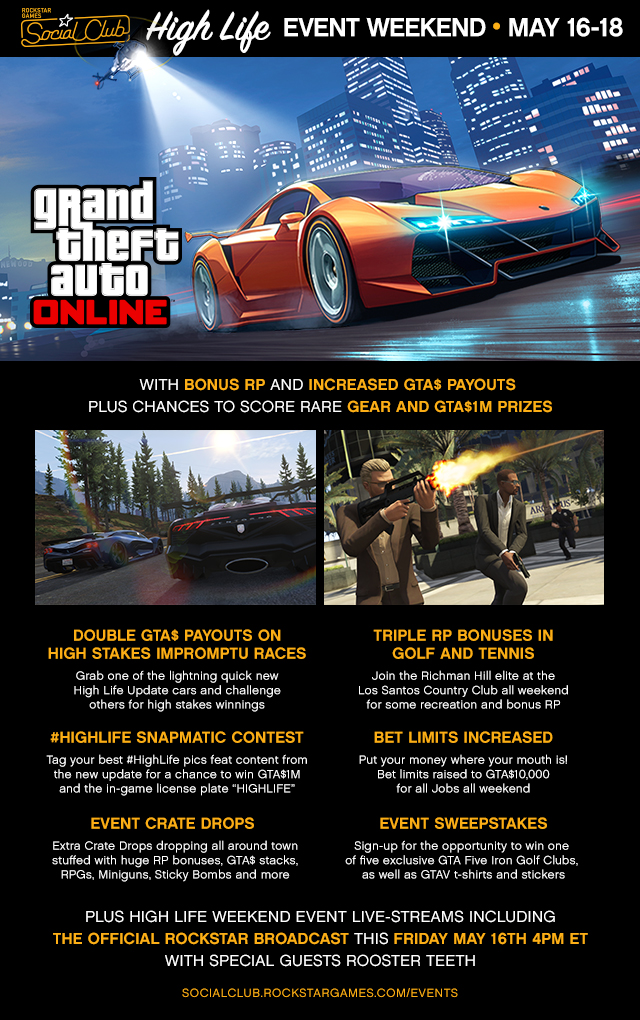 DOUBLE GTA$ PAYOUTS ON HIGH STAKES IMPROMPTU RACES
Rockstar has upped the ante especially for those who live in Los Santos' fast lane. Money doesn't grow on trees but it does hang from the helpless saps cruising the LS streets and all weekend, High Stakes Impromptu Races will make plucking it from them all the sweeter. Stakes and payouts to Impromptu Races will be doubled so lining up in your Pegassi Zentorno against a mark carries exhilirating big time risk and reward. You can start an Impromptu Race via the Interaction Menu and remember: you've got to accelerate to accumulate.
BET LIMIT INCREASED FOR ALL JOBS
Put your money where your mouth is. For all high rollers, the Max Bet limit for all Jobs will be raised to GTA$10,000 so you can lay both cash and cajones on the table.
TRIPLE RP IN GOLF AND TENNIS
And because even relaxation should come with an attractive rate of return, all golf and tennis RP bonuses will be tripled all weekend. That means a birdie will see you earn 600 RP while a cheeky hole-in-one on the short Hole 6 will put 3000 RP on your scorecard and turn your opponents greener than the fairway.
EVENT CRATE DROPS
Look for a windfall of valuable commodities dropping from on high with Event Crate Drops falling from the skies in such locations as the Vinewood Sign, the Observatory, Del Perro Pier, La Fuenta Blanca horse stables and the Vinewood Racetrack. The Crates will be stuffed with huge RP bonuses as well as GTA$ stacks, heavy-duty RPGs, miniguns, sticky bombs and more.
#HIGHLIFE SNAPMATIC CONTEST
Snap your flashiest shots showing off exactly how you're living the High Life between now and end of day Sunday and tag them
#HIGHLIFE
for a chance to win big. Rockstar is looking for your most epic, most creative, most amusing or most artfully composed moments over the weekend featuring any of the new apartments, luxury vehicles, toasts/celebrations, haute outfits, or weaponry from The High Life Update. They'll pick five (5) favorites to award GTA$1M as well as the exclusive 'HIGHLIFE' in-game vanity license plate to deck out your shiny new ride.
See
full rules and eligibility details
.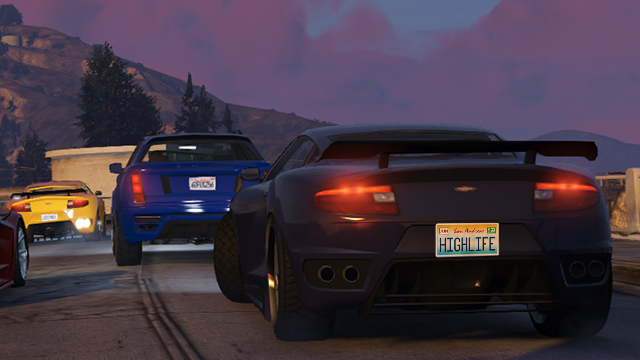 EVENT WEEKEND LIVE STREAMS
Tune in to a full slate of awesome High Life Weekend live-streams starting with Rockstar's own official Rockstar Broadcast tomorrow, Friday May 16th from 4-6pm ET with very special guests Rooster Teeth joining them via Skype for two hours of live mayhem, hijinks, and playthroughs of the brand new High Life Update Jobs and gear. Something tells us Mental States may get blisteringly red.
They'll be streaming across the
Social Club Multiplayer Events page
, the
Rockstar Games Twitch.tv channel
and the
Rockstar YouTube channel
. Tune in and join the fun in the Rockstar-hosted chat at Twitch and at Social Club as well.
SOCIAL CLUB EVENT SWEEPSTAKES
While Los Santos Country Club is handing out triple RP for golf bonuses this weekend, Rockstar will also be giving away real life golf related goodies in the
High Life Social Club Event Sweepstakes
. Five (5) lucky winners will each win the
limited-edition GTA Five Iron Golf Club as well as official GTAV t-shirts and stickers
. Ten (10) runners-up will also score
Rockstar Prize Packs of an official t-shirt and stickers
. You can enter to win right now through Sunday
right here
.
See Official Rules
.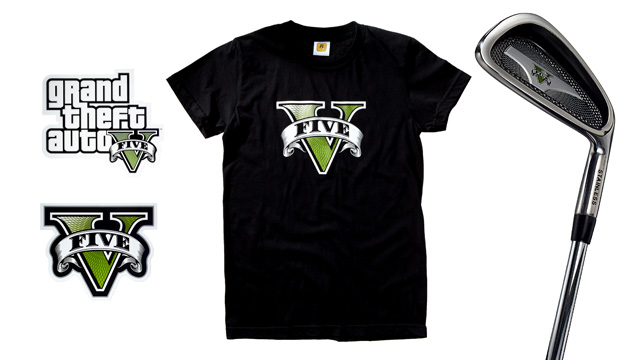 See you this weekend and have fun! Crew up in the
forums
!
---
TUESDAY, MAY 13, 2014 :: Posted by TreeFitty :: 0 Comments :: 3,326 Views
Finally your stacks of cash collecting dust can find a new home. The High Life Update is now available to everyone. Purchase a new high-end apartment in GTA Online, grab some expensive vehicles, or take part in new GTAO jobs. More details below...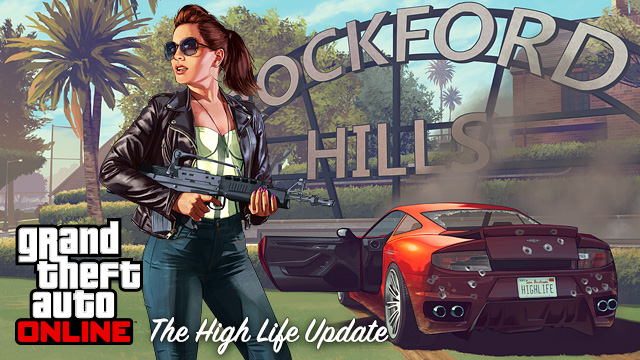 LIVING LARGE
The High Life Update gives you the chance to live large in Los Santos with the ability to own two properties at any one time and the addition of five opulent new apartments. Add to your real estate portfolio with hot new listings at Eclipse Towers in Vinewood, Richards Majestic in Rockford Hills, Tinsel Towers in Little Seoul, 4 Integrity Way in Downtown, and Del Perro Heights by the beach. As always, just drive up to the new property location sale and follow the prompts or head to Dynasty8realestate.com to look for your next purchase.
ROLLING DEEP
Now that you can store vehicles across two apartment garages, you'll be looking to put something new and shiny in them and The High Life Update offers a trio of luxury cars and a blistering new motorbike to add to your collection. The Enus Huntley S (SUV), Dewbauchee Massacro (Sports), Pegassi Zentorno (Super) and Dinka Thrust (Motorcycle) are all now available to purchase from Legendary Motorsport. Remember, these vehicles can also be accessed from any garage in Story Mode, adding a new spin to your mission replays.
And because success breeds jealousy, the powerful Bullpup Rifle is now available in Ammu-Nation to help you protect your assets.
J-O-B
Gear up with the all-new vehicles and weaponry to take on brand new Rockstar-created Jobs in GTA Online, including 8 new Contact missions. These new Jobs will be available to play later today and stay tuned as there are even more being published soon including Capture, Survival, TDM and Last Team Standing mode Jobs.
High Life also introduces many new game features and enhancements including some updates directly based on feedback from you, the GTA Online community (remember to send your feedback to
GTAOnline@rockstargames.com
where they're always reviewing your input for consideration).
With the new Mental State stat, Rockstar is keeping track of your behavior. If you seem to enjoy attacking pedestrians and terrorizing other players, then your blip will start to turn red on other players' maps. The redder the blip, the more psychotic the player; the whiter the blip, the friendlier they are. The actions you take will have varying effects on your Mental State. For example, killing another player will turn your blip red faster than blowing up a car or taking out a random pedestrian. Killing a player with a white blip will push your Mental State into the red faster than killing more psycho players, while taking out full-on psycho players won't cause your own Mental State stat to increase at all. Mental state also factors into matchmaking - you'll automatically join Freemode sessions containing people more 'compatible' with your play style, and if a red-blipped lunatic does enter your session, you at least have fair warning!
Non-Contact Races are now an option. When you create a Non-Contact race, other racers appear as semi-transparent and collisions with them are disabled (although you'll still be able to collide with non-player traffic, structures and other scenery).
You now have the option to Friend Spectate – if you and a friend are in separate GTA Online sessions you can now choose to spectate that player through the Friends menu.
New player toasts and celebrations: Switch out your salute for jazz hands, a face palm, a slow clap and more. There are also paired toasts for celebrating with a friend, like a backslap, or a solid, manly handshake.
New clothing: It can be hard work finding the perfect ensemble to really make your character stand out, so we've done some of the hard work for you and put together some stylish outfits. Hit the town, dressed to the nines with an array of classy new suit sets available with a pret-a-porter jacket, trousers, suit vest and shoes.
10 additional vehicles from Story Mode are now available for the first time in GTA Online – these will be marked on the car sales websites as new in the High Life Update so you can find them easily at southernsanandreassuperautos.com and legendarymotorsport.net: Bravado Banshee Topless, Inverto Coquette Topless, Vapid Dominator Ocelot F620, Schyster Fusilade, Maibatsu Penumbra, Ubermacht Sentinel XS, Ubermacht Sentinel (Convertible), Grotti Stinger Topless, Coil Voltic Topless
Today's update 1.13 also includes some improvements and fixes including:
Based on feedback from the stunting community, the changes to bike physics in a recent Title Update have been reverted.
Fixed an exploit where players were able to shoot in their garages.
Fixed an issue where players would occasionally not be able to reclaim a vehicle despite it being insured.
Fixed an issue where the water cannon on the Fire Truck did not work correctly.
For the full list of fixes, you can view
Title Update notes at the Rockstar Support site
.
Stay tuned for details about the
High Life Weekend Social Club Event
(starting this Friday, with in-game bonuses, a special Rockstar-hosted live stream, rare gear sweepstakes and more!) and join the chat in the
forums
!