Valentine's Bonuses: Till Death Do Us Part Maps, More
Posted by TreeFitty February 14, 2017 : 1 Comments : 4,873 Views
This Valentine's week, pair up to prosper with updates for Till Death Do Us Part and Double GTA$ & RP across various couples-only game modes through Monday, February 27th plus discounts on everything from Valentine's themed clothing to Benny's Upgrades. Read on for more details...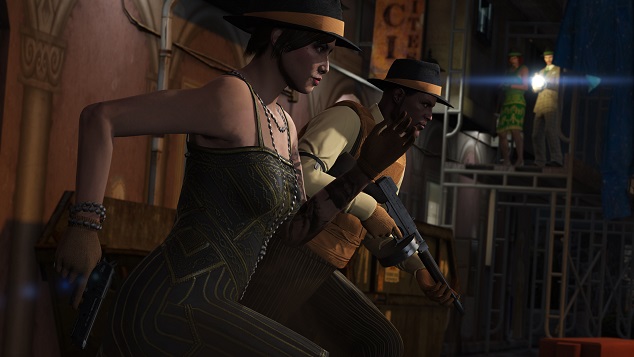 TWO NEW MAPS FOR TILL DEATH DO US PART MODE
DOUBLE GTA$ & RP FOR 'COUPLES' 2v2 ADVERSARY MODES
Love is in the air and it's raining down Double GTA$ & RP for all couples in fan-favorite Adversary Modes. Till Death Do Us Part is back with two romantic new locations in Legion Square and La Puerta. Stick by each other for quicker health regen and remember to look out for your partner because if they die, so do you. In addition, other 2v2 modes like Hasta La Vista, Relay and Offense Defense are getting some Double GTA$ & RP love, giving you and yours a bevy of modes to dive into this Valentine's Day.
BOOST YOUR OPERATIONS: 25% BONUS ON BIKER BUSINESS SALES AND SPECIAL CARGO DELIVERIES
Feel bundles of love this V-Day with 25% bonus GTA$ on all Biker Business Sales and Special Cargo Deliveries through the 27th. Keep warm on those chilly nights by cuddling up next to those big piles of GTA$ you've stacked up in your Office.
SWEET BONUS DISCOUNTS
No partner? No problem. Treat yourself to 50% off Assistant Services and 25% off the following:
• Be My Valentine Clothing
• Albany Roosevelt & Albany Roosevelt Valor
• Gusenberg Sweeper
• Import/Export Tattoos
• Benny's Upgrades
• Ocelot Penetrator
Premium Race Schedule:
• 2/14 - 2/20: "Duel" (Locked to Muscle class vehicles)
• 2/21 - 2/27: "Over and Under" (Locked to Bikes)
Launch Premium Races through the Quick Job App on your in-game phone or via the yellow corona at Legion Square. Premium Races pay out GTA$ winnings for the top 3 finishers and all racers receive Triple RP.
Time Trials Schedule:
• 2/13 - 2/19: "Sawmill"
• 2/20 - 2/26: "Cypress Flats"
Head to these locations and enter via the purple corona. Beat par time to earn GTA$ & RP.
Enjoy and hit up the
forums
!
---
Comments (1)
---
Make A Comment
Sorry, comments have been disabled for this article.