The Last Team Standing Event Weekend
Posted by Massacre October 02, 2014 : 1 Comments : 13,814 Views
Details on the Last Team Standing event weekend are now available.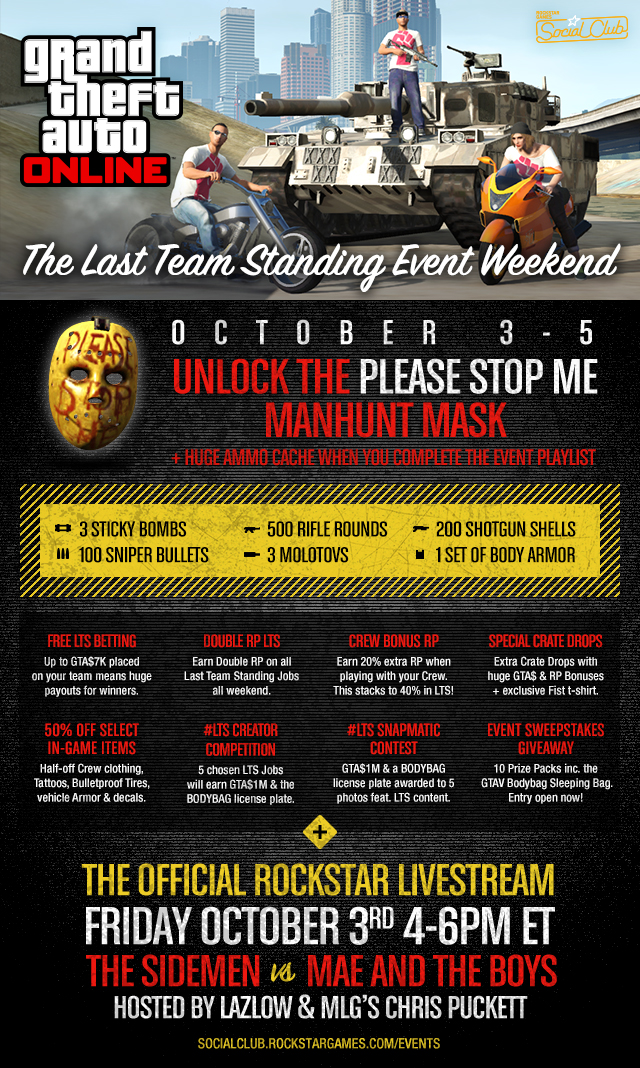 Put it all on the line this weekend, tomorrow Friday October 3rd thru Sunday October 6th, in the GTA Online Last Team Standing Event Weekend. Limited time only GTA$ and RP bonuses, exclusive weekend-only unlocks to collect, special contests, an epic all-star Last Team Standing live stream and much more await those with both the staying power and the stopping power to rule the 10 new Jobs from The Last Team Standing Update and the many, many more currently being created by the Social Club community with the new Last Team Standing Creator Mode.
FREE UNLOCKABLE "PLEASE STOP ME" MASK & AMMO REWARDS FOR COMPLETING THE EVENT PLAYLIST
In honor of Carcer City's most infamous survivor, if you complete the LTS Event Weekend Playlist (containing 5 brand new 16-player LTS Jobs from the LTS Creator Update), you are automatically awarded the maniacal Smileys' "Please Stop Me" Manhunt throwback mask to strike fear into the hearts of your enemies. Not only that, but every time you complete the Event Playlist, you'll be rewarded with an arsenal of ammunition and incendiaries in order to make sure you and your Crew are well equipped to take it to the enemy. Contents include:
3 Sticky Bombs
3 Grenades
3 Molotovs
100 Sniper bullets
200 Shotgun shells
500 Rifle rounds
1 Body Armor
To access the Playlist, look for the "Event" option on the GTAV loading screens, or find The Last Team Standing Event Playlist in the Rockstar Playlists section of the GTA Online Start Menu.
FREE LTS TEAM BETTING STAKES MEAN BIG GTA$ PAYOUTS FOR WINNERS
With the Last Team Standing Update, we've raised the betting cap on all Jobs to $10,000 and, this weekend only, we're fronting up to $7,000 in betting stakes for every player in every Last Team Standing Job - including those in the Event Weekend Playlist. The size of the free stake is based on the number of rounds in that particular Job (rounds are a new feature we've added to LTS - read up on them here) and the bet is automatically placed on your own Team, so make sure you bring your best back-up to ensure maximum GTA$ winnings. If you win, you could reap big bucks; if you lose, then you lose nothing but your own pride.
GET DOUBLE RP WHEN PLAYING LAST TEAM STANDING - INCLUDING NEW LTS CREATOR JOBS
Whether you're playing one of the 10 new Rockstar Created Last Team Standing Jobs, or one of the original fan-favorite ones like "Cypress Flats LTS" or "Beacon Theater LTS" – or one of the tons of player-created LTS Jobs being published as we speak by virtue of the new Last Team Standing Creator Mode – you will rack up Double RP all weekend long. This includes the entirety of the Event Weekend Playlist giving you all the more reason to Crew up and buck 'em down.
EXTRA BONUS RP WHILE PLAYING WITH CREWMATES
On top of Double RP for all LTS Jobs all weekend, RP bonuses while playing LTS Jobs with Crew members will be increased to 20%. Since this stacks with this weekend's Double RP bonus while playing LTS, this means you could earn up to 140% over standard RP if you play with your Crewmates. That's some serious strength in numbers, so head over to your Crews' profile pages to sound the call and find out who from your ranks will be Online and when.
HALF-PRICE DISCOUNTS ON CREW CLOTHING, TATTOOS AND VEHICLE MODS
To unite your team in Last Team Standing Jobs (and to avoid any friendly fire), make sure your Crewmates are properly kitted out in matching team outfits. Organization is key to winning team-based game modes, and a well presented line-up will instantly let the opposition know that you ain't nothing to mess with. Show your allegiance with a 50% discount on Crew Clothing sporting your color and Emblems. To cement your brotherhood or sisterhood, Los Santos Customs are discounting paint and tire smoke in your Crew Colors by 50%, as well as Emblems for the hood and side panel of your car. And to make sure that your whip is truly ready for battle, why not pick up Armor and Bulletproof Tires while you're there, also discounted at 50%. Finally, for a real display of lifelong-commitment to your clan, get matching tattoos for 50% off and show that solidarity on your skin.
BONUS SPECIAL CRATE DROPS FEATURING THE EXCLUSIVE FIST TEE
In between your LTS weekend wars, regroup in Freemode and look out for Special Crate Drops falling from the sky. There will be one dropping in each session you play all weekend and will be filled to the brim not only with GTA$ stacks, RP, heavy-duty RPGs, miniguns, and sticky bombs - but this weekend only, you'll also collect a limited-edition Fist t-shirt (as seen in the screenshot below) for to properly represent your fighting prowess.
#LTS CREATOR COMPETITION
With LTS mode support newly added to the GTA Online Creator tool, there's another opportunity for you to display your talents and create a Last Team Standing Job worthy of getting Verified and winning the LTS Creator Competition. To participate, get Online and find the Creator in the GTA Online Start Menu. From there, you'll have the opportunity to create your own Last Team Standing Job in your desired area of the map. Once you've perfected and published it, head to your Jobs on Social Club and tag your best with #LTS. We will play and pick 5 favorites to Verify and aware their Creators with GTA$1M and an exclusive BODYBAG in-game license plate. (Also stay tuned for the selections from our last Creator Competition who will be revealed in the weeks ahead here at the Newswire).
See rules and eligibility
.
#LTS SNAPMATIC CONTEST
There's a bounty of picture-perfect new content available with this week's Last Team Standing Update to GTA Online. Get it papping this weekend by tagging your best work on Social Club with #LTS and you could be in with a chance of winning GTA$1M and the BODYBAG license plate for your in-game vehicle. We're looking for the five most fun, exciting , beauteous or amusing Snapmatic photos featuring the new content, whether it be the two new GTAIV throwback bikes, the LCC Innovation or Shitzu Hakuchou; one of the 20 new flag-themed parachute bags; or simply your Crew terrorizing the back alleys of Los Santos in Manhunt "Please Stop Me" masks. To ensure you get a record of it before the moment passes, double tap Up on the D-pad to do a Snapmatic quick launch. Or, if you prefer, you can now disable this feature via the Options section of the Pause Menu.
See rules and eligibility
.
E
VENT GEAR GIVEAWAY SWEEPSTAKES
After a long day dropping bodies in Last Team Standing, you'll want to curl up and camouflage yourself somewhere no-one will think to disturb you. Head to the Social Club Events Page NOW to enter to win one of 10 official GTAV Bodybag Sleeping Bags for your next camping trip up Blaine County's Mt. Josiah. Winners will also receive a GTAV logo tee, and a selection of Rockstar stickers. See
Official Rules
.
THE OFFICIAL LAST TEAM STANDING EVENT ROCKSTAR LIVE STREAM: THE SIDEMEN VERSUS MAE AND THE BOYS
Tomorrow, Friday October 3rd at 4pm ET, get ready for a truly epic Last Team Standing face-off. We're teaming up with the good people at
MLG.tv
to host a live LTS battle for supremacy between two all-star YouTube collectives. On one side, we're proud to welcome back The Sidemen to the Rockstar Broadcast show. Playing live from their UK compound representing The Sidemen, we'll have our friends Vikk aka Vikkstar123, J.J. aka KSIOlajidebt, Josh aka ZerkaaPlays and Simon aka MiniMinter7. And against them will be Team Mae and the Boys: Led by the inimitable MissesMae and flanked by Event Livestream guest veteran Lui Calibre, plus Daithi De Nogla, and Mini Ladd. The battle will be co-hosted by Lazlow and the Rockstar Broadcast studio team alongside MLG's Chris Puckett - a man who knows a thing or two about hardcore competitive play. Join us tomorrow as we simulcast live from the Major League Gaming studios across four corners of the internet: the
Rockstar Twitch channel
, the
Rockstar YouTube channel
, the
Social Club Events page
as well as at
MLG.tv/RockstarGames
. Head to Twitch or YouTube now and subscribe, or follow us on Twitter to get live updates about the stream, the Event Weekend and all Rockstar Games news.
Join the last team standing and the only team that matters in the
forums
!
---
Comments (1)
---
Make A Comment
Sorry, comments have been disabled for this article.