The Doomsday Heist Now Available
Posted by TreeFitty December 12, 2017 : 0 Comments : 4,958 Views
When the stakes are this high, who else can you trust to save the day but the craziest criminals ever to grace the Los Santos underworld? The risks are colossal, the enemies all but unstoppable… but the rewards are mouth-watering and a massive adrenaline spike is absolutely guaranteed. Assemble your crew for the biggest Online adventure yet, across 3 sprawling acts - The Doomsday Heist is now available to play in GTA Online.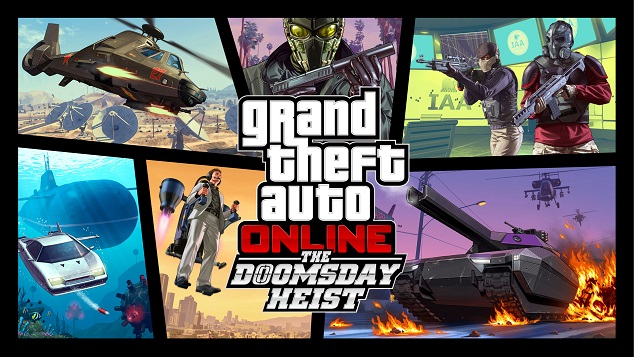 The Doomsday Scenario
Billionaire entrepreneur Avon Hertz and his pet neural network Cliffford have stumbled upon evidence that nefarious outside forces are working on a plan so diabolical it could end life as we know it. Somehow, Lester Crest is tasked with assembling a team deadly enough - and crazy enough - to do what it takes to bring them down. That's where you come in. It's going to take some luck, some firepower and some serious teamwork to take this threat head-on, assisted by Avon's access to the latest in lethal blue-sky tactical hardware.
The Weird Turn Pro
It's time to assemble your Organization or Motorcycle Club and prepare for a new kind of war. First, one member of your crew needs to own one of the previously undisclosed IAA facilities hidden under Southern San Andreas, giving you access to the new advanced planning room where you will map out the steps to launch and complete each mission. This time, operations will run a little differently: crews of 2-4 players will now be able to work together to complete every mission.
Bigger, Deadlier and More Complex than Ever
Each of the three massive Heist acts that comprises the story of The Doomsday Heist involves negotiating multiple ruthless freemode prep missions, tactical setup operations, and experimental weapons and vehicles - each ending with an over-the-top finale that brings a payoff big enough to comfortably share with your fellow crew members. Some missions may involve competition for resources with other crews in Freemode, and MC Presidents can even enlist additional club members, boosting your squad to up to 8 players to help secure your objective in these missions.
A New Set of Tools
If you've been drafted to prevent the end of the world, you better have access to the finest technology available. MKII upgrades are now available via the Mobile Operations Center or Avenger's Weapon Workshop for the Pump Shotgun, Special Carbine, Marksman Rifle, Heavy Revolver, Bullpup Rifle and SNS Pistol.
The Doomsday Heist also brings access to the ultimate in offensive weaponry: from the futuristic fury of the Khanjali tank, to the long-awaited madness of the Mammoth Thruster personal jetpack, you'll have everything you need to bring down a small army.
Speaking of small armies, purchase of the Facility includes the optional ability to have your own Strike Team on call, or an Orbital Cannon capable of immolating any patch of ground that incurs your wrath. Slow to arm and reload but devastating when deployed tactically – at the moment a gang of rivals is clustered on the same area of the map, for instance – the Orbital Cannon is less a weapon of last resort and more the ultimate revenge, served ice cold.
The Avenger
So you're an aspiring criminal and you and your crew have been tasked with staving off an existential threat, but you need just the right vehicle. How about a vertical take-off, turreted, flying fortress/experimental weapons lab in the sky/death-spitting collateral damage producer that practically flies itself? The Avenger is all these things and more. Store it in your Facility, get it fitted out with a Vehicle Mod Shop, a Weapon Workshop, and a suite of ferocious weapon upgrades, and you'll soon be wreaking a whole new level of havoc without ever having to land.
Return of The Mastermind Challenge and More
The Doomsday Heist offers a new set of brutal challenges, all with some serious financial payback for any teams hardcore enough to complete them. All three finale missions have Elite Challenge objectives for those in search of a seriously high bar, and for the perfectionists, the Criminal Mastermind challenges are back across all three acts of the heist for teams of 2, 3 or 4 players along with a brand new suite of Achievements and Trophies.
New Vehicles, Weapon Customizations and More
And we've barely scratched the surface – discover a fleet of new vehicles, from beastly weaponized vehicles to mercurial sports cars and more:
• Thruster (Warstock)
• Deluxo (Warstock)
• Stromberg (Warstock)
• RCV (Warstock)
• Chernobog (Warstock)
• Barrage (Warstock)
• Akula (Warstock)
• Khanjali (Warstock)
• Volatol (Warstock)
• Comet Safari (Legendary Motorsport)
• Ocelot Pariah (Legendary Motorsport)
• Coil Raiden (Legendary Motorsport)
• Ubermacht SC1 (Legendary Motorsport)
• Vapid Riata (Southern San Andreas Super Autos)
• Declasse Yosemite (Southern San Andreas Super Autos)
The Doomsday Heist also features a trove of new clothing and personal customization options, as well as a surprise on the radio just in time for your fight to save the world. It's all available to play now, free inside the world of GTA Online - with much more still to come.
#drool
Hit up the
forums
!
---
Comments (0)
No comments have been made on this article. Complete the form below to make a comment.
---
Make A Comment
Sorry, comments have been disabled for this article.