PlayStation Offical Magazine Says Dan Houser Working on GTA V
Posted by TreeFitty October 23, 2011 : 9 Comments : 31,445 Views
October has been a quiet month for GTA V news but cheer up a little with this bit of sunshine...
PlayStation: The Official Magazine
has printed an interesting thing. One of their features, "10 Smart Devs," looks at
PlayStation's ten smartest developers who are shaping the next wave of PS3 greatness
. Among them (seemingly unordered) at number 4 is Rockstar's Dan Houser. Where is he currently according to the magazine?
Rockstar North
. What's he working on according to the magazine?
Grand Theft Auto V
. It also mentions his career highlight as
Red Dead Redemption
but we don't expect that to stay with each new game Rockstar makes. Take a look:
Text version:

DAN HOUSER
Studio > Rockstar North
Twitter > N/A
Current Project > Grand Theft Auto V
Career Highlight > Red Dead Redemption

Shaping the future by writing scripts that close the gap between games and cinema, Houser is the mind behind Rockstar's core titles (including all of the GTAs) and was named one of Time's most influential people of 2009, along with his brother Sam.

Other top developers listed in the first 5 of the full feature are also said to be working on new or upcoming titles: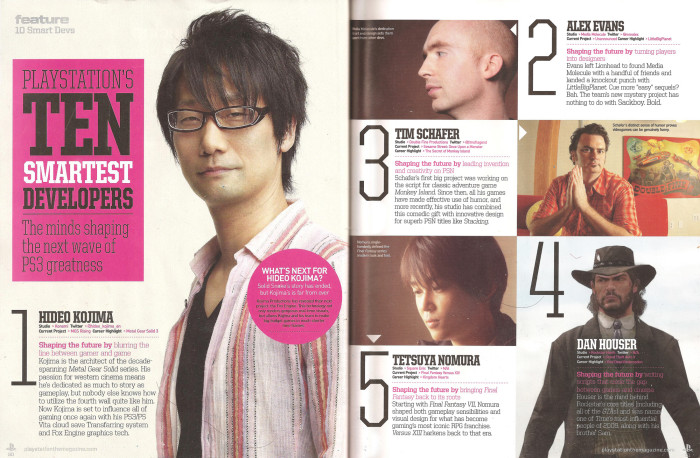 So what do
you
think? Is this even more proof of Grand Theft Auto V's existence or is the magazine following suite with rumors? How they know he is at Rockstar North can be questioned too (he and other top people move around frequently). Let us know in the comments below and join the fun in the
GTA V forums
!
Thanks to
Gagester72
for the tip-off and scans!
---
Comments (9)
---
Make A Comment
Sorry, comments have been disabled for this article.