P-996 Lazer & Transform Race Creator
Posted by TreeFitty November 28, 2017 : 0 Comments : 5,144 Views
It feels like just yesterday: boosting a hypercar and hitting the freeway north, taking the dirt ramp with enough speed to somersault 200ft over the rear fence of Fort Zancudo while dodging small arms fire to commandeer a Lazer... and often getting a 120mm shell inserted firmly up your intake for your troubles.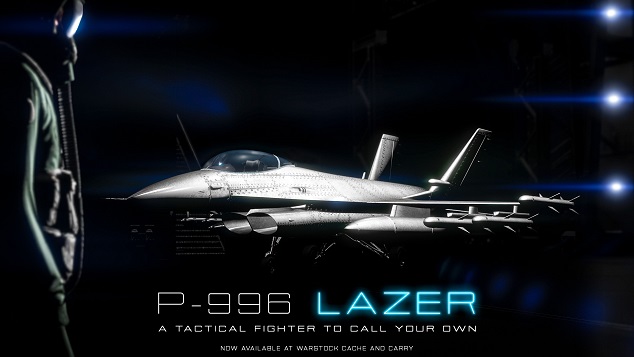 If you've been looking for a more legitimate way to acquire the P-996 Lazer and store it along with the rest of your Hangar's squadron, or have it delivered via Pegasus Lifestyle Management, this legendary fighter jet is now available compliments of Warstock Cache & Carry.
TRANSFORM RACE CREATOR & NEW PROPS NOW AVAILABLE
Prepare for a whole new barrage of community generated concoctions to tackle as we've added a heap of new props and checkpoints to the Race Creator tool along with the ability to make your very own Transform Races. Keep an eye out on Social Club for brand new Jobs from the clever and talented GTA Online Creator community, making use of giant inflatable gates, colossal new Air Tubes and newly available vehicles for the Transform Race Creator like the Pegassi Oppressor.
TWO WEEKS OF DOUBLE GTA$ & RP BONUSES (NOVEMBER 28TH - DECEMBER 11TH)
If you hit the Black Friday sales hard last week, we've got some good news for your wallet. Starting today and running through December 11th, there's Double GTA$ & RP on a huge spread of activities in GTA Online. In addition, Gunrunning Research and Manufacturing is 25% faster through December 11th as well, so you'll be able to push more product across Southern San Andreas and grab more bang for your buck while you do.
CURRENT DISCOUNTS
Whether you do your business from your bike saddle or the boardroom, there's plenty of discounts happening in GTA Online. Through December 11th, get 25% off the following:
DYNASTY 8 EXECUTIVE
• Executive Offices
• Executive Garages (including style upgrades)
MAZE BANK FORECLOSURES
• Bunkers
• Hangars
• Biker Clubhouses
WARSTOCK CACHE & CARRY
• Mobile Operations Center Cabs
• APC (Buy It Now & Trade Price)
• Weaponized Tampa (Buy It Now & Trade Price)
• HVY Nightshark
• Half-Track (Buy It Now & Trade Price)
• Dune FAV (Buy It Now & Trade Price)
• Karin Technical (Buy It Now & Trade Price)
• Anti-Aircraft Trailer (Buy It Now & Trade Price)
• Buzzard Attack Chopper
PREMIUM RACE & TIME TRIAL SCHEDULE
Get on the fast track with upcoming Premium Races and Time Trials:
November 28 – December 4
• Premium Stunt Race - "Trench II" (Locked to Muscle)
• Time Trial - Fort Zancudo
December 5 – December 11
• Premium Stunt Race - "Pier Race" (Locked to Super)
• Time Trial – Storm Drain
Launch Premium Races through the Quick Job App on your in-game phone or via the yellow corona at Legion Square. The top three finishers will earn GTA$ and you'll get Triple RP regardless of where you place. To take a shot at the Time Trial, set a waypoint to the marker on your in-game map and enter via the purple corona. Beat par time and you'll be duly rewarded with GTA$ & RP.
Enjoy and hit up the
forums
!
---
Comments (0)
No comments have been made on this article. Complete the form below to make a comment.
---
Make A Comment
Sorry, comments have been disabled for this article.