Official Playstation Website Confirms GTA 5 On PS3
Posted by Psy via Disco-Lee February 14, 2012 : 39 Comments : 41,315 Views
Update Feb 28, 2012
:
As we speculated at the end of the article below, Sony have removed all of their GTA V pages. Most likely because Rockstar Games haven't officially confirmed GTA 5's release platforms and may have requested the pages are taken down. Once we hear something official from Rockstar, you'll find out here. Thanks
wilsongrout
for the heads up!
Original Article
:
In somewhat of a shock move, the official UK Playstation website has created a
page for Grand Theft Auto V
, almost certainly confirming the game will be available on it's Playstation 3 console - credit to
Disco-Lee
for the find.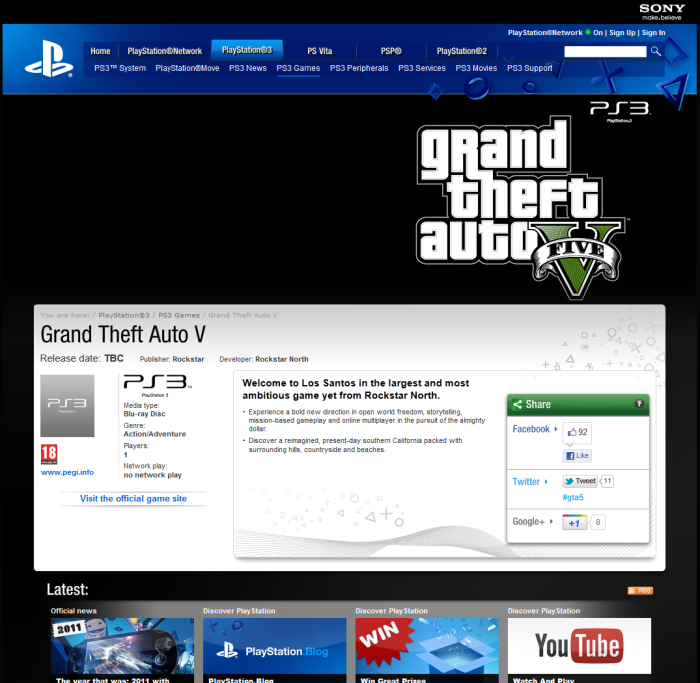 While this isn't exactly surprising news - after all, we all expected the game to be launched on the PS3 anyway - the fact the official website has created a page for the game means they know for certain it's being developed for their console.
The page doesn't have any additional information about the game apart from the story specific details Rockstar mentioned in their
past announcements
, although some extra snippets are shown below. These details don't appear to be final and it's likely they are just there as placeholder data for now, but make of it what you will:
Media type
: Blu-ray Disc
Genre
: Action/Adventure
Players
: 1
Network play
: no network play
Now we know all PS3 games come on Blu-ray discs, so that's nothing new. GTA is an action/adventure game, again standard info. It will most likely feature a 'single' player story mode, so that
could
be correct but Rockstar Games have already confirmed the game will feature
Multiplayer
, so the network play information is already wrong. The game has also been awarded an
18 rating
already, which given that it hasn't yet been rated by PEGI, doesn't seem accurate (although would be expected).
Regardless, this does
pretty much
confirm GTA 5 is coming to PS3 at some point. We currently have no news on the XBox 360 version, so don't start getting into a console war just yet! And TreeFitty has also pointed out this website is only available on the UK version of the Playstation website, not the US version. It's likely it was put up by mistake, but we got the screenshot above just as proof if the website is taken down again.
Update:
The game is also
listed on the Australian website
among others as well.
Update2:
The pages have been removed.
---
Comments (39)
---
Make A Comment
Sorry, comments have been disabled for this article.