New Races, Stunt Suit, Bonuses
Posted by TreeFitty March 01, 2017 : 0 Comments : 3,402 Views
Suit up, strap in and get ready for the 2017 GTA Online Stunt Race Event, featuring 15 brand new Stunt Races plus Double GTA$ & RP across the full spectrum of Rockstar Created and Rockstar Verified Stunt Races. Find the Stunt Series icon to quickly jump straight into the racing action and claim the dashing Pink Jock Cranley endorsed Stunt Jumpsuit just for logging in.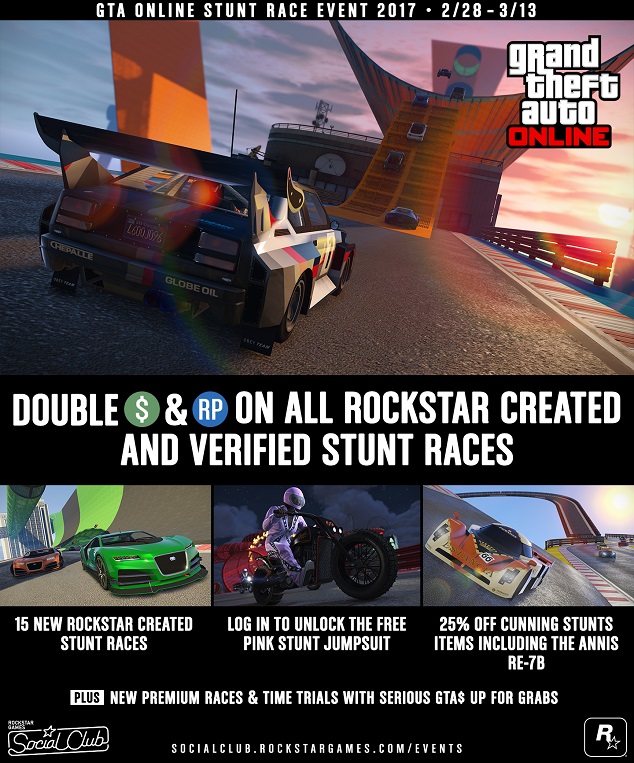 NEW ROCKSTAR CREATED STUNT RACES
All the hair-raising thrills and stomach-churning twists from Stunt Races are back and bigger than ever with 15 brand new Rockstar Created tracks. You'll race up glass towers, plummet through clouds, dodge turbines and clatter though bowling pins on your way to the finish line. We've updated the in-game Stunt Series on your map with these new Races, but you can also bookmark them individually on Social Club using the links below:
Green Machine | In The City | Raton | Around The Docks | Pier Race | Big Drop | Trench III | Spinner | 45° | Mountain Drop | Gauntlet | Plummet II | Big M | Lift Off | Wall Climb
To reward adrenaline junkies for their bravery (and lunacy), we're offering Double GTA$ & RP on all Rockstar Created and Verified Stunt Races from today through March 13th.
STUNT IN STYLE
There's no point in barrel-rolling through a ring of fire while flipping off your adversaries unless you look the part while you're doing it. Tackle the new Stunt Races in style with the Pink Stunt Jumpsuit, a free unlock for all who log onto GTA Online at any point between now and March 13th.
BUT WAIT, THERE'S MORE
Since this is all celebrating the arrival of 15 new Stunt Races, it only makes sense to discount some of the hallmark vehicles and clothing of Cunning Stunts now through March 13th. Enjoy 25% off the following:
• Annis RE-7B
• Emperor ETR1
• Vapid Desert Raid
• Vapid Trophy Truck
• Obey Omnis
• Lampadati Tropos Rallye
• Liveries
• Stunt Tattoos
• Stunt Clothing
And for multi-tasking Stunt Racers with fledgling criminal enterprises, invest your hard earned 2x GTA$ into a Vehicle Warehouse for 25% off, which brings missions to steal and deal vehicles for a profit and unlocks access to Special Vehicles.
PREMIUM RACE SCHEDULE:
• 2/28 - 3/6: "Pier Race" (locked to Super class vehicles)
• 3/7 - 3/13: "In The City" (locked to Sports class vehicles)
Launch Premium Races through the Quick Job App on your in-game phone or via the yellow corona at Legion Square. Premium Races pay out GTA$ winnings for the top 3 finishers, and all racers receive Triple RP.
TIME TRIALS SCHEDULE:
• 2/27 - 3/5: "Up-n-Atom"
• 3/6 - 3/12: "Maze Bank Arena"
Set a Waypoint to the Time Trials marker on your map and enter via the purple corona, then beat the par time to reap sizable GTA$ & RP rewards.
Enjoy and hit up the
forums
!
---
Comments (0)
No comments have been made on this article. Complete the form below to make a comment.
---
Make A Comment
Sorry, comments have been disabled for this article.