New Hijak Ruston, Stunt Race Creator Updates
Posted by TreeFitty March 21, 2017 : 0 Comments : 3,612 Views
Stripped down and drenched in carbon fiber, the Hijak Ruston is a lightweight & pint-sized packet of fury. It might not win any safety awards, but the Ruston's low profile gets you as close to the tarmac as you're ever going to want to be, so nestle in and brace yourself for some tight turns and even tighter clenches. A unique and elegant addition to the Sports class, the Hijak Ruston is now available in GTA Online at Legendary Motorsport.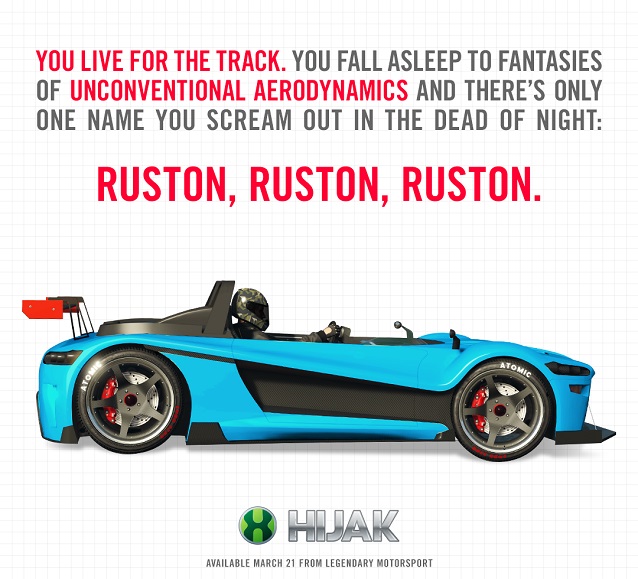 SPECIAL VEHICLES NOW AVAILABLE IN THE STUNT RACE CREATOR
Stunt Races recently received a big addition with the Special Vehicle Circuit update and we're expanding the toolbox for the Rockstar community to take things up a few notches. In addition to the Rocket Voltic, Ruiner 2000 and Blazer Aqua becoming available in the Stunt Race Creator, we're adding a collection of new Props designed to highlight these vehicles' unique abilities, including Hurdles, Boost Refills and Explosive Crates. New psychedelic Stunt Tubes will send racers on a trip through alternate dimensions, while destructible walls will leave some serious carnage in your wake as you power your way to victory.
Enjoy and chat up the
forums
!
---
Comments (0)
No comments have been made on this article. Complete the form below to make a comment.
---
Make A Comment
Sorry, comments have been disabled for this article.