Halloween in GTAO, Seabreeze Plane
Posted by TreeFitty October 31, 2017 : 0 Comments : 3,492 Views
It's Halloween in Los Santos, which means it's time to terrorize the neighborhood while reaping the benefits of a litany of bloodcurdling bonuses and deadly discounts.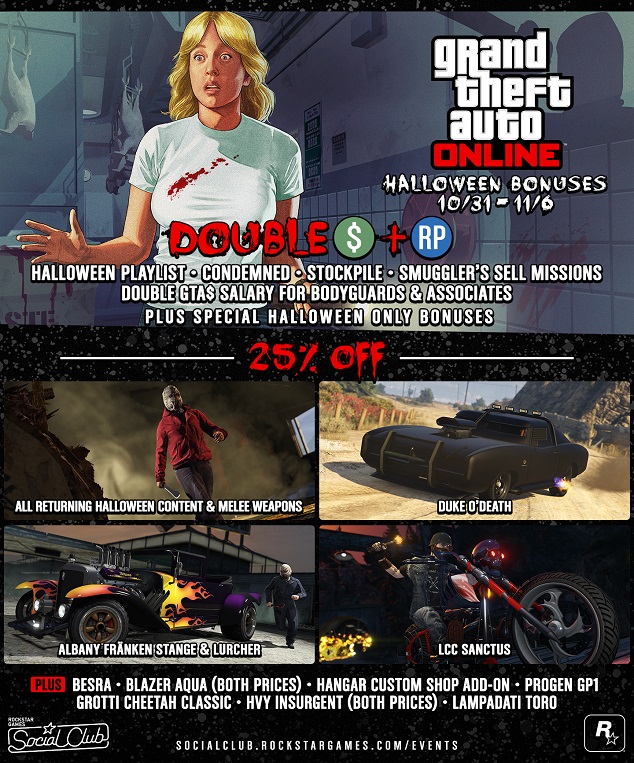 In addition to Double GTA$ & RP on the new Adversary Mode Condemned and a special Halloween Playlist running through November 6th that features the new Inferno Transform Race, Lost Vs Damned and Slasher, become your competition's greatest nightmare with Double GTA$ & RP on any of the following modes today, 10/31 only:
• Lost vs Damned
• Slasher
• Beast vs Slasher
• Come Out to Play
• Transform - Inferno Race
There's also 25% off all returning Halloween content - including the Fränken Stange, Lurcher and the demonic LCC Sanctus - as well as the Duke O'Death - now through November 6th.
OUT NOW: WESTERN SEABREEZE
Escape the ghouls and costumed crazies in style; whether you're landing on a desert runway or splashing down right next to your private yacht, the Western Seabreeze is a business class option for every occasion and locale. And if you're the kind of high-earner who might have need of a machine gun and bomb bay, don't worry, there's plenty of room. The Western Seabreeze is now available for purchase at Elitás Travel.
THIS WEEK'S BONUSES
For those who are a bit squeamish, there are plenty of other GTA Online bonuses to take advantage of through November 6th. In addition to the continuation of Double GTA$ and RP on Smuggler's Sell Missions and Double GTA$ Salary for Bodyguards and Associates, join a different sort of mile high club and earn Double GTA$ and RP on the Stockpile Adversary Mode.
As a reminder, simply log in through the 6th to claim a GTA$400,000 award, which will slip into your Maze Bank account by November 13th.
Flush from selling product, flag capturing and other generally illicit activity, you can use some of that hard-earned scratch to take advantage of 25% off the following items:
• Western Company Besra (Jet)
• Nagasaki Blazer Aqua (Special Vehicle) - both Buy it Now and Trade Price
• Hangar Custom Shop Add-On
• Progen GP1 (Super)
• Grotti Cheetah Classic (Sports Classic)
• HVY Insurgent (Off-Road) - both Buy it Now and Trade Price
• Lampadati Toro (Boat)
• All Melee Weapons
PREMIUM RACE & TIME TRIAL SCHEDULE
Get lifted with this week's Premium Race & Time Trial events, now live through November 6th.
• Premium Special Vehicle Race - "Drop Ship" (Locked to Ruiner 2000)
• Time Trial - "Observatory"
Launch Premium Races through the Quick Job App on your in-game phone or via the yellow corona at Legion Square. The top three finishers will earn GTA$ and you'll get Triple RP regardless of where you place. To take a shot at the Time Trial, set a waypoint to the marker on your in-game map and enter via the purple corona. Beat par time and you'll be duly rewarded with GTA$ & RP payouts.
Enjoy and chat it up in the
forums
!
---
Comments (0)
No comments have been made on this article. Complete the form below to make a comment.
---
Make A Comment
Sorry, comments have been disabled for this article.