GTAO Gunrunning DLC Coming in June
Posted by TreeFitty May 26, 2017 : 1 Comments : 3,879 Views
While sharply dressed CEOs trade Special Cargo from lavish air conditioned suites, and leather-clad Bikers own the roadways moving illicit consumer goods; new opportunities are opening in a highly lucrative and equally malicious network hidden underground ripe for takeover by the VIPs, CEOs, and Biker bosses of Los Santos and Blaine County.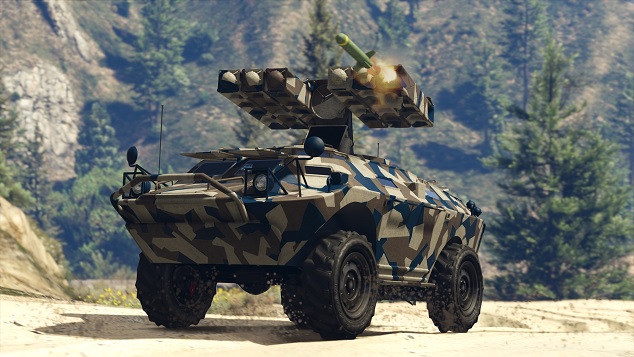 The APC comes to GTA Online as well as a weaponized Tampa.
Southern San Andreas' illegal weapons trafficking industry rises to the surface in
Gunrunning
, a massive new update coming this June to GTA Online.
Dotted throughout Blaine County are hatches - look into these mysterious properties on the Maze Bank Foreclosure site and you'll find sprawling underground headquarters for sale, ready to be stocked with new military grade vehicles and weapons manufacturing equipment capable of developing highly sought after offensive and defensive technologies. As the residents of Los Santos know, the only thing more fun than crime is profit and should you choose to invest in this new business, some extremely shady customers are ready to pay top dollar for what you can deliver.
Stay tuned for more on Gunrunning, including specific business and research opportunities, details on the massive tactical, full-service Mobile Operation Centers complete with new weapon upgrades and deep customization, all new Weaponized Vehicles, and more!
Hit up the
forums
!
---
Comments (1)
---
Make A Comment
Sorry, comments have been disabled for this article.