GTA Online Time Trials Week
Posted by TreeFitty May 07, 2016 : 0 Comments : 7,847 Views
All this week, Rockstar has got a daily rotation of Freemode Time Trials all offering Double GTA$ and RP rewards to daring racers able to beat the par time to complete them. To make sure you're equipped for the challenge, Legendary Motorsport and Los Santos Customs are offering huge discounts on blazing fast vehicles and engine mods. All of this (along with a Double RP Racing Playlist and select phones services totally gratis) are live today through to next week, Thursday May 12th! More info below...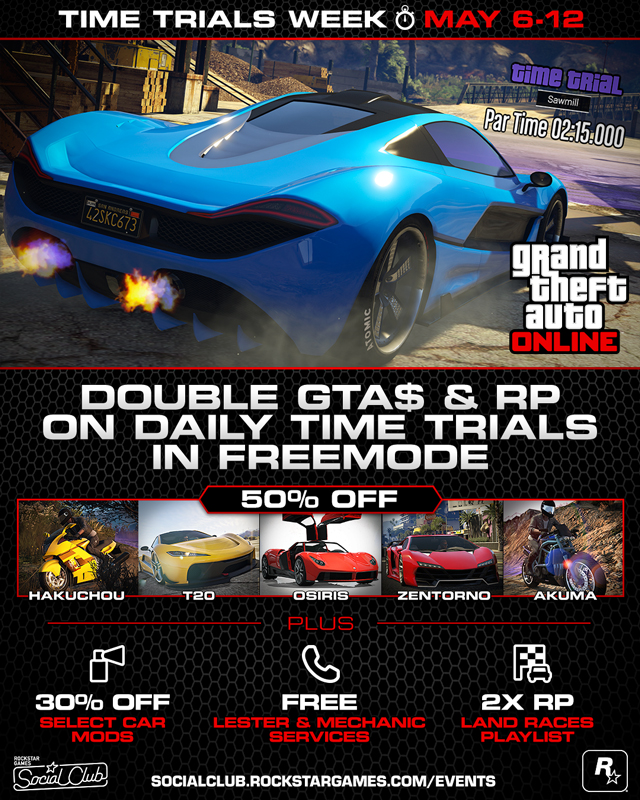 DOUBLE GTA$ & RP ON DAILY TIME TRIALS IN FREEMODE
Double GTA$ and RP is on offer for completion rewards in GTA Online Freemode Time Trials this week. You have 24 hours to complete each Time Trial (and it could take a few attempts), so get started early by steering into the purple coronas - also designated as a purple stopwatch icon on the Map - and rake in the cash and rep. Don't worry if you've already completed these particular Time Trials when they were previously live in-game; you'll still get the full completion reward (and then some!). Check out the run down below:
• Friday May 6th: Vinewood Bowl
• Saturday May 7th: Down Chiliad
• Sunday May 8th: Mount Gordo
• Monday May 9th: Great Ocean Highway
• Tuesday May 10th: Sawmill
• Wednesday May 11th: Maze Bank Arena
• Thursday May 12th: End to End
ZENTORNO, T20 AND OSIRIS - 50% OFF
There's no mistaking that Time Trials are some of the toughest solo challenges in GTA Online; every millisecond counts when dashing for that par time, so do yourself a favor and take advantage of 50% off some of the fastest, slickest wheels in Southern San Andreas. The T20, the Zentorno and the Pegassi Osiris are all discounted, giving you every opportunity to beat the clock.
HAKUCHOU AND AKUMA - 50% OFF
If your preferences lie with the two-wheeled racing variety, or if the terrain between you and the finish line doesn't lend itself well to fully slammed Super cars, then here's your opportunity to add the Hakuchou and Akuma to your vehicle collection at a sweet 50% off.
SELECT VEHICLE MODS - 30%
Prep your wheels of choice to get them road-worthy for the Trials ahead with 30% off Engine mods, Brakes and Suspension - each of which will boost the stats of your ride. For good measure, Los Santos Customs are also discounting Stock and Chrome Rims - no performance boost there, but you'll look damn good.
FREE SERVICES
Lester's nifty services - Cops Turn Blind Eye and Remove Wanted Level - and the handy Mechanic Service for property owners are completely free to use this week. Call them in to help make road navigation that little bit easier, while maneuvering your way to the start or finish of each Time Trial.
DOUBLE RP PLAYLIST
There's also Double RP to be gained in this week's Playlist on Land Races, with Bike-focused Touch Base (racing from the Galileo Observatory to Fort Zancudo), Sports-geared On the GOH (taking on the Great Ocean Highway) and Off-roading in Turn the Tide (from the Great Ocean Highway to Paleto Cove). Simply hit the prompt button in the GTAV launch screens to jump straight into the racing action, or if you're in-game already, you can find the Playlist in the Rockstar Playlists section of the GTA Online pause menus.
Have fun and hit up the
forums
!
---
Comments (0)
No comments have been made on this article. Complete the form below to make a comment.
---
Make A Comment
Sorry, comments have been disabled for this article.