Double Cash Modes, Creator Tool Update & More
Posted by TreeFitty November 30, 2016 : 0 Comments : 3,608 Views
Drop in to GTA Online this week and power up with bonus Double GTA$ and RP in Drop Zone, Power Play and the newest Adversary Mode, Kill Quota. Plus, take advantage of various discounts designed to take your criminal enterprise to the next level. Also, player-created Deathmatches, Last Team Standings, and Captures get a big boost with the addition of Stunt Props to the GTA Online Creator.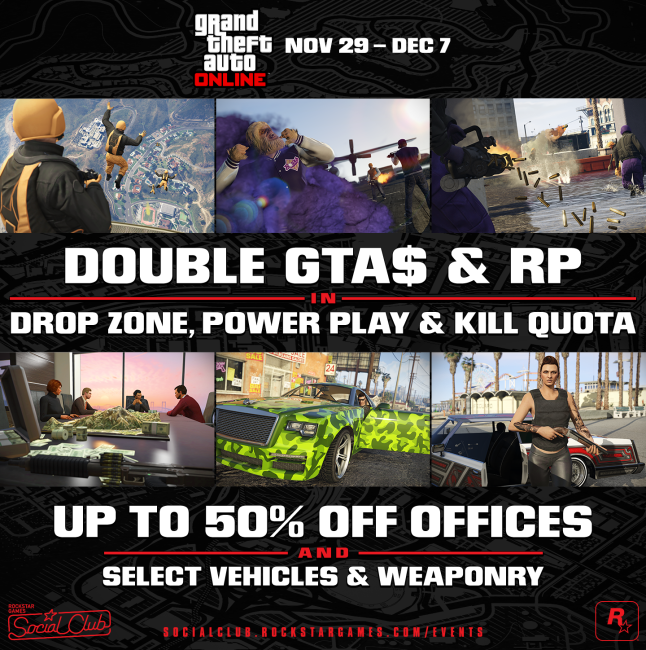 DOUBLE GTA$ & RP IN DROP ZONE, POWER PLAY & KILL QUOTA​
Satisfy your paratrooper fantasy in Drop Zone or let your inner Beast run amok in Power Play, both of which are delivering Double GTA$ and RP now through December 7th, along with ongoing Double GTA$ & RP in Kill Quota, also running through December 7th.
PROPERTY AND VEHICLE DISCOUNTS, AND MORE
Every boss needs a killer pad and ample suite of weapons to keep the competition in check. Bolster the style and security of your operation with various discounts on Executive Offices, vehicles and weaponry this week.
Properties
• 50% off Executive Offices
• 50% off Office Décor & Customization
Vehicles
• 50% off the Buzzard Attack Chopper
• 25% off the Vapid Desert Raid
• 25% off the Pegassi Reaper
• 25% off the Enus Windsor
Weapons & Armor
• 25% off all Sniper Rifles
• 25% off all Shotguns
• 25% off Body Armor
STUNT PROPS NOW AVAILABLE IN DEATHMATCH, LAST TEAM STANDING & CAPTURE CREATORS
The GTA Online Creator community can now take their Deathmatch, Last Team Standing and Capture Jobs to a new level with the addition of Stunt Props from Cunning Stunts. Now that more than 200 Stunt Props have been added to the pot, the creative opportunities for these skirmishes are endless. Here's the breakdown of the categories:
• Stunt Tracks
• Stunt Set Pieces
• Stunt Tubes
• Stunt Ramps
• Stunt Raised Track
• Stunt Signs
• Stunt Building Blocks
PREMIUM RACE: TURBINE (NOVEMBER 29TH - DECEMBER 7TH)
Duck and dodge death in this week's Premium Race, "Turbine" locked to offroad vehicles. Zip around the treacherous wind farms of RON Alternates and earn big... with Triple RP for all participants and substantial GTA$ prizes for the top three finishers. To access the Premium Race, enter the yellow blip at Legion Square or via the Quick Job App on your in-game phone.
Hit up the
forums
!
---
Comments (0)
No comments have been made on this article. Complete the form below to make a comment.
---
Make A Comment