Dewbauchee Specter & Collection Time
Posted by TreeFitty January 17, 2017 : 0 Comments : 4,553 Views
The two latest additions to GTA Online are out now: the luxurious and lightweight Dewbauchee Specter sports car, and Collection Time, the new Adversary Mode where you'll pick your opponents' pockets to rack up wins. Read all about both plus all the latest bonuses and discounts to hit GTA Online below...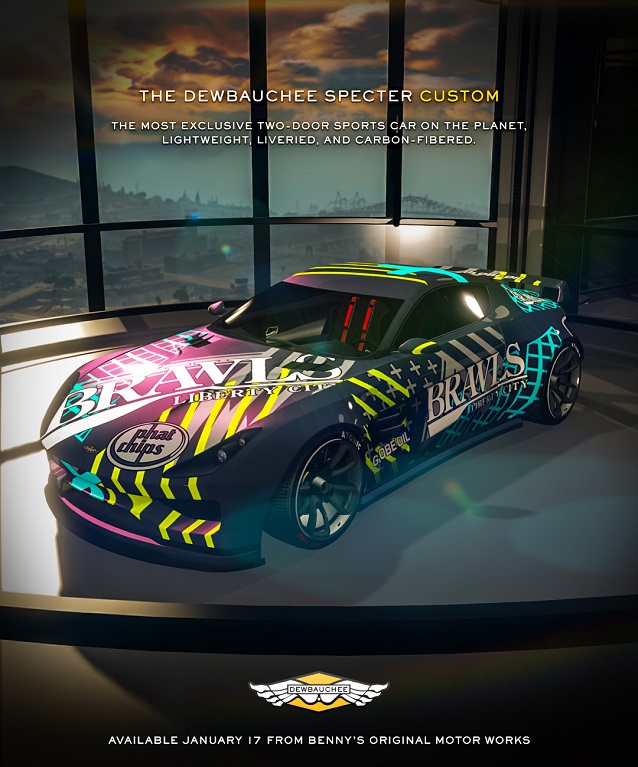 NOW AVAILABLE: DEWBAUCHEE SPECTER
Benny's continues their brilliance in automobile artistry with their latest offering, the Dewbauchee Specter. This two-door Sports coupé is at its heart the gold standard for exclusivity, and Benny is on hand to strip it down to its core before reassembling it as a lightweight, super-customizable beast. Strike while the iron's hot to take advantage of 25% off Benny's Upgrades and the Executive Upgrade that brings Benny's workshop right into your own garage, now through January 30th.
NEW ADVERSARY MODE: COLLECTION TIME
In Collection Time, it's all about the give and take. In two to four teams, players battle to steal and hoard the most points over the given time period. Each player starts out with one point in the form of a money bag; once killed that bag will drop and be up for grabs for whoever can reach it first. The team holding the most bags when the clock runs out wins. Stay greedy and hone your tactics across seven brand new maps. For extra earnings, play Collection Time between now and Monday, January 30th for Double GTA$ & RP.
BONUSES THROUGH JAN 30th: DOUBLE GTA$ & RP ON BIKER CLUBHOUSE CONTRACTS & SPECIAL VEHICLE WORK, PLUS WIDE-RANGING VEHICLE DISCOUNTS
In addition to Collection Time, MCs and Organizations alike are about to get that much richer with a double dose of GTA$ & RP in GTA Online Biker Clubhouse Contracts and Special Vehicle Work – now through January 30th. From Gunrunning to the lit up destruction of Torched, those who prefer the hog ride will have plenty of opportunities with the eleven Clubhouse Contracts. Organizations will also have their turn with the same bonus running for all eight Special Vehicle Missions, from the BF Ramp Buggy's Escape Escort to the Coil Rocket Voltic's Firewall Protection.
And if you're looking for a post-holiday deal, grab 25% off the following all the way through January 30th:
• Benny's Upgrades
• Executive Garage Renovations
• Executive Custom Auto Shop Renovations
• Biker Business Properties
• All Import/Export Tattoos
PREMIUM RACE: CHILIAD
Traverse the turf usually reserved for death cults and hippies in Chiliad, the featured Premium Stunt Race now through January 30th. Place in the top three in this Non-Contact Point-to-Point Super Race to win big GTA$ prizes, and take comfort in knowing you'll get Triple RP wherever you finish. Enter at the yellow blip at Legion Square or via the Quick Job App on your in-game phone.
Enjoy and chat up the
forums
!
---
Comments (0)
No comments have been made on this article. Complete the form below to make a comment.
---
Make A Comment
Sorry, comments have been disabled for this article.