BUFORD, Wyo. — What's advertised as the
smallest town in the United States is scheduled to go up for auction next month.
Buford, located between Cheyenne and Laramie in southeast Wyoming, is famous for
having just one inhabitant, Don Sammons.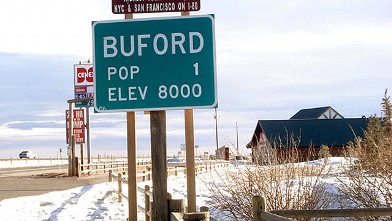 Buford sits at an elevation of 8,000 feet and is the highest town along Interstate 80 between New York and California. The area offers impressive views of the Rocky Mountains but is prone to extreme winds and frigid temperatures – even by Wyoming standards.
Foul weather shuts down I-80 between Cheyenne and Laramie at least a couple times during a typical winter. Each time that happens, Buford might as well be at the North Pole rather than next to one of the busiest cross-country thoroughfares in the U.S.
Assets up for sale will include a gas station and convenience store, a 1905 schoolhouse that has been used as an office, a cabin, a garage, 10 acres of land, and a three-bedroom home (all owned by Sammons).
Buford has its own ZIP code and post office boxes for people who live nearby.
It's a business opportunity that also offers a romantic lifestyle, said Amy Bates, chief marketing officer for Oklahoma City, Okla.-based Williams and Williams, which is handling the auction. Bidding will open at $100,000, she said.
"We're going to have a variety of people attracted to this property, based on what it would mean to them," Bates said.
World's smallest town going up for auction. Sad day for the nationwide attraction.
-Information from: Wyoming Tribune Eagle,
http://www.wyomingnews.com
Edited by JustAn808, 13 March 2012 - 02:26 PM.